*New for 2015, the Annual Symposium will be held in a different meeting pattern – the main meeting will begin on Monday, March 30th and conclude on Thursday, April 2nd.*

Preliminary Program Now Available
The 2015 preliminary program is now available. View abstract presentations, invited guest speakers, panels and more!




The SCVS 2015 Annual Symposium Has Gone Mobile!
Again this year, the SCVS Annual Symposium program will be completely mobile. We strongly encourage you to download the mobile app, as it will serve as the main program for reference again this year. This app is compatible with Apple products and Android devices. Windows Phone 7 and Blackberry users can access the same information via the mobile site.

To download the app, choose one of the methods below:

Search '2015 SCVS' in the Apple App Store or the Android Marketplace
Scan the following image with your mobile phone (QR-Code reader required, e.g. 'Red Laser', 'Barcode Scanner')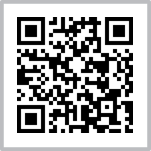 A small program guide will be available onsite, however, if you would like a copy of the full abstracts, please see the options below to download and print them before arriving onsite.

Registration
Register before arriving onsite in Miami to avoid a 50 USD increase in registration fees.
Cancellation Policy: All requests for cancellations must be received in writing. If a written request of cancellation is received at the Society's Administrative Office prior to Friday, March 13, 2015 the registration fee, less a $50.00 administrative fee, will be refunded via check after the meeting. Refund requests received after March 13th will not be honored.

Housing Reservations
Fontainebleau
4441 Collins Avenue
Miami Beach, Florida 33140

Housing Reservations are now available for the 43rd Annual Symposium! Be sure to book your room before the housing deadline of March 6, 2015 at 5:00 pm EST. Group Rates begin at $325 a night plus applicable state and local room taxes (13%) and a hotel fee of $15.95 per room, per day.