---
Complications Associated With Lumbar Drain Placement For Endovascular Aortic Repair
Anastasia Plotkin, MD
, Sukgu M. Han, MD, MS, Fred A. Weaver, MD, Vincent L. Rowe, MD, Fernando Fleischman, MD, William J. Mack, MD, Gregory A. Magee, MD, MSc
University of Southern California, Los Angeles, CA.
OBJECTIVES: To review complications associated with lumbar drain (LD) placement perioperatively for endovascular aortic repair.
METHODS: Patients who had perioperative lumbar drain placement for thoracic endovascular aortic repair (TEVAR) or complex and staged abdominal endovascular aortic repair (EVAR) from 2010-2019 were reviewed. The primary endpoints were major and minor LD-associated complications. Major complications were defined as those that required intervention, resulted in neurological sequelae, or delay in operation, including: intracranial hemorrhage, spinal hematoma with symptoms, CSF leak requiring intervention, meningitis, retained catheter tip, and bloody tap resulting in delayed operation. Minor complications were defined as: bloody tap without delay, spinal hematoma without symptoms, cerebrospinal fluid (CSF) leak or headache with no intervention required.
RESULTS: In 253 consecutive patients, 291 LD were placed for 214 TEVAR, 74 complex EVAR, and 3 EVAR (65±13 years, 69% male) for aortic pathology including 47% aneurysm, 34% dissection, 15% aneurysmal degeneration of dissection, 3% penetrating aortic ulcer, and 0.7% traumatic injury. A dedicated neurosurgical team performed all procedures, with the majority were performed by the same individual. The technical successful rate of 98%. Radiological guidance was required in 4% and 2% were aborted. Reasons for unsuccessful placement were body habitus and severe spinal disease. Most were placed prophylactically (96%). Total complication rate was 12% (8% minor, 4% major). Major complications included spinal hematoma with paraparesis (1), intracranial hemorrhage (2), meningitis (2), arachnoiditis (3), CSF leak requiring a blood patch (3), bloody tap delaying operation (1), and a retained catheter tip (1). No complications required neurosurgical decompression. Paralysis from spinal cord ischemia due to aortic repair was documented in 23 (8%) with improvement in 8 and resolution in 2.
CONCLUSIONS: Complications associated with LD placement can be severe even when performed by a dedicated team. The potential benefit of prophylactic lumbar drain placement to prevent paraplegia needs to be weighed against these serious complications.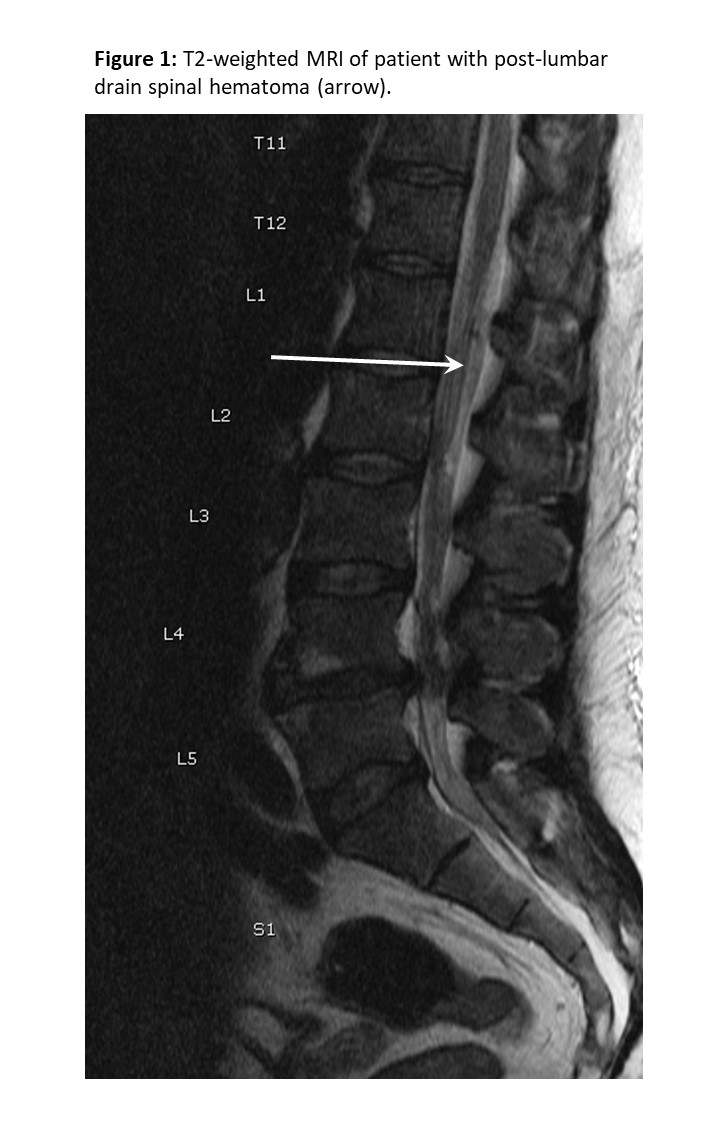 ---
Back to 2021 Abstracts