---
In Situ Laser Fenestration To Maintain Celiac Artery Patency During Thoracic Endovascular Aortic Aneurysm Repair
Loay Kabbani, Timothy Nypaver
Henry Ford Hospital, Detroit, MI
Introduction: We present a case of a saccular thoracic aneurysm just above the celiac artery. a thoracic endograft was deployed with in situ laser fenestration of the celiac artery.
History: This is the case of a 74-year-old male who presented with an enlarging focal saccular outpouching at the level of the celiac trunk ( 1.8 cm to 2.3 cm over 6 months) (Figure 1A). The patient's comorbidities included aortic valve repair for infective endocarditis. hypertension, hyperlipidemia and history of smoking. Plan: Due to the proximity of the celiac artery and SMA ostia to the orifice of the aneurysm, a thoracic endograft ( TEVAR) could not be deployed without covering the celiac artery. We therefore planned on performing a TEVAR with in-situ laser fenestration of the celiac artery. At the beginning of the operation access to the celiac artery was obtained through the left brachial approach and an uncovered S.M.A.R.T (Cordis Corporation, FL) was deployed to mark the origin of the celiac artery (Figure 1B). A Zenith thoracic endograft (Cook Medical, IN) was deployed. Using the SMART stent as a target, a fenestration was created using an endovascular laser (Philips Medical, CO) (Figure 1B). An iCAST covered stent (Atrium Medical, NH) was then deployed through the new fenestration, and then fully expanded using a high pressure balloon. Completion angiogram illustrated the patency of both Celiac and SMA without any endoleaks (Figure 1B). The patient had an uncomplicated postoperative course and was discharged home. Post operative CTA showed paten celiac artery with resolution of the saccular aneurysm( Figure 1C).
Discussion: Some aortic pathologies still pose unique challenges to advanced endovascular modalities. TEVAR with in-situ laser fenestration is a feasible option for patients with unfavorable anatomy.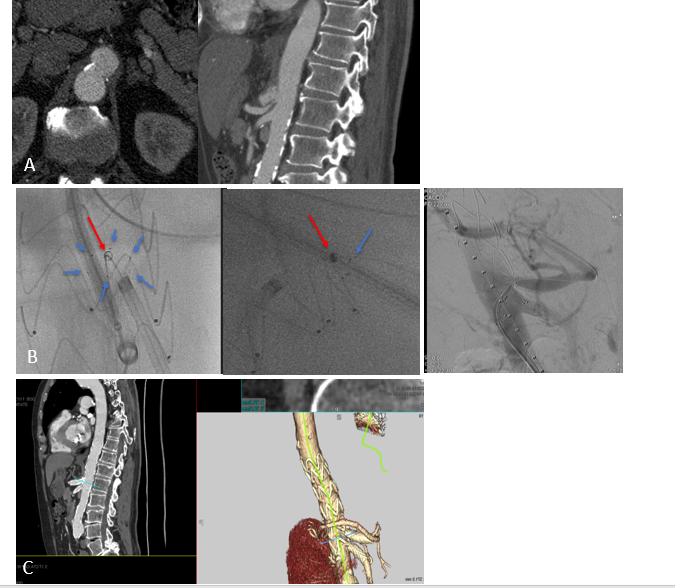 ---
Back to 2021 Abstracts