---
Re-Entry Specific Endovascular Therapy (RESET) Of Chronic TBAD False Lumen For Enlarging Paravisceral Aortic Aneurysm With The Amplatzer Muscular VSD Occluder Plug
Anand Dayama, MD, Jean M. Panneton, MD, FACS
Eastern Virginia Medical School, Norfolk, VA
DEMOGRAPHICS: A 76-year-old man underwent Zone 3 TEVAR for TAA and chronic type B dissection (cTBAD) 3 years ago.
HISTORY: The patient presented to the office for routine surveillance after index operation, he was asymptomatic. His past medical history included hypertension, obstructive sleep apnea on CPAP, type 2 diabetes mellitus. Surveillance computed tomography angiography (CTA) demonstrated cTBAD extending down to the left common femoral artery, a 6.3 cm paravisceral aorta with an active flow in the false lumen (Figure). The thoracic endograft was well opposed and terminated at the level of T10. The renal arteries, SMA, and celiac artery originated from the true lumen of the dissection and the IMA originated from the false lumen. There was a large re-entry tear at the level of IMA.
PLAN: Given the significant extent of the cTBAD and large paravisceral aortic aneurysm. He would require open or complex endovascular thoracoabdominal repair, or an attempt at complete false lumen thrombosis to induce positive remodeling of the paravisceral aortic segment. Given the high risk for open and complex endovascular repair in this frail patient we performed Re-Entry Specific Endovascular Therapy (RESET) with plug embolization of the inferior mesenteric artery using Amplatzer Vascular IV 7mm plug and plug embolization of aortic re-entry tear using VSD muscular occluder 8 mm device through the percutaneous right femoral access 6 Fr sheath. The patient was discharged on postoperative day 1. The 30-day follow up CTA demonstrated interval thrombosis of the false lumen s/p placement of occlusion plug within the origin of the IMA and in the reentry fenestration (Figure).
DISCUSSION: RESET is an important tool to induce false lumen thrombosis. It is a less invasive approach to treat patients after TEVAR with patent false lumen and aneurysmal degeneration compared to open surgery or complex thoracoabdominal repair with fenestrated and/or branched endografts. RESET approach does not restrict further distal treatment options like fenestrated/branched EVAR or open repair.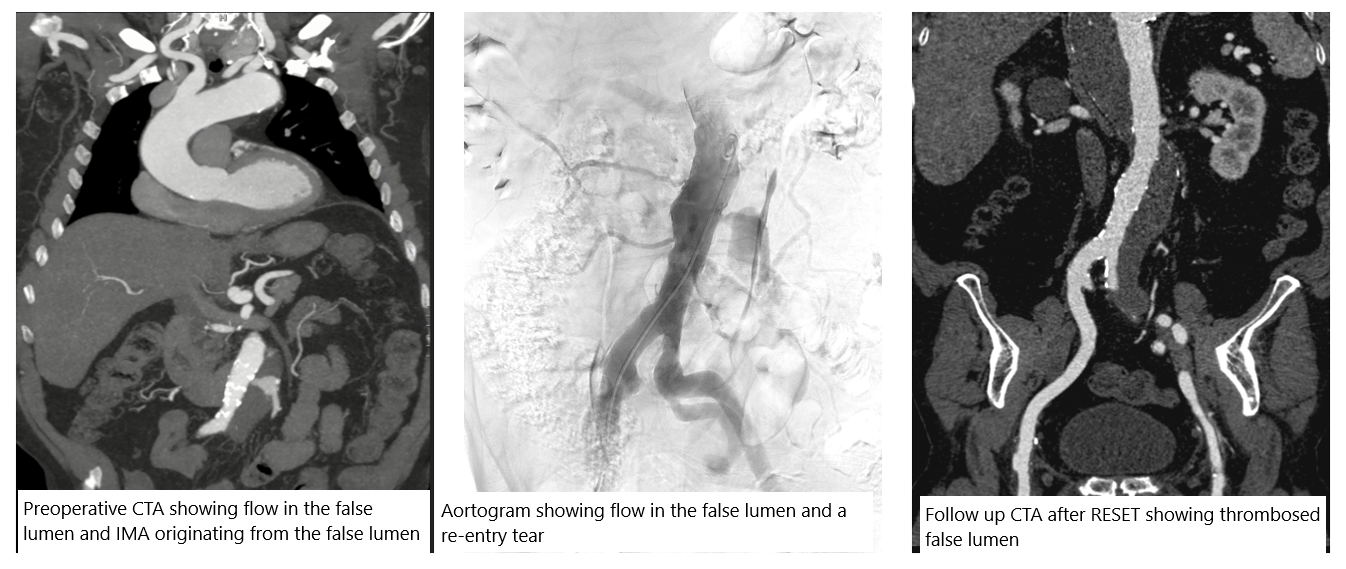 ---
Back to 2021 Abstracts