---
Treatment Of Tandem Carotid Lesions Using Transcarotid Revascularization
Gregory A. Magee, MD MSc, Helen A. Potter, MD
University of Southern California, Los Angeles, CA
DEMOGRAPHICS: 64-year-old male with asymptomatic high-grade stenosis of the right common carotid artery (CCA) and internal carotid artery (ICA) after an unsuccessful attempt at transfemoral carotid artery stenting.
HISTORY: The patient was high risk for carotid endarterectomy given a previous heart attack and a current ejection fraction of 20%. He had a type 3 arch and was considered better suited for transcarotid approach. The novel technique of utilizing transcarotid artery revascularization (TCAR) for treatment of tandem lesions was strategized preoperatively.
PLAN: A longitudinal neck incision was performed, the patient was anticoagulated, and a purse-string suture was placed. The CCA was punctured retrograde and micro-puncture sheath advanced, demonstrating 90% CCA stenosis (1A). Due to inadequate length for sheath advancement over stiff wire, a 0.014 wire and micro-puncture sheath were advanced into the innominate artery. They were exchanged for a Rosen wire and Enroute sheath and the left common femoral vein was accessed for flow reversal. The CCA lesion was pre-dilated and stented (1B). The sheath was removed and arteriotomy closed after 2 minutes of flow reversal. This technique was replicated using the standard antegrade puncture, revealing a tortuous R ICA with 99% stenosis (1C). After flow reversal, R ICA stenosis was crossed, dilated and stented, revealing external carotid artery (ECA) occlusion (1D). Following wire removal and arteriotomy closure, the filter contained significant debris that would have embolized to the brain without flow reversal. He was discharged home the following day without complications.
DISCUSSION: Treatment of tandem carotid stenosis can be performed with TCAR using dynamic flow reversal by retrograde followed by antegrade CCA access in high risk patients. Specific nuances of this technique include a longitudinal skin incision because it is necessary to expose a longer segment of carotid than typically required for TCAR, use of a trained assistant for handling the curvature of the wire while securing the sheath during retrograde CCA stenting. Careful crossing of the proximal lesion may be necessary prior to flow reversal. We recommend clamping the CCA just distal to the access site during this maneuver to prevent embolism, which is usually well tolerated.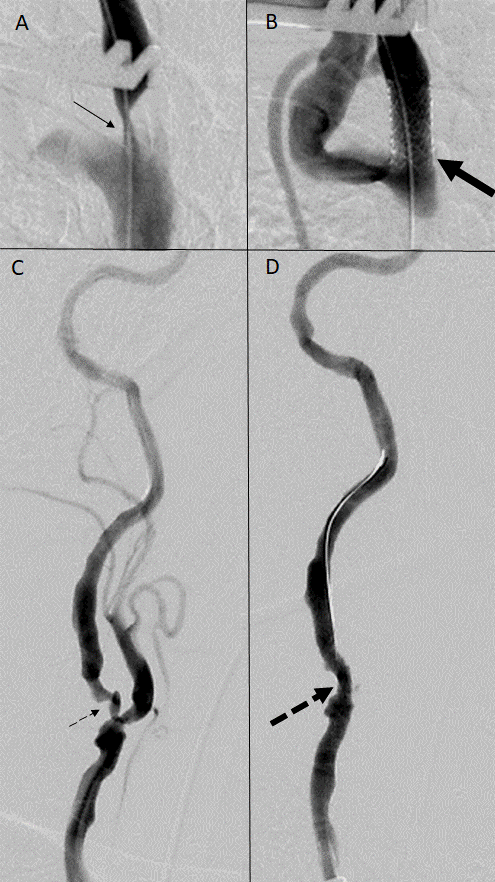 ---
Back to 2021 Abstracts