---
Flow Reversal Using Percutaneous Subclavian Balloon Occlusion In Order To Deploy An Urgent Vertebral Artery Stent
Lauren E. Frye, DO, David J. Minion, MD
University of Kentucky, Lexington, KY
DEMOGRAPHICS: The case involves a 32-year-old male with a R vertebral pseudoaneurysm from a penetrating injury, who presented with a sentinel bleed.
HISTORY: The patient had sustained a penetrating stab wound to his R neck 2 weeks prior and had undergone exploration with ligation of bleeding vessels at an OSH. His initial course was unremarkable other than Horner's Syndrome due to injury to the cervical sympathetic chain. He re-presented with an episode of pulsatile bleeding from the right neck incision. A CTA revealed a 2.5 cm pseudoaneurysm of his right vertebral artery at the entrance of the transverse foramen of C6. Due to this location, distal control for open repair or ligation would have been exceptionally difficult.
PLAN: He was taken to the OR urgently and right brachial and right femoral percutaneous access was obtained. The right subclavian was cannulated antegrade via the femoral access, and a 10 x 20 mm balloon was inflated proximal to the vertebral origin, creating iatrogenic subclavian steal and flow reversal in the right vertebral artery for cerebral protection. The lesion was then crossed from the right brachial access, and a 5 x 2.5 mm self-expanding covered stent was deployed in the right vertebral artery, successfully excluding the pseudoaneurysm.
DISCUSSION: Flow reversal is an increasingly popular method for cerebral protection in carotid interventions, often requiring adjuvant cutdown and/or relatively sophisticated devices to achieve. In this case, we took advantage of the dual access routes to the vertebral artery to simplify the process. The use of antegrade subclavian balloon occlusion for flow reversal did not significantly add time to the procedure and allowed for safe deployment of the stent under cerebral protection from retrograde brachial access. We believe this is the first description of this technique.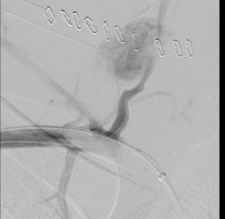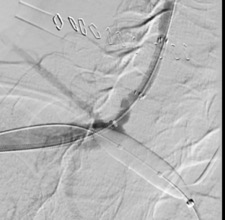 ---
Back to 2021 Abstracts