---
HIV Patient With Concomitant Mycotic Thoracic And Infrarenal Aortic Aneurysms Treated With Staged Open And Endovascular Repair
Brian Grant, MBBS, Lindsey Bodenhorn, Jean Panneton, MD
Eastern Virginia Medical School, Norfolk, VA, USA
DEMOGRAPHICS: 52 year-old HIV-positive gentleman transferred emergently to our facility with contained distal thoracic aortic rupture.
HISTORY: The patient initially presented with left sided chest pain and diaphoresis to an outside ER. He reported compliance with antiretroviral therapy and had WBC of 5.9 and CD4 of 165. Computed tomography angiography (CTA) showed a contained rupture of a distal thoracic aortic pseudoaneurysm, as well as 4.3 x 5.0 cm infrarenal saccular aneurysm (Figure 1).
PLAN: The patient was placed on intravenous broad spectrum antibiotics and taken emergently to the operating room. A thoracoabdominal incision was made and rifampin soaked dacron tube graft was utilized for descending thoracic aortic replacement. A beveled edge was created on the distal anastomosis to incorporate the celiac and superior mesenteric artery origins. Inflammatory retroperitoneal tissue was debrided and omentoplasty performed. The patient required a left popliteal thrombectomy as well due to a pulse discrepancy noted after reconstruction. 16 days into his recovery, he developed severe abdominal pain and aortic duplex showed interval growth of the infrarenal aneurysm from 4.3 x 5.0 cm on admission CTA to 4.6 x 6.2 cm. He then underwent endovascular abdominal aortic aneurysm repair (EVAR) of the infrarenal aneurysm with a rifampin-soaked endograft. Operative cultures grew mycobacterium avium complex. The patient was discharged two days following EVAR on azithromycin, ethambutol, and rifampin. He was seen in follow up 1 month later doing well and compliant with antibiotic and antiretroviral medications.
DISCUSSION: Concomitant thoracic and infrarenal mycotic aneurysms due to mycobacterium avium complex has not been previously reported. In this case after open thoracoabdominal repair, rapid growth and symptom development of his infrarenal aneurysm necessitated endovascular repair with rifampin-soaked endograft due to the postoperative time course. High index of suspicion for opportunistic infection and prompt surgical treatment is needed in immunodeficient patients with mycotic aneurysms.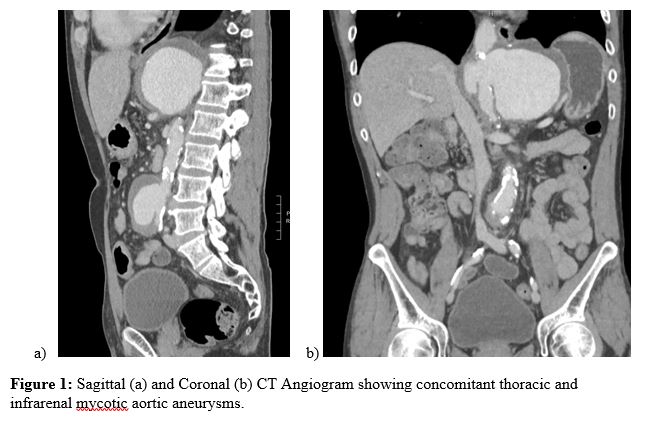 ---
Back to 2021 Abstracts