---
"Shot Through The Heart And Survived": Hybrid Repair Of A Gunshot Through The Aortic Arch
Aditya Safaya, MD, Pravitha Jayapratap, MD, Jose O. Moura Leite, Sung Yang, MD, Joseph S. Giglia, MD, Amit Jain, MD
University of Cincinnati, Cincinnati, OH, USA
DEMOGRAPHICS: A healthy 34 year-old Caucasian male presented at our level-1 trauma centre with a gunshot wound through the precordium.
HISTORY: Patient arrived awake and stabilized hemodynamically with volume resuscitation enabling a CT angiogram revealing ballistic trajectory through the aortic arch at the origin of the left common carotid artery (LCCA). There were defects along the anterior and posterior walls of the aorta with active extravasation of contrast intothe mediastinum and fistula into the major venous structures. Imaging also revealed a four-vessel arch with the left vertebral artery (LVA) directly off the aortic arch.
PLAN: With a large mediastinal hematoma and need for circulatory arrest he was a prohibitive risk for open cardiac surgery. An emergent endovascular repair was considered with the cardiac surgery team at standby. The patient underwent a carotid-carotid bypass (CCB) and a thoracic endovascular aortic repair (TEVAR) stent-graft to zone 1.
DISCUSSION: Active extravasation, defects in arterial wall, arch-origin of the LVA and proximal zone 1 landing in an emergent setting in an unstable patient in-extremis is a daunting endovascular challenge. We planned a hybrid procedure with a CCB prior to the TEVAR. After completing the right carotid anastomosis and tunneling the graft, the patient became hypotensive and the thoracic endograft had to be deployed before completing the left carotid anastomosis. The patient lost pulse and required two minutes of CPR prior to completion of the endograft deployment. The patientís recovery was complicated by an ischemic left cerebellar stroke requiring decompressive craniectomy of his posterior fossa. Post-operative imaging showed patent CCB graft with exclusion of aortic injuries by the endoprosthesis (Fig1). Patient was extubated on post-operative day (POD) 12 and was discharged to a rehabilitation facility on POD-18 neuro intact with minimal left UE weakness. These extensive vascular injuries with unfavorable prognostic factors not only warranted a swift and well orchestrated multi-modality care but also bought about a clinical dilemma regarding the repair modality of choice. We observed that in penetrating aortic arch injuries, endovascular repair can be considered with proximal debranching, even in an emergent setting.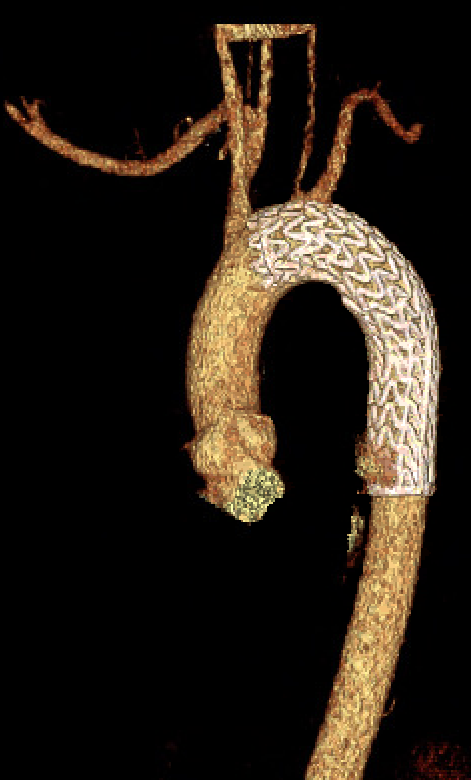 ---
Back to 2021 Abstracts