---
Approaches To Inferior Vena Cava Reconstruction In The Setting Of Leiomyosarcoma
Jae Hee Cho, Doctor of Medicine, Nakul Rao, Doctor of medicine, Thomas Bernik, Adam Sagarwala
Englewood Hospital, Englewood, NJ
Demographics: 3 patients were found with leiomyosarcoma involving inferior vena cava (IVC) in 2020 either as primary or non primary. Patient 1 is 42-year-old African American male presents for chronic back pain and incidental finding of 5.6cm mass. Patient 2 is 72-year-old Caucasian female presents with right retro peritoneal mass 6.6cm on surveillance scan. Patient 3 is 49-year-old Hispanic female with incidental finding of abdominal mass during physical exam and imaging study showing 13.7cm massHistory Patient 1 has been having back pain for past 3 years. CT scan indicated near occlusive intraluminal soft tissue in IVC with largest diameter 5.6 cm. Intraluminal biopsy of IVC mass was performed. Pathology was suggestive of mesenchymal tumor. Patient 2 was diagnosed with Stage II colon cancer and underwent right hemicolectomy with adjunctive chemotherapy 3 years ago. After recovery from surgery, surveillance CT scan showed persistent perihepatic lesion. Fine needle aspiration of mass found to be sarcoma like etiology. Subsequent images showed gradual enlargement of mass. Patient 3 found enlarging abdominal mass during routine checkup. She was asymptomatic otherwise. Subsequent imaging studies and biopsy showed Leiomyosarcoma originated from left kidney with largest dimension 13.7cm and extending into IVC with thrombus
Plan: Patient 1 was treated with en bloc resection of caudate lobe of the liver, IVC and peri cava tissue. IVC mass was suprarenal resected and reconstruction was completed with bovine pericardial patch. Patient 2 underwent resection involving portion of the head of the pancreas and anterior IVC. En bloc resection of IVC was performed with a 9cm x 3cm defect. IVC was repaired with bovine pericardial patch. Patient 3 underwent splenectomy, distal pancreatectomy and resection of psoas muscle and diaphragm. Cardiopulmonary bypas swas established due to the superior extent of the mass. A longitudinal venotomy was performed as well as extensive endarterectomy up to the right atrium. Closure was performed with lengthy bovine patch
Discussion: Resection and reconstruction of leiomyosarcoma involving IVC can be challenging and needs detailed planning in a multidisciplinary setting according to the extent of disease and patient's condition.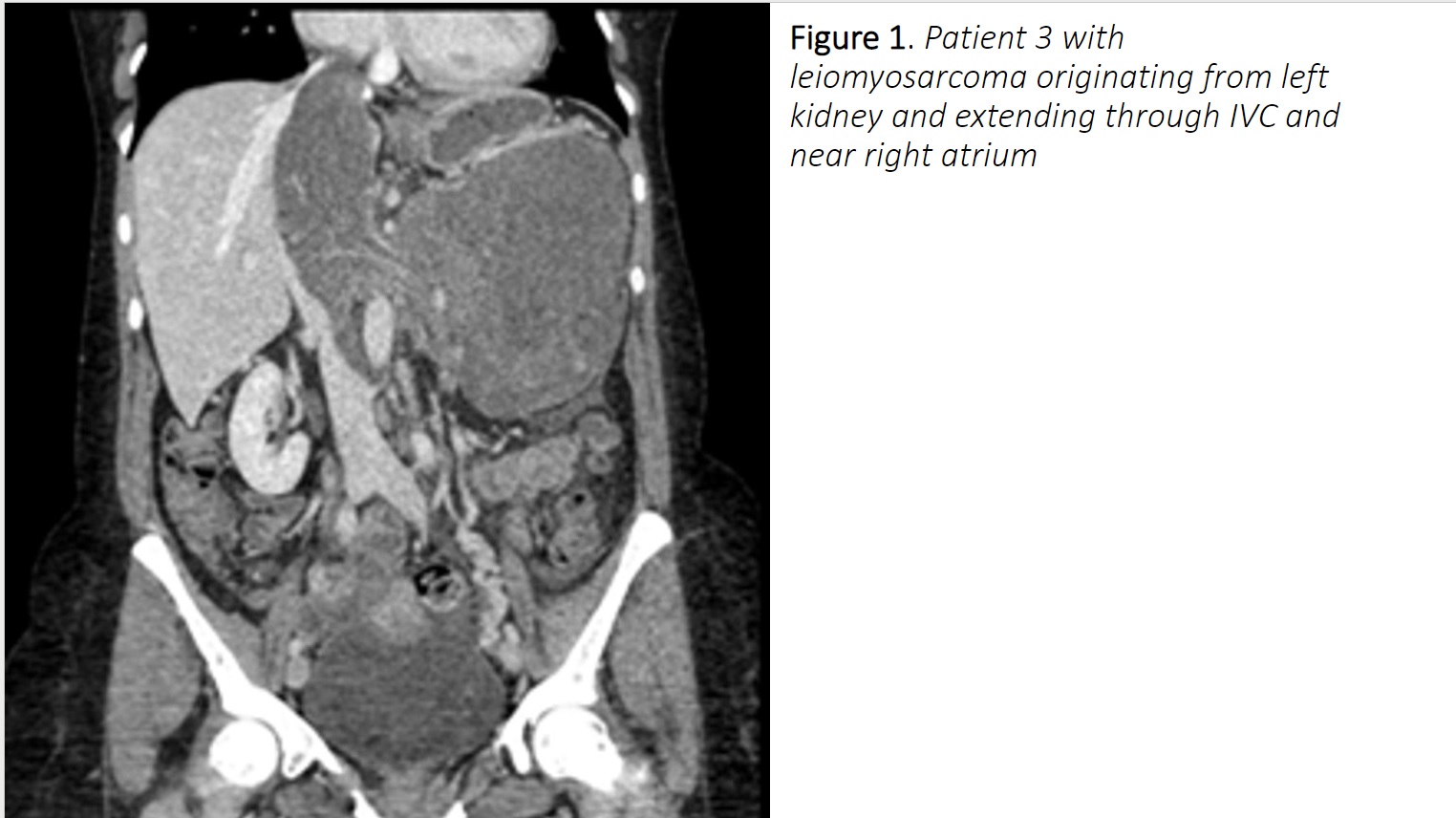 ---
Back to 2021 Abstracts