---
The J Sign Is Characteristic Of Superior Vena Cava Occlusion
Margo N. Carlin, DO
1
, Alireza Daneshpajouh, DO
2
, Innokentiy Krupnov, MD
1
, Andres Felipe Sanchez, MD
1
, Ma Lovely Batasin, DO
1
, Orlando Morejon, MD
1
, Joseph J. Ricotta, MD, MS, DFSVS, FACS
3
1Kendall Regional Medical Center, Miami, FL, 2Florida Atlantic University Charles E. Schmidt College of Medicine, Delray Beach, FL, 3Florida Atlantic University Charles E. Schmidt College of Medicine, Boca Raton, FL
DEMOGRAPHICS: Although superior vena cava occlusion (SVCO) can present with life-threatening symptoms, complete occlusion may be asymptomatic. Anatomic relationships of the collateral circulation at the level of obstruction may conceal occult SVCO by venous flow reversal. Here, we present two cases of asymptomatic SVCO identified by central venous access.
HISTORY: A 52-year-old male presented to the trauma center after sustaining a traumatic brain injury. He required central access after becoming hemodynamically unstable. An emergent right subclavian triple lumen central venous catheter was placed. An AP Chest XR obtained for line placement showed irregularities at the catheter tip and an oblique film was requested.
A 49-year-old female with end-stage renal disease presented for tunneled dialysis catheter placement. The procedure was performed in the operating room under fluoroscopy. Due to resistance to wire advancement, an image was obtained which revealed the tip of the guidewire looping on itself at the level of the SVC.
PLAN: Central venous catheterization in both patients demonstrated wire malpositioning due to SVC occlusion. The approach to central access in the setting of SVCO was determined by diagnostic capabilities (bedside versus operating room). At the bedside in the ICU, the catheter was removed and replaced with post-procedural imaging revealing a good position. Alternatively, fluoroscopy enabled the operative team to identify the obstruction and reposition the catheter without delay.
DISCUSSION: As a symptom of a primary lesion, identifying the etiology of SVCO is fundamental to its management. Maintenance of collateral flow may prevent changes in the physical exam. Obstruction may be asymptomatic due to the anatomical relationship with the azygous vein. Advanced imaging can determine the extent of the occlusion, associated collaterals and surrounding anatomy. Although plain radiography is not specific for SVCO, we believe our case presentation highlights a unique radiographic feature that occurs with central catheter placement in the setting of SVCO. The momentum of venous flow reversal carries the J-loop, resulting in looping of the guidewire or catheter. We believe this J sign is unique to SVCO and should prompt work-up for SVCO according to current guidelines.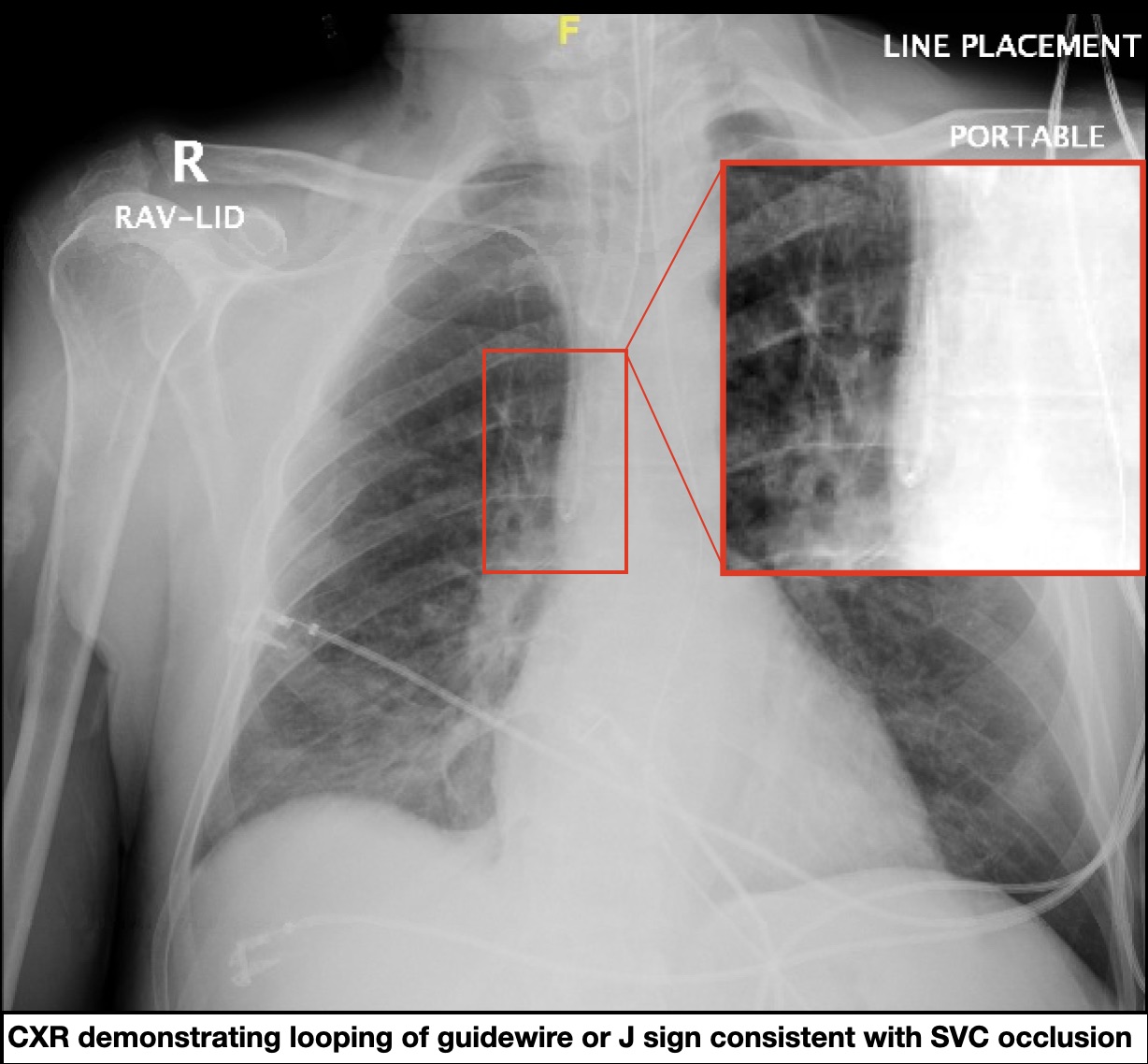 ---
Back to 2021 Abstracts