---
Cryopreserved Aortoiliac Allograft For Paravisceral Aortic Replacement In A Patient With An Infected Aortic Endograft
Christopher Murter, MD, Kevin Guy, Jean Panneton, MD
Eastern Virginia Medical School, Norfolk, VA
DEMOGRAPHICS: 62 year-old male with familial adenomatous polyposis, hypertension, hyperlipidemia, and myotonia congenita presented with infected infrarenal aortic endograft.
HISTORY: The patient presented to clinic 5 months after undergoing endovascular aneurysm repair (EVAR) for an infrarenal aortic aneurysm complaining of left leg pain. In the interval following his EVAR, he had undergone open ileocecectomy for an endoscopically unresectable polyp. This procedure was complicated by wound infection and intra-abdominal abscess formation, for which he had a percutaneous drain placed. Cultures grew E. Coli. He also subsequently developed C. difficile colitis. Computed tomography angiography (CTA) obtained for his leg pain showed left popliteal artery thromboembolism as well as suprarenal aortic degeneration, suspicious for endograft infection. (Figure 1).
PLAN: The patient was admitted and started on broad spectrum antibiotics. After verifying initial blood cultures were negative, he underwent axillo-bifemoral bypass with 8mm ringed polytetrafluoroethylene graft. 3 days later, he was taken to the operating room for infected endograft explantation and paravisceral aortic reconstruction. A thoracoabdominal incision was made, allowing for exposure and isolation of the descending thoracic aorta and visceral branches. A cryopreserved aortoiliac allograft was then anastomosed to healthy distal thoracic aorta. The iliac limbs of the allograft were then anastomosed to the superior mesenteric, right renal, left renal, and celiac arteries in that order. Total clamp time was 71 minutes. The endograft and infrarenal aorta were then resected and native iliac arteries ligated, followed by omentoplasty of the aortic reconstruction. His recovery was complicated by hemorrhage from the epigastric artery which required surgical ligation and acute kidney injury that resolved with supportive care. Operative cultures grew Bacillus spp. He was discharged on a 6 week course of cefepime and daptomycin. He has been seen in follow up twice and is recovering uneventfully. He remains on oral suppressive antibiotics.
DISCUSSION: Cryopreserved aortoiliac allografts offer low rates of recurrent infection in available infrarenal aortic replacement literature. This case illustrates the versatility of aortic allografts for complex visceral arterial reconstruction.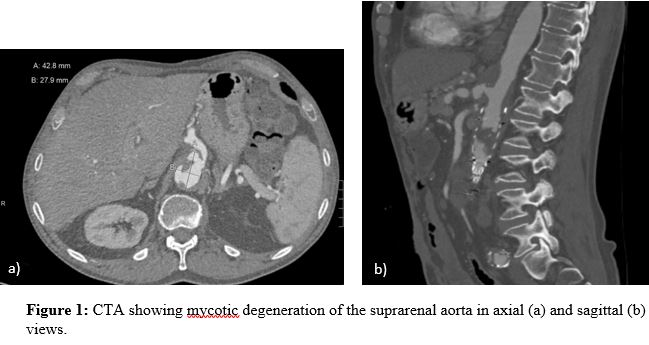 ---
Back to 2021 Abstracts