---
Arterial Strain And Distensibility Of The Ascending Aorta Before And After Stent Graft Implantation In Type A Aortic Dissection
Viony M. Belvroy, MD
1
, Joost A. van Herwaarden, MD, PhD
2
, Michael J. Reardon, MD
1
, Frans L. Moll, MD, PhD
2
, Jean Bismuth, MD
1
.
1
Methodist DeBakey Heart & Vascular Center, Houston Methodist Hospital, Houston, TX, USA,
2
Department of Vascular Surgery, University Medical Center, Utrecht, Netherlands.
OBJECTIVES: Although this has not yet been studied well, it is our estimation that after stent graft implantation the dynamics of the ascending aorta change. Understanding these changes is critical in appreciating the potential consequences of endovascular repair of type A aortic dissections. The aim of this study is to delineate some of these dynamic adjustments. METHODS: Eight electrocardiogram-gated cardiac computed tomography of five patients, who were admitted to our center for Type A Aortic Dissection, were reviewed retrospectively. Measurements of diameters and lengths of the ascending aorta were collected in five pre- and three post-operative scans. A semi-automatically outlined centerline was created in systolic and diastolic phases and the measurements were made in multi-planar views at three locations in the ascending aorta. RESULTS: The mean age of the study population was 72±9 years old. The proximal landing zone of the stent graft was distal to the sinotubular junction (STJ), while the distal landing zone was at the proximal margin of the brachiocephalic artery (BCA). The circumferential strain increases at the STJ from 5.46% pre-implantation to 13.27% post-implantation, see also table 1. In the mid ascending aorta a decrease is seen from 5.41% to 0.70%. The arterial compliance showed a similar tendency, with an increase at the STJ (1.70 mm3/kPa to 5.53 mm3/kPa post-implantation) and a decrease mid ascending (1.83 mm3/kPa to 0.32 mm3/kPa). The aortic stiffness increases post-implantation mid ascending (3.92 to 5.79), however, decreases at the STJ (4.37 to 2.98). CONCLUSIONS: At locations proximal to the stent graft the strain increases and aortic stiffness decreases post-implantation. However, the stented part of the aorta becomes stiffer. This effect should be taken into account when treating ascending aortic diseases. Especially when treatment occurs close to the aortic valve as it can have an effect on the cardiac function. In the era of ever increasing endovascular applications to the ascending aorta and arch, it is imperative that we appreciate the potential cardiac implications and realize that current devices are lacking compliance and are much stiffer than the native aorta. This paper provides a window into these changes.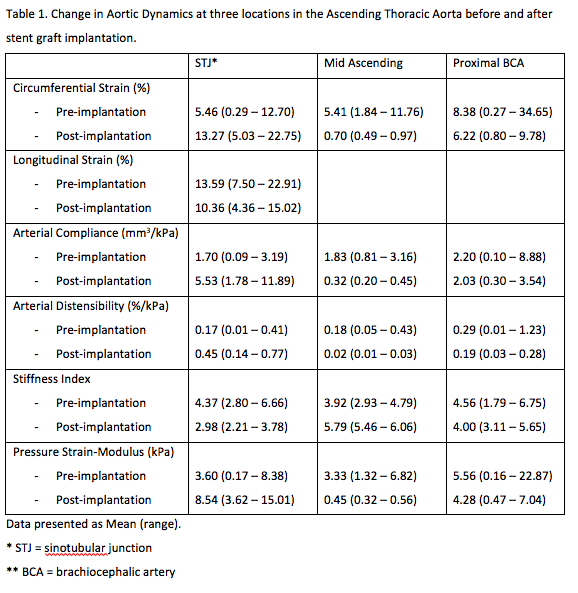 ---
Back to 2021 Abstracts