---
Patient-reported Outcomes Of Surgical Management Of Functional Popliteal Artery Entrapment Syndrome
Parvathi W. Balachandran, MD PhD
, Jill J. Colglazier, MD, Keouna Pather, MD, Mohammad Khasawneh, MD, Thomas C. Bower, MD, Randall R. DeMartino, MD MS.
Mayo Clinic, Rochester, MN, USA.
Objective: Functional Popliteal Artery Entrapment Syndrome (FPAES) results in claudication without anidentifiable popliteal fossa anatomic abnormality. The aim of this study was to evaluate patient-reported outcomes of surgical management of FPAES.Methods: Data from consecutive patients undergoing FPAE release with myectomy and/or myotomy of gastrocnemius, soleus, popliteus and plantaris from 2001 to 2019 were retrospectively reviewed. Demographics, anatomic data, operative details, symptom recurrence, reintervention, and patient-reported outcomes through surveys were analyzed.Results: Among 57 patients, 70% were female (N=40)and 67% undertook vigorous physical activity before symptom onset. Symptoms occurred at a median age of 19 years (IQR 16-25) and were diagnosed at 23 years (IQR 18-31). Symptoms were bilateral in 47, or only right (4) or left (7). MRI (52%) or angiogram (48%) demonstrated dynamic partial (41%) or complete (59%) occlusion of popliteal artery (76%), vein (2%) or both (22%). A total of 102 extremities were treated with 91 primary and 22 re-interventions by medial (42%) or posterior (58%) approach. There was one intraoperative nerve injury and 5 postoperative complications (2 hematoma, 1 DVT, 2 wound dehiscence). Median clinical follow-up was 20 months (range 0-196 months). Threepatients were lost to follow-up. Among patients with recent clinical follow-up in the past year, 90% (N=18/20) reported complete symptom relief. Two patients reported no symptom relief even after re-intervention. Of the remaining 32 patients without any follow-up in the last year, 84% (N=27) reported symptom relief at some point during follow-up. SF36 Quality of Life (QoL) surveys were sent to the 37 patients either lost to follow up or without follow upwithin the past year. Of the 16 responders, 81% (N=13)returned to pre-symptom activity (including 2 needing re-intervention). Three patients reported activity limitationeven after re-intervention. Patients reported good long-term QoL in all 8 scales comparable to general population (Figure). Outcomes did not differ by surgical approach chosen.Conclusions: Surgical decompression serves as the mainstay of treatment for FPAES with excellent symptoms relief in well selected patients. This allows a return to pre-symptom activity and is associated with excellent quality of life scores.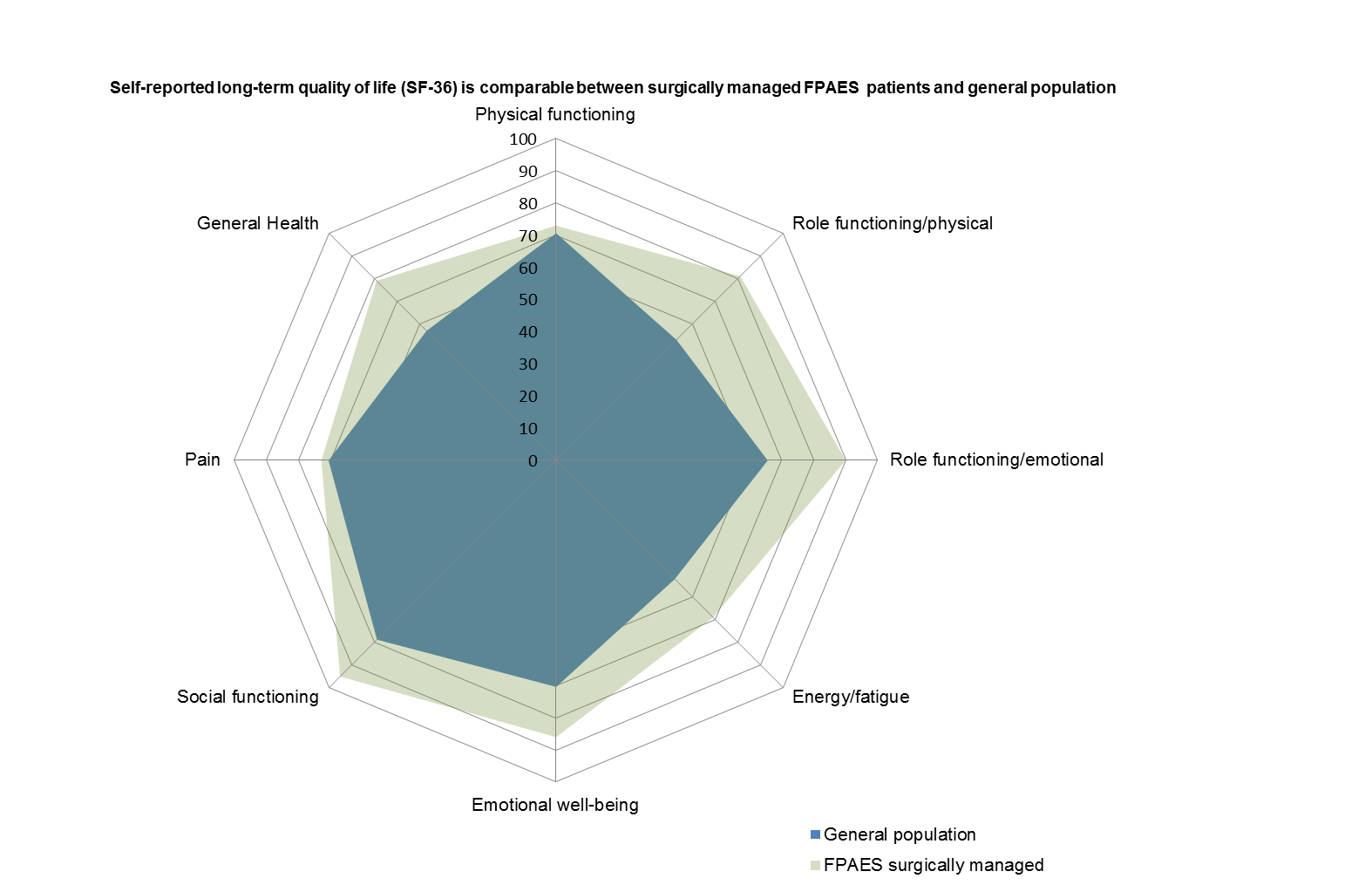 ---
Back to 2021 Abstracts