---
Surgical Site Infection After Open Lower Extremity Revascularization Almost Doubles Rate Of Major Limb Amputation And May Increase Mortality
Katharine L. McGinigle, MD MPH
, Paula D. Strassle, PhD, Jason R. Crowner, MD, Luigi Pascarella, MD, Mark A. Farber, MD, William A. Marston, MD, Corey A. Kalbaugh, PhD, MS.
University of North Carolina, Chapel Hill, NC, USA.
Objective
Surgical site infection (SSI) after open lower extremity revascularization is a relatively common complication associated with increased hospital stays, graft infection, and in severe cases, graft loss. Though the short-term effects of SSI can be significant, it has not been considered a complication that increases major limb amputation or mortality rates. The purpose of this study was to determine the association of SSI with outcomes in patients undergoing surgical revascularization for peripheral arterial disease (PAD).
Methods
We analyzed nationwide Vascular Quality Initiative (VQI) data from the infrainguinal bypass module from 2003-2017. The cohort included adults who underwent open lower extremity revascularization for symptomatic PAD and had at least one follow-up record. Weighted Kaplan-Meier (KM) curves and Cox proportional hazards regression were used to assess the association between SSI and 1-year mortality and major limb amputation. Inverse-probability of treatment weights were used to account for differences in demographics and patient characteristics and allow for 'adjusted' KM curves.
Results
The analysis included 21,639 patients and 1,155 (5%) had a reported SSI within 30-days of surgery. Patients with SSI were more likely be obese (41% vs. 30%, p<.0001), but there were no other clinically relevant differences between demographics, comorbidities, and bypass details. After weighting, patients with SSI were almost twice as likely to undergo major amputation by six months (HR 1.72, 95%CI 1.08, 2.76; Figure 1A). The effect of SSI on amputation persisted at 1-year. The impact of SSI on amputation was no different based on pre-operative Rutherford class (p=.63). The 1-year mortality rate for patients with SSI was 15% higher, although estimates were imprecise (HR 1.15. 95%CI 0.91, 1.46; Figure 1B). SSI had a substantially larger effect on mortality in patients with claudication (HR 1.65, 95%CI 0.92, 2.97) compared to tissue loss (HR 1.15, 95%CI 0.87, 1.53) and rest pain (HR 0.61, 95%CI 0.30, 1.22), p=0.09.
Conclusion
SSI is more common in obese patients and increases the risk of limb amputation after open lower extremity revascularization. While the mortality findings were not statistically significant, SSI may increase mortality by 15% in patients with tissue loss and 65% in those with claudication.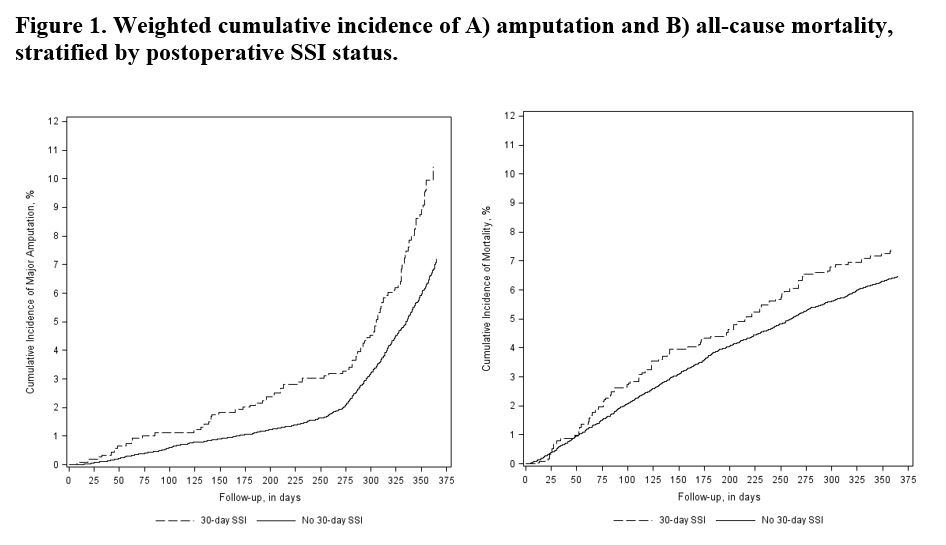 ---
Back to 2021 Abstracts