---
NAC Treatment After Lower Extremity Amputation Improves Areas Of Perfusion Defect And Wound Healing Outcomes
Jin V. Lee
, Connor Engel, Shirli Tay, MPHS, Kshitij Desai, MD, Gayan DeSilva, MD, Clay Semenkovich, MD, Mohamed Zayed, MD PhD.
Washington University School of Medicine, St. Louis, MO, USA.
OBJECTIVES - Patients with critical limb threatening ischemia (CLTI) and diabetes are at increased risk of poor major amputation site healing. Preclinical studies have demonstrated that the antioxidant N-acetyl-cysteine (NAC) can augment tissue perfusion and angiogenesis in mice. We hypothesize that peri-operative administration of NAC in patients with CLTI improves amputation stump perfusion and healing.
METHODS - In a randomized prospective, double-blinded, placebo-controlled, pilot clinical trial, patients with CTLI were recruited at the time of major lower extremity amputation. Patients were randomized to a 5-day peri-operative course of intravenous NAC or placebo treatment. Amputation stump perfusion was evaluated on post-operative day 0 (POD0), 3, and 5 using non-invasive Laser-Assisted Fluorescent Angiography (LAFA; SPY Elite®system). Rate of arterial inflow and peak perfusion were determined using dynamic intensity versus time analysis. Perfusion defects were determined at the time of peak perfusion as a percentage stump surface area (Figure1). Amputation stump healing was also evaluated on POD3, 5, and 30 using modified Bates-Jensen score. Continuous variables were analyzed using the Student's t-test. Categorical variables were analyzed using Fisher's exact test.
RESULTS - A total of 33 patients were enrolled in the study. One patient withdrew consent and 8 were excluded for missing/incomplete files. Four patients (3 NAC, 1 placebo) had no perfusion defects. In the remaining 20 patients (7 NAC, 13 placebo) with baseline perfusion defects, NAC-treated patients had a more favorable recovery slope compared to control. From POD3 to 5, NAC-treated patients had a greater relative reduction in defect size (-53% decrease vs. +71%; p<0.05; Table1), whereas perfusion defects increased in the placebo group. Patients that received NAC also had superior healing outcomes at POD30 (100% healing for NAC vs. 46% for placebo; p<0.01; Table1). No differences in LAFA-derived rate of arterial inflow or time to peak perfusion were observed between the study groups.
RESULTS - In patients with CLTI and amputation stump perfusion defects at baseline, peri-operative NAC administration may improve short-term perfusion and long-term tissue healing. Intraoperative LAFA may help identify patients with decreased stump perfusion who can benefit from early therapeutic intervention.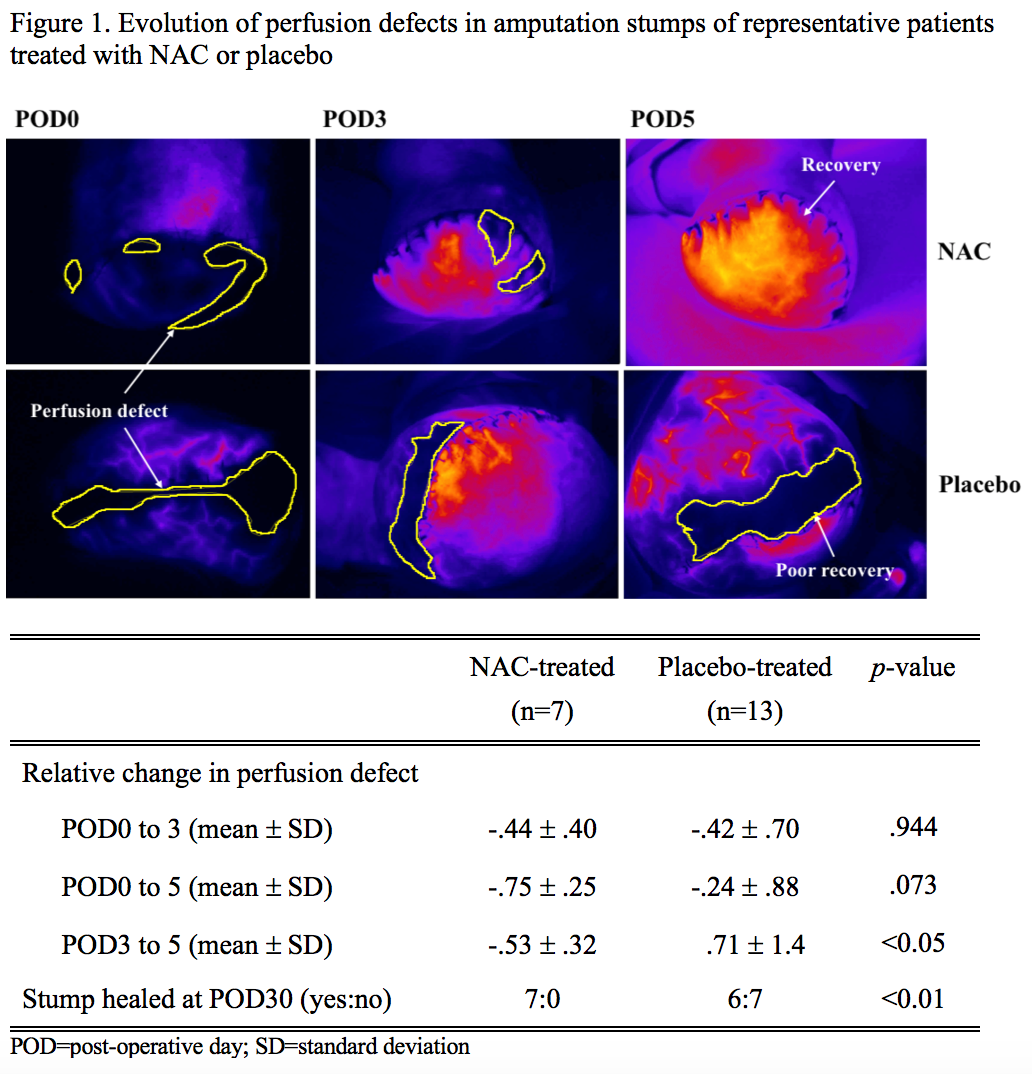 ---
Back to 2021 Abstracts