---
A Preoperative Volume Resuscitation Window Between 1-2.5l Is Associated With Decreased Mortality In Hypotensive Patients With A Ruptured Abdominal Aortic Aneurysm
Amanda R. Phillips, MD
1
, Nancy Mikati, MD
2
, Neal Corbelli, BS
2
, Joshua B. Brown, MD, MSc
1
, Michel S. Makaroun, MD
1
, Edith Tzeng, MD
1
, Francis X. Guyette, MD MPH
1
, Nathan L. Liang, MD, MS
1
.
1
UPMC, Pittsburgh, PA, USA,
2
University of Pittsburgh, Pittsburgh, PA, USA.
OBJECTIVES: Mortality from ruptured aortic aneurysms (rAAA) remains extremely high and minimally changed over the past 20 years. This is likely impacted by preoperative hemodynamics and fluid resuscitation. We hypothesize that the volume of preoperative intravenous fluid (IVF) resuscitation in patients with ruptured abdominal aortic aneurysm (rAAA) and preoperative hypotension predicts mortality.
METHODS: This was a retrospective study (2001-2019) analyzing the prehospital care of patients with rAAA presenting in transfer to a single institution. We analyzed the volume and type of IVF patients received upon presentation to the referring hospital and during transport, as well as vital signs and laboratory values. For patients with any exposure to preoperative hypotension (SBP<90mmHg), we used multivariable regression modeling to identify variables predictive of 30-day mortality and fractional polynomial regression to investigate the relationship between total IVF and 30-day mortality.
RESULTS: Three-hundred and seven patients (mean age 74±10 years, 75% male) out of 537 total rAAA had available prehospital data. The majority of patients were transported by air (88%, n=272). 142 patients had at least one preoperative SBP<90mmHg and defined our cohort of interest. These patients had higher 24-hour and 30-day mortality than those without hypotension (27% vs. 15% and 47% vs. 26%, respectively; p <0.01). They also received more total IVF, crystalloid, and blood than those without hypotension. Age, episode of cardiac arrest, and any SBP<70mmHg were associated with 30-day mortality on multivariable modeling. Using fractional polynomial regression modeling, mortality versus total IVF was shown to follow a U-shaped curve with a nadir of mortality being between 1-2.5L total IVF (Figure). After controlling for age, cardiac arrest, and SBP<70, preoperative IVF volume below or above the range of 1-2.5L was an independent predictor of increased 30-day mortality (OR 2.24; CI 1.05-3.34 p<0.035).
CONCLUSIONS: Risk of mortality from rAAA is increased with any episode of preoperative hypotension. Preoperative under- or over-resuscitation outside a 1-2.5L window is also associated with poor outcomes. Further studies are needed to examine the impact of blood transfusion and preoperative fluid resuscitation targets in RAAA.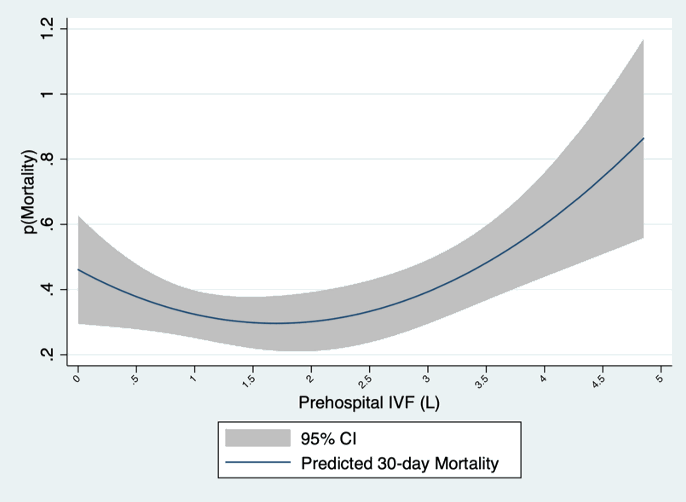 ---
Back to 2021 Abstracts