---
Safety And Feasibility Of Radial Arterial Access For Lower Extremity, Mesenteric, And Aneurysm-Adjunctive Interventions
Sarah J. Carlson, MD
1
,
Alexandra M. Forsyth, BA
2
, Daniel B. Alfson, MD
1
, Michelle C. Martin, MD
1
, Joseph D. Raffetto, MD
1
, James T. McPhee, MD
1
.
1
Veteran Affairs Boston Healthcare System, West Roxbury, MA, USA,
2
Veteran Affairs Boston Healthcare System, Boston, MA, USA.
OBJECTIVES: Radial arterial access is widely used for coronary interventions. Lower extremity and visceral interventions using radial approach have historically been limited by large sheath size, limitations in balloon and stent length for infra-inguinal targets, and lack of familiarity with the technique. Brachial access is plagued by high complication rates, making radial access an appealing alternative. This study's purpose was to investigate the safety and efficacy of radial access for lower extremity, mesenteric, and aneurysm adjunct interventions. METHODS: All patients undergoing radial access for endovascular procedures by a vascular surgeon between 2015 and 2020 were retrospectively reviewed. Patient characteristics, operative details and short- and long-term outcome measures were collected. Hydrophilic radial-to-peripheral sheaths and radial hemostasis bands (Terumo Medical, Somerset NJ) were used for access and post-procedure hemostasis, respectively, in all cases. RESULTS: A total of 44 patients (93% male) underwent endovascular intervention via radial access (95.5% left radial). Reasons for radial access included scarred groins (36.4%), iliac occlusion (9.1%), prior aortoiliac stent grafting or bypass (11.4%), obesity (2.3%), bilateral target (4.5%), and preference of radial over brachial access (36.4%). Radial access was used as part of a hybrid approach (including another access site or open procedure) in 20.4% of cases. Procedural indications, anatomic target and interventions are included in Table 1. Technical success was achieved in 88.6% of cases. There were 5 complications (3 access related: two patients had access site hematomas which were successfully treated with manual pressure, and one patient had a visual TIA; MRI was negative for stroke). Two complications were unrelated to the access (spinal hematoma after TEVAR and postop MI). Among 34 patients who underwent angioplasty and/or stenting, primary patency was 100% at 30 days; 1 patient had loss of patency at 1 year and 7 patients (15.9%) required secondary procedures to maintain target vessel patency (range 43-515 days). CONCLUSIONS: Radial access is a safe and feasible alternative to femoral access for endovascular interventions including mesenteric, aneurysm adjunct, and lower extremity (including infra-inguinal) procedures. In our practice it has largely replaced brachial access, and it should be considered in cases with challenging femoral access.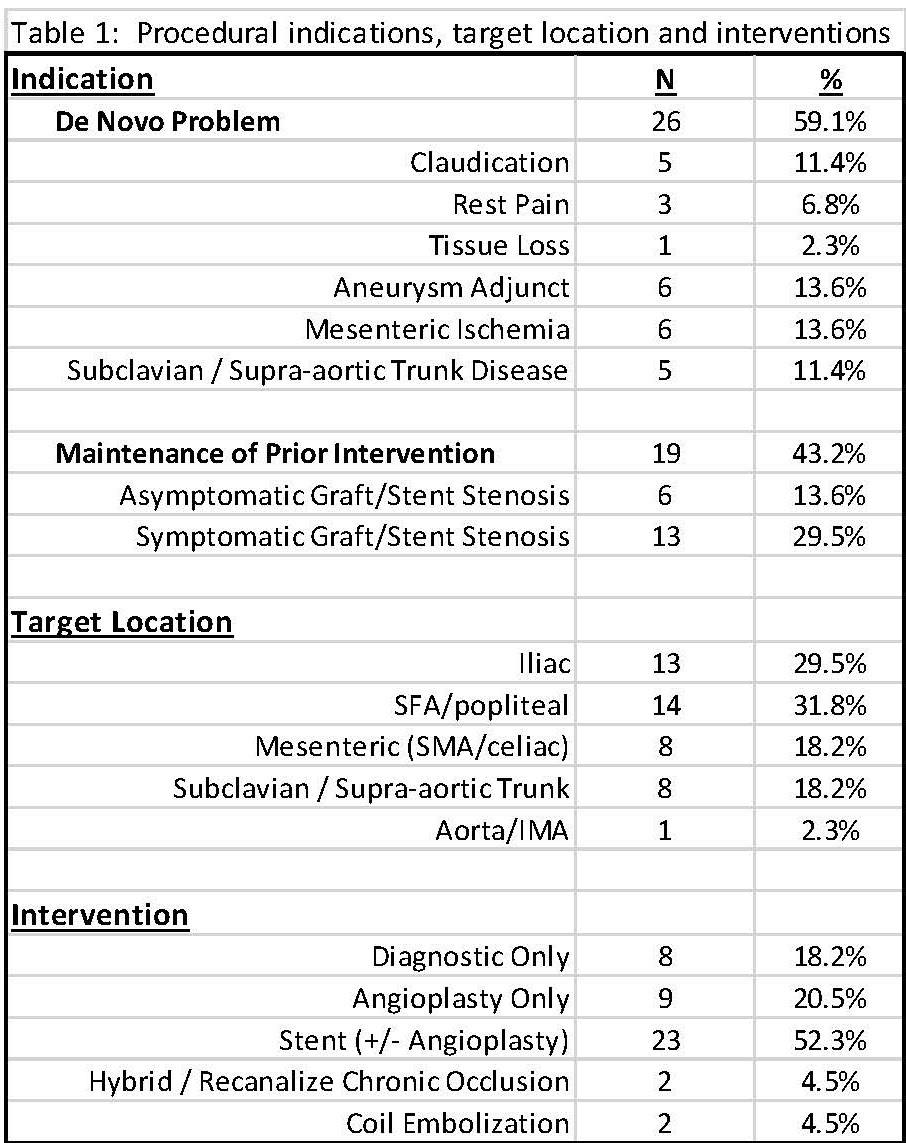 ---
Back to 2021 Abstracts