---
Outcomes Of A Multimodality Program For Pseudoaneurysms In Dialysis Access
Yan Qi, MD,
Mark G. Davies, MD PhD MBA
.
UT Health San antonio, San Antonio, TX, USA.
Background: Maintenance of long term arteriovenous access is an important component in the long term care of the patient with End Stage Renal Disease (ESRD). Arteriovenous access is associated in the longer term with development of pseudoaneurysms (PA). The aim of this study is to evaluate the outcomes of staged PA treatment in dialysis access arteriovenous fistulae (AVF).
Methods: A retrospective review of all patients over a 10-year period with primary autogenous AVF (radio cephalic, RCF; brachiocephalic, BCF; and brachiobascilic, BBF) was undertaken at a single center. Patients undergoing elective pseudoaneurysm repair were identified and were categorized having one or two PA and undergoing single or two stage interventions resulting on the following grouping: Open Single PA, Endovascular (Endo) Single PA, Open one stage and two stage 2 PA and Endo 2 PA repair PA modalities. Outcomes of 30 day outcomes, cannulation failure, line placement re-intervention and functional dialysis (continuous HD for three consecutive months were examined.
Results: From January 1999 to December 2019, 2291 patients, (67% female, mean age of 61±15yrs) underwent primary AVF placement (22% RCF, 53% BCF and 45%BBF). The majority of patients were diabetic and Hispanic. 23% of the patients presented with PA that met requirements for intervention; of these 527 patients, 22% underwent endovascular repair, 44% had a single PA and remainder (56%) had two PA repairs (Table). 30-day MACE and 30-day morbidity were equivalent across all modalities (Table). Early thrombosis was significantly different across intervention groups which led to increase need for a tunneled catheter. Simultaneous treatment of 2 PA by either open or endovascular modalities resulted in an increased incidence of line placement and secondary procedures (Table). Functional dialysis at 5 years was equivalent across the modalities.
Conclusion: Open and endovascular interventions are successful therapeutic modalities for PA but staged rather than simultaneous repair results in a lower re- intervention rate and a need for interim tunneled central line.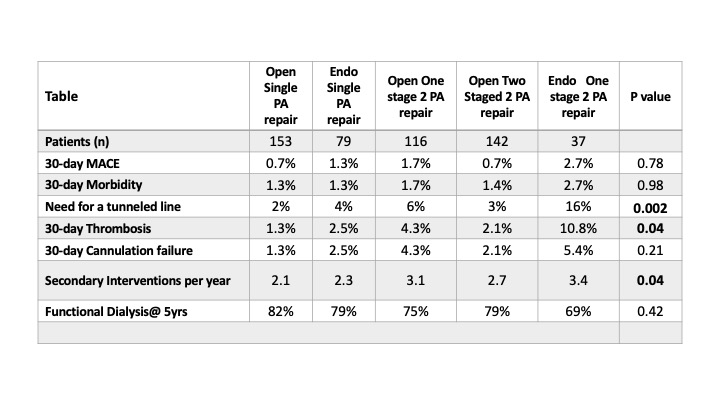 ---
Back to 2021 Abstracts