---
Medical Students Value Low-cost, High-yield Events For Fostering Vascular Surgery Interest
J. Eli Robbins, MD
1
, Jonathan Bath, MD
2
, Brigette Smith, MD
3
, Venita Chandra, MD
4
, Loay S. Kabbani, MD
5
, Angela Kokkosis, MD
6
, David Stone, MD
7
, Sammy Siada, DO
8
, Sharif Ellozy, MD
9
, Dawn Coleman, MD
10
,
Benjamin J. Pearce, MD, FSVS
11
.
1
University of Rochester, Rochester, NY, USA,
2
Missouri University, Columbia, MO, USA,
3
University of Utah, Salt Lake Cit, UT, USA,
4
Stanford University, Palo Alto, CA, USA,
5
Henry Ford Health System, Detroit, MI, USA,
6
Renaissance School of Medicine, Stony Brook, NY, USA,
7
Dartmouth-Hitchcock, Lebanon, NH, USA,
8
University of Colorado, Denver, CO, USA,
9
Weill-Cornell, New York, NY, USA,
10
University of Michigan, Ann Arbor, MI, USA,
11
University of Alabama-Birmingham, Birmingham, AL, USA.
OBJECTIVES:
Since the inception of integrated vascular residency in 2007, positions have increased from four to sixty-six. Over the same period, our direct competitors in radiology and cardiology have created over 100 positions each. The 2019 Match was the first year that suffered unfilled positions for the integrated vascular residency and had fewer US applicants than positions offered. These findings raise concerns regarding recruitment and protecting the longevity of our specialty. To address these concerns, the Association of Program Directors in Vascular Surgery (APDVS) created a subcommittee tasked with improving recruitment. A survey was conducted to identify preclinical exposure to vascular surgery, identify events deemed valuable by students and highlight funding methods used by vascular surgery interest groups (VISGs) across the country.
METHODS:
A de-identified survey was sent to all program directors (PD) registered with the APDVS to determine the incidence of VSIG amongst responders. Institutions with a VSIG were asked follow-up questions regarding useful events, funding, and preclinical exposure.
RESULTS:
There were 85 responses from 64 institutions. Thirty-six of the 85 responders had an active VSIG. Fewer than 50% of the institutions had a preclinical didactic session from a vascular surgery faculty member. Regarding VSIG events; 41% of students found 'meet-and-greets' useful with 39% of responders finding simulation valuable (Figure 1a). Funding was obtained from a variety of sources, however, 75% originated from medical school or departmental funds (Figure 1b).
CONCLUSIONS:
Vascular Surgery is a small specialty that fewer than half of all medical students have exposure to in their preclinical years. Most institutions offer only an elective rotation, which creates a major recruitment barrier. This survey highlights a lack of exposure at the preclinical level with a need for vascular surgery didactic teaching. Identifying extracurricular activities that are valued by students offers insight into events that attract applicants to our specialty and emphasizes the importance of focusing VSIGs towards first and second-year students. Simple events such as 'meet-and-greets' and simulation provide useful, inexpensive exposure that can be supplemented with a variety of funding sources.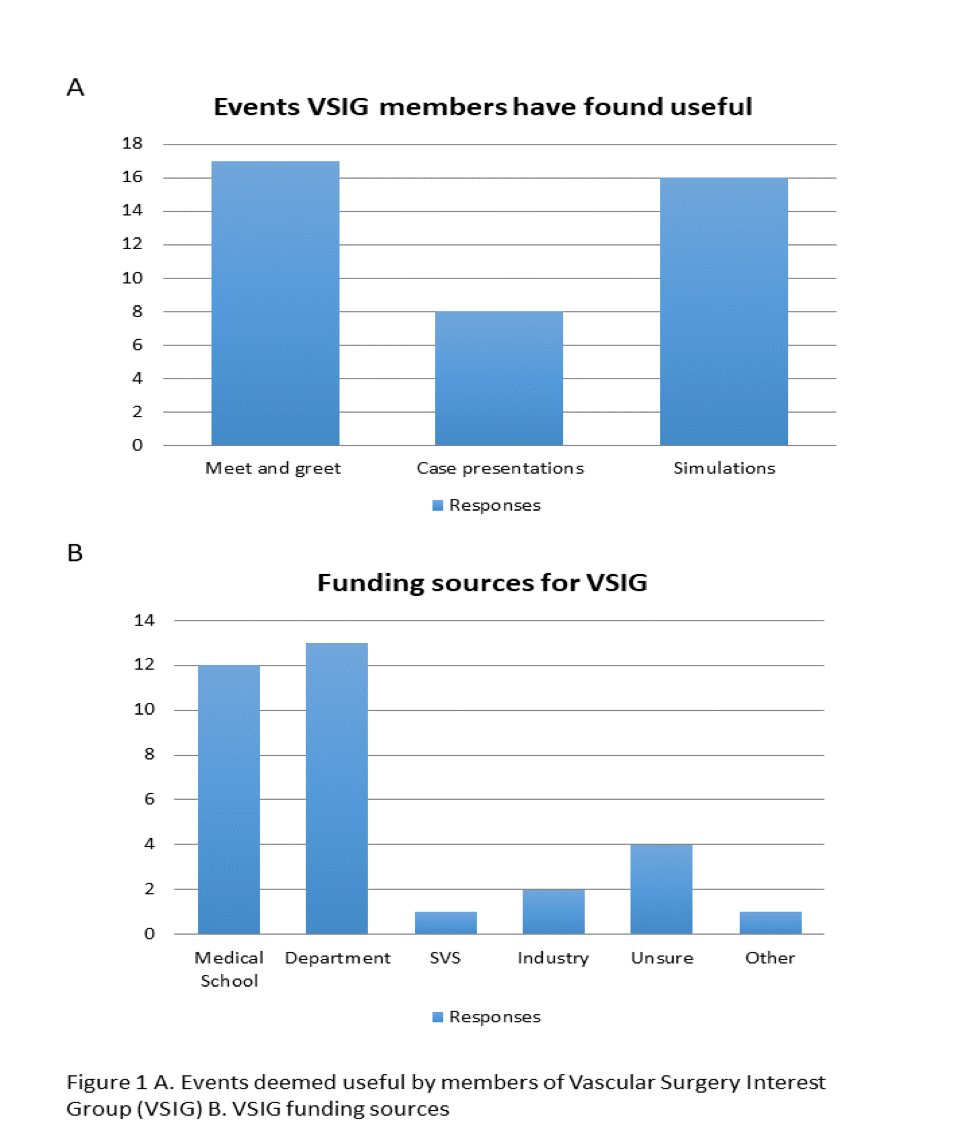 ---
Back to 2021 Abstracts