---
Lipoprotein(a) Levels And Risk Of Abdominal Aortic Aneurysm In The Women's Health Initiative (188)
Elizabeth L. Chou, MD
1
, Mary Pettinger, MS
2
, Bernhard Haring, MD, MPH
3
, Matthew W. Mell, MD, MS
4
, Mark A. Hlatky, MD
5
, Jean Wactawski-Wende, PhD
6
, Matthew A. Allison, MD, MPH
7
, Robert A. Wild, MD, PhD, MPH
8
, Aladdin H. Shadyab, PhD
7
, Robert B. Wallace, MD
9
, Linda G. Snetselaar, PhD
10
, Matthew J. Eagleton, MD
1
, Mark F. Conrad, MD
1
, Simin Liu, MD
11
.
1Massachusetts General Hospital, Boston, MA, USA, 2Fred Hutchinson Cancer Research Center, Seattle, WA, USA, 3University of Würzburg, Würzburg, Germany, 4University of California Davis Medical Center, Davis, CA, USA, 5Stanford University School of Medicine, Stanford, CA, USA, 6University at Buffalo, Buffalo, NY, USA, 7University of California San Diego, La Jolla, CA, USA, 8University of Oklahoma Health Sciences Center, Oklahoma City, OK, USA, 9The University of Iowa, Iowa City, IA, USA, 10University of Iowa, Iowa City, IA, USA, 11Brown University, Providence, RI, USA.
Objective:
Few studies have prospectively examined associations of lipoprotein(a) (Lp(a)) levels with risk of abdominal aortic aneurysm (AAA), particularly in women. Accounting for known risk factors, we investigated baseline Lp(a) levels with risk of AAA and intervention among postmenopausal women participating in the ongoing national Women's Health Initiative (WHI).
Methods
WHI participants with baseline Lp(a) levels who were beneficiaries of Medicare Parts A&B fee-for-service at study enrollment, or who aged into Medicare, were included. Participants with missing covariate data or known AAA at baseline were excluded. Thoracic aneurysms were excluded due to different pathophysiology. AAA cases and interventions were identified by International Classification of Disease-9/10 codes and Current Procedural Terminology codes from claims data. Hazard ratios were computed using Cox proportional hazard models according to quintiles of Lp(a) (mg/dL).
Results
Among the 6,731 participants included in the analysis, the mean age was 65.4 years. 54.8% were non-Hispanic White, 18.9% Black, 7% Hispanic and 3.6% Asian/Pacific Islander. Median values of plasma Lp(a) for each quintile were 3.5, 10.0, 18.0, 33.0 and 68.0 mg/dL. Compared to participants in the lowest quintile, those in higher quintiles were more likely to be overweight, Black, former or current smokers, hypertensive, hyperlipidemic, to have history of cardiovascular disease, use hormone replacement therapy and use statins. During 69,170 person-years of follow-up, over a median of 10.3 years, 415 women were diagnosed with AAA and 37 required intervention, corresponding to an incidence of 63 cases and 5 interventions per 10,000 person years. There was no significant association of Lp(a) with AAA. There was no significant interaction between race (p=0.98) or diabetes (p=0.372) and Lp(a) levels in relation to AAA risk. Additional sensitivity analyses by race, exclusion of statin users, Lp(a) tertiles and Lp(a) cutoff >50mg/dL were conducted without significant association.
Conclusions
In a large and well-phenotyped population of postmenopausal women, there was no statistically significant association between Lp(a) levels and risk of AAA. These findings differ from previous prospective, case-control and meta-analysis studies which showed significant association between higher Lp(a) levels and increased risk of AAA. The discrepancy suggests gender differences in Lp(a) levels and AAA risk.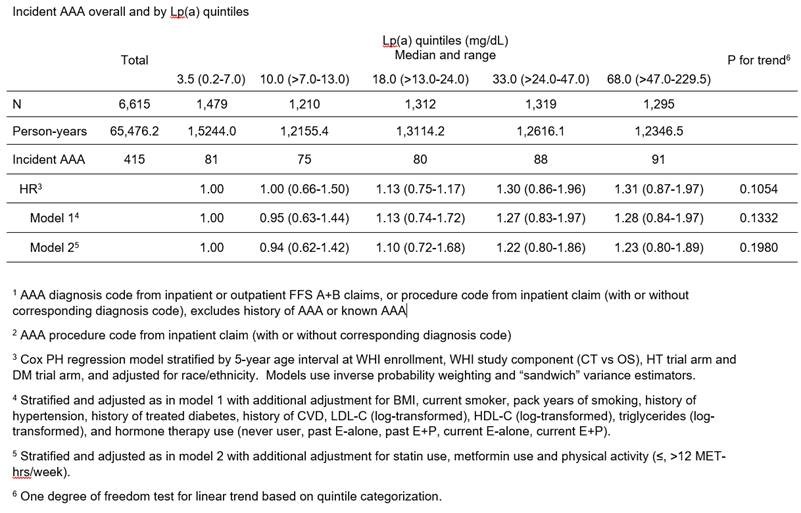 ---
Back to 2021 Abstracts