---
Changes In Early Post-Operative Toe-Brachial Indices May Reflect Positive Or Negative Remodeling
Christina Brown, Steven Maximus, MD, Matthew Mell, MD, MS,
Mimmie Kwong, M.D.
.
U.C. Davis, Sacramento, CA, USA.
OBJECTIVES: Society for Vascular Surgery guidelines recommend utilization of ankle brachial index (ABI) for early post-operative surveillance after infrainguinal revascularizations. However, little guidance exists regarding the ideal timing of the initial post-operative exam. This study sought to investigate the efficacy and optimal timing of these post-procedural noninvasive studies.
METHODS: A retrospective review of all open and endovascular infrainguinal revascularization procedures between July 2014 and November 2019 at a single tertiary referral center was performed. Patient and procedural details as well as pre- and post-operative ABI and toe-arm indices (TAI) were collected and analyzed.
RESULTS: A total of 711 patients underwent infrainguinal revascularization for peripheral arterial disease. Of these, 37.4% (266) did not undergo a post-operative ABI or TAI within 30 days, 0.4% had incompressible ABI and TAI, 2.1% had incompressible ABI with inability to obtain toe-pressures, 0.6% had incompressible brachial arteries, and 2.5% were excluded for other reasons. A total 404 patients had a valid post-procedural ABI or TAI. Locally-weighted regression of the TAI values demonstrated early improvement with a steep rise in TAI within the first two days post-procedure followed by continue improvement until a plateau after 20 days [Figure]. A small cohort of 36 patients had two studies performed within the initial 30 days from their index procedure. Of these patients, five (13.9%) had a significant decrease (>0.15) in their TAI, 19 (52.8%) had no significant change, and 12 (33.3%) had a significant increase in their TAI. 40% of those with a significant drop in TAI required reintervention within 1 year compared with 30% of those whose TAI increased or did not change.
CONCLUSIONS: When performed, ABI and TAI are reliable tools to establish baseline arterial perfusion after revascularization, with less than 5% of studies performed invalidated due to incompressible vessels. Plateau of post-procedural TAI occurs after 20 days, suggesting that immediate baseline studies may not accurately reflect the peak benefit of an intervention, potentially due to ongoing remodeling. However, when serial studies are performed, a decrease in TAI may help identify patients who require reintervention.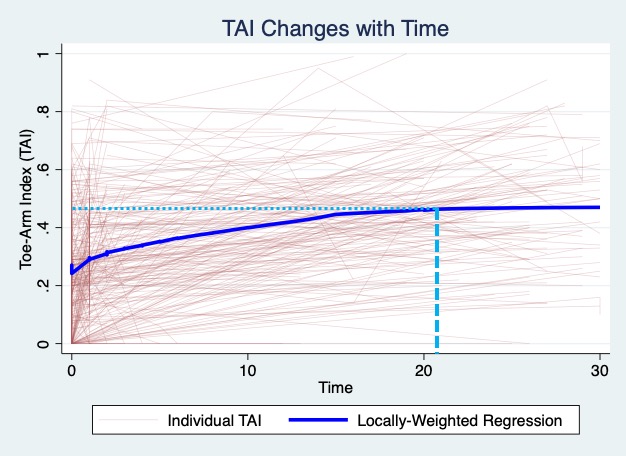 ---
Back to 2021 Abstracts