---
Carotid Endarterectomy Vs Carotid Stenting For Carotid Disease: A Nationwide Analysis Of 6-months Outcomes
Muhammad Zeeshan, MD
, Muhammad Khan, MD, Igor Laskowksi, MD, Faisal Jehan, MD, Romeo Mateo, MD, Arun Goyal, MD, Sateesh Babu, MD.
Westchester Medical Center, Valhalla, NY, USA.
OBJECTIVES: Carotid endarterectomy (CEA) and carotid artery stenting (CAS) are widely performed revascularization procedures for the prevention of neurological sequences secondary to atherosclerotic carotid artery disease. Multiple studies have compared the safety and efficacy of these techniques. However, there is a paucity of a large multi-center national data regarding this subject. The aim of our study was to evaluate the outcomes of CAS vs. CEA from national readmission database.
METHODS: We performed a 1-year (2015) analysis of National Readmission database and included all adult patients (>17y) who underwent either carotid artery stenting or carotid endarterectomy for carotid stenosis. We excluded patient who had missing data. Our outcome measures were myocardial infarction (MI), Stroke, reoperations and mortality during indexed hospitalization and 6-months after surgery. Multivariate regression analysis was performed to control for confounding variables including age, gender, race, comorbidities, ASA class.
RESULTS: We included a total of 42,993 patients. Overall mean age was 66±11y, 61.3% were male, 13.2% of the patients underwent CAS while 86.8% patients had CEA. Patients who underwent CAS had higher rates of in-hospital MI (3.1% vs 1.4%), and stroke (16.3% vs 7.3%) compared to those in CEA group, however there was no difference between the two groups regarding in-hospital mortality. On analysis of 6-months outcomes, compared to CEA, patients who had CAS had higher rates of readmission (28.5% vs 21.6%), MI (2.4% vs 1.1%), stroke (16.4% vs 9.1%), and higher rate of re-operations (7.7% vs 4.2%). On multivariate regression analysis, after controlling for possible confounding variables, CAS was independently associated with higher odds of in-hospital and 6-months post-op MI and stroke. Additionally CAS was independently associated with higher odds of 6-months readmission and re-operation. However, there was no association between the type of carotid intervention and in-hospital or 6-months mortality (Table 1).
CONCLUSIONS: Compared to carotid endarterectomy, carotid artery stenting was associated with higher odds of cardiac and neurological complications both during the indexed hospitalization and 6-months after surgery. Additionally, patients who underwent stenting had higher readmissions and higher odds of repeat surgical intervention for carotid artery stenosis.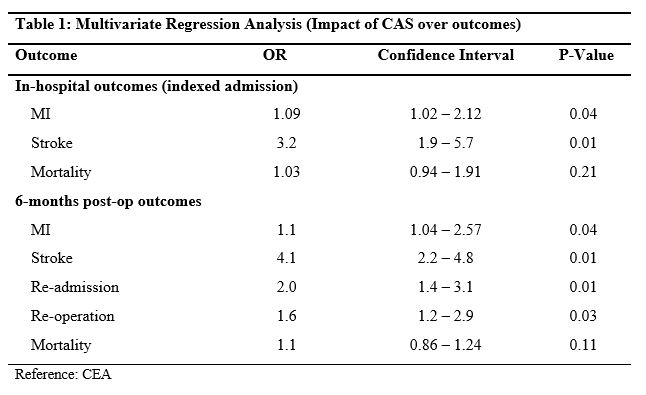 ---
Back to 2021 ePosters