---
Improved Outcomes Of Hybrid Zone 1 TEVAR With Staged Approach In The National VQI Database
Anand Dayama, MD
, Thekla Bacharach, MBBS, Animesh Rathore, MBBS, Hosam El Sayed, MD, Jean M. Panneton, MD, FACS.
Eastern Virginia Medical School, Norfolk, VA, USA.
OBJECTIVES: Thoracic aortic arch pathologies are challenging clinical problems. In high-risk patients, open repair is associated with up to 20% mortality. This study aimed to report the outcomes of hybrid zone 1 thoracic endovascular aortic repair (TEVAR) for the treatment of thoracic aortic pathologies. We hypothesized that staged hybrid repair decreases postoperative stroke and mortality.
METHODS: The Vascular Quality Initiative (VQI) TEVAR registry data was queried to identify patients who underwent hybrid zone 1 TEVAR for the treatment of thoracic aortic pathologies (2012-2019). We divided all procedures into three cohorts based on indication for the operation: thoracic aneurysm (TAA), thoracic dissection (TBAD), and penetrating aortic ulcer or intramural hematoma (PAU/IMH). The study endpoints were rates of inpatient mortality, stroke, spinal cord ischemia, endoleak, early reintervention, and cardiac events. The staged repair was defined as the intentional completion of the debranching as two temporally separate procedures. Statistical analysis included the χ2 test for categorical variables and Student t-test for continuous variables.
RESULTS: A total of 159 patients (60.4% male; mean age 64.4±13.53 years) underwent hybrid Zone 1 TEVAR for the treatment of TAA (42.8%), TBAD (47.2%) and PAU/IMH (10.1%). Staged procedures were performed in 53.5% of patients. The overall postoperative complication rate was 30.4% and the inpatient mortality rate was 5.0%, with no difference between TAA, TBAD, or PAU/IMH patients (p-value 0.24 and 0.51 respectively). The overall rate of early aortic related reintervention was 8.8%. In elective procedures, the mortality rate in the simultaneous hybrid TEVAR (2.3%) versus staged TEVAR (1.4%) was not statistically significant, p-value 0.71. However, the stroke rate and aortic related reinterventions were significantly higher in the elective simultaneous hybrid TEVAR versus staged TEVAR (6.8% versus 0%, p-value 0.02 and 20.5% versus 2.7%, p-value <0.01) respectively.
CONCLUSIONS: Supra-aortic debranching for hybrid Zone 1 TEVAR to treat aortic arch pathologies is safe and efficacious. The staged approach appears to have lower stroke and aortic related reintervention rates. Long-term follow-up is needed to assess the durability of repair and progression of aortic disease.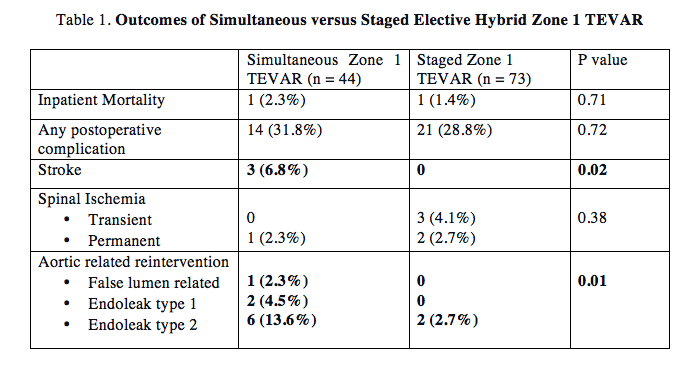 ---
Back to 2021 ePosters