---
In Ckd Patients, Elective Tevar For Asymptomatic Aneurysm Is Associated With Increased Morbidity And Mortality
Alexander S. Kim, MD
1
, Joel L. Ramirez, MD
1
, Devin S. Zarkowsky, MD
2
, Elizabeth Lancaster, MD
1
, Warren Gasper, MD
1
, Virendra I. Patel, MD MPH
3
, Michael S. Conte, MD
1
, James C. Iannuzzi, MD
1
.
1
UCSF, San Francisco, CA, USA,
2
University of Colorado Anschutz Medical Campus, Aurora, CO, USA,
3
Columbia University, New York, NY, USA.
OBJECTIVES: The advent of TEVAR has expanded thoracic aortic aneurysm (TAA) treatment to higher risk groups including those with chronic kidney disease (CKD), yet it remains unclear how CKD impacts TEVAR outcomes. This study hypothesized that increasing CKD severity is associated with increased risk for new hemodialysis (HD), major post-operative complications, and decreased survival after TEVAR for asymptomatic descending thoracic aortic aneurysms (TAA).
METHODS: The Vascular Quality Initiative (VQI) database was queried for TEVAR performed electively for TAA (2014-2018) excluding cases with undocumented preoperative creatinine. Renal function was determined by calculating GFR and categorized as CKD1/2, CKD3, or CKD4/5. Baseline demographics and postoperative outcomes were analyzed by CKD severity as appropriate to the data. Multivariable analyses were performed using hierarchical cox proportional hazards model for the survival and hierarchical binary logistic regression for post-operative complications.
RESULTS: Overall 1116 patients were included with CKD1/2 present in 68% (n=759), CKD3 in 29% (n=323), and CKD4/5 in 3% (n=34). CKD severity was associated with age (p<0.001), male gender (p=0.005), and hypertension (p=0.002). CKD4/5 was associated with increased ICU LOS, in-hospital mortality (2.2 vs 3.1 vs 11.8, OR 3.6 CI 1.5-16.0), lower extremity ischemia (0.8 vs 1.2 vs 9.1, OR 12.9 CI 2.7-61.1), acute kidney injury, new HD (0.1 vs 0.9 vs 2.9, OR 17.3 CI 1.0-296.8), major complications, 30-day mortality (5.1 vs 6.2 vs 17.4, OR 3.6 CI 1.1-12.0), and worse 3-year mortality (12.7 vs 18.7 vs 30.4, OR 2.7 CI 1.0-6.9) (Table 1).
CONCLUSIONS: This study demonstrates that severe CKD, in the context of elective TEVAR for asymptomatic aortic aneurysm, is associated with increased acute and long-term mortality and increases healthcare utilization and patient morbidity through longer ICU LOS, complications-particularly postoperative leg ischemia, and new need for dialysis. This study helps quantify the prognosis in this high-risk population informing patient selection and preoperative counseling in elective thoracic aortic aneurysm treatment.

Table I. Significant Endpoints

| | | | | | |
| --- | --- | --- | --- | --- | --- |
| Endpoint | CKD1/2 | CKD3 | CKD4/5 | Linear Coefficient/Adjusted Odds Ratio for CKD4/5 (Reference-CKD1/2) | P or 95% CI |
| ICU LOS (Days) | 2.5±3.1 | 2.8±4.3 | 4.6±6.9 | 1.9 | 0.004 |
| In-Hospital Mortality (%) | 2.2 | 3.1 | 11.8 | 4.8 | 1.5-16.0 |
| 30-Day Mortality (%) | 5.1 | 6.2 | 17.4 | 3.6 | 1.1-12.0 |
| 1-Year Mortality (%) | 9.8 | 13.4 | 21.7 | 2.3 | 0.8-6.6 |
| 3-Year Mortality (%) | 12.7 | 18.7 | 30.4 | 2.7 | 1.0-6.9 |
| Any Complication (%) | 18.5 | 26.7 | 38.2 | 2.2 | 1.1-4.6 |
| Postoperative Leg Ischemia (%) | 0.8 | 1.2 | 9.1 | 12.9 | 2.7-61.1 |
| AKI (%) | 9.8 | 19.4 | 38.2 | 5.4 | 2.6-11.4 |
| New Dialysis at Discharge (%) | 0.1 | 0.9 | 2.9 | 17.3 | 1.0-296.8 |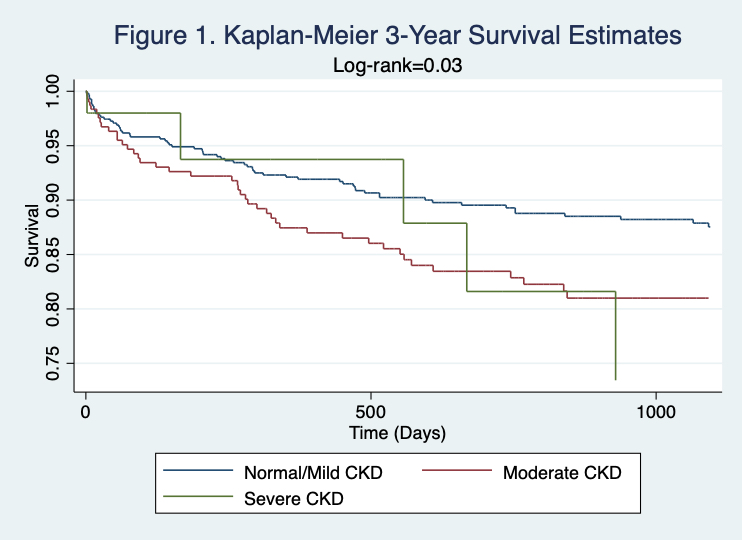 ---
Back to 2021 ePosters