---
Temporal Trends In The Use Of Carotid Endarterectomy, Transfemoral Carotid Artery Stenting, And Transcarotid Artery Revascularization In The Vascular Quality Initiative
Pavel Kibrik, DO
, Courtenay Holscher, MD, PhD, Devin Zarkowsky, MD, Christopher J. Abularrage, MD, Bruce A. Perler, MD, MBA, Caitlin W. Hicks, MD, MS.
Johns Hopkins Hospital, 1800 Orleans St, MD, USA.
Objective:Carotid endarterectomy(CEA) is the traditional gold standard for treatment of carotid artery stenosis,but transfemoral carotid artery stenting(TFCAS) and transcarotid artery revascularization(TCAR) are considered acceptable alternatives in select patients.We aimed to explore temporal trends associated with the useof CEA, TFCAS, and TCAR for the treatment of carotid artery stenosis in a real-world population. Methods: All patients with >50% carotid artery stenosis who underwent elective CEA, TFCAS, or TCAR in the Vascular Quality Initiative (2005-2019) were included. We described trends in the annual proportion of carotid revascularization procedures performed with each technique using Cuzick's test, and described odds of undergoing TFCAS and TCAR vs. CEA by calendar year using logistic regression overall and stratified by symptom status and degree of stenosis (moderate=50-69%, high-grade=70-99%). Results: Overall, 133,218 carotid revascularization procedures were performed in 123,459 patients, including 80.6% CEA(N=107,436),12.9% TFCAS (N=17,180), and 6.5% TCAR (N=8,602). The proportion of CEA procedures decreased over time from 95.3% of carotid interventions in 2005 to 67.4% in 2019(P=0.001). In contrast, the proportion of TFCAS increased from 4.7% to 11.8% (P=0.02) and TCAR increased from 0%to 20.7%(P<0.001) (Figure1). Relative to CEA, the use of TFCAS increased by 4% per year (95%CI 1.03-1.04) and the use of TCAR increased by 207% per year(95%CI 2.03-2.11).When patients were stratified by symptom status, the use of TCAR increased for both symptomatic (OR 2.16, 95%CI 2.10-2.23)and asymptomatic patients (OR 2.12,95%CI 2.06-2.17), whereas the use of TFCAS only increased for symptomatic patients (OR 1.07,95%CI 1.06-1.08). When stratified by degree of stenosis, use of TCAR increased significantly per year for both moderate (OR 2.38, 95%CI 2.29-2.48) and high-grade (OR 1.75, 95%CI 1.70-1.79) stenosis, whereas the use of TFCAS increased for moderate stenosis (OR 1.28,95%CI 1.25-1.30)but decreased for high-grade stenosis (OR 0.76,95%CI 0.75-0.76). Conclusions: The use of TFCAS and TCAR for the treatment of carotid artery stenosis has significantly increased over recent years. There is a critical need for level 1 evidence comparing long-term outcomes of these technologies given the ubiquity of their application across a wide range of disease severity.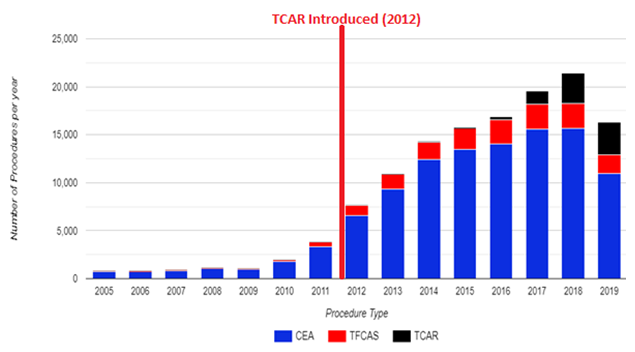 ---
Back to 2021 ePosters