---
Racial Differences In Aortoiliac Aneurysm Repair
Livia de Guerre
1
, Jayne Rice
1
, Jane Cheng
1
, Chun Li
1
, Kirsten Dansey
1
, Grace Wang
2
, Kakra Hughes
3
, Joost van Herwaarden
4
, Marc Schermerhorn
1
.
1
Beth Israel Deaconess Medical Center, Boston, MA, USA,
2
Hospital of the University of Pennsylvania, Philadelphia, PA, USA,
3
Howard University and Hospital, Washington DC, DC, USA,
4
UMC Utrecht, Utrecht, Netherlands.
OBJECTIVES: Previous studies have demonstrated racial differences in prevalence of AAAs and several small series reported more complex iliac anatomy in Asian patients. Our aim was to describe the racial differences in presentation, baseline and operative characteristics, and outcomes after aortoiliac aneurysm repair.
METHODS: We identified all White, Black, and Asian patients undergoing aortoiliac aneurysm repair in the VQI from 2003 to 2019. We assessed racial differences in baseline comorbidities, operative characteristics and outcomes using Chi-square tests and in survival using Kaplan-Meier curves.
RESULTS: In the overall cohort of 60,435 patients, 56,424 patients were White (93%), 3,208 were Black (5.3%) and 803 were Asian (1.3%). Black patients, followed by Asian patients, were most likely to undergo repair for aortoiliac (W:23%, B:38%, A:31%, P<.001) and isolated iliac aneurysms (W:1.1%, B:3.1%, A:1.5%, P<.001), and White patients were most likely to undergo isolated aortic aneurysm repair (W:76%, B:59%, A:68%, P<.001). Black patients were more likely to undergo symptomatic repair (W:8.7%, B:17%, A:10%; P<.001). All groups had similar rates of rupture repair (W:7.9%, B:9.1%, A:8.1%, P=.07). While the maximal aneurysm diameter for patients undergoing symptomatic repair was similar, Black patients underwent ruptured repair at a smaller aneurysm diameter (W:72, B:67 A:75 mm; P=.002). Also, Black patients were the youngest and had the highest overall comorbidity rates compared to other races. The iliac diameter was largest in Black and Asian patients with aortoiliac or iliac aneurysms. Asian patients were most likely to have aortic neck angulation above 60°, graft oversizing above 20%, and completion endoleaks. Also, Asian patients were more likely to have a hypogastric artery aneurysm and to undergo hypogastric coiling. Black patients had the highest major complications rates after EVAR (W:6%, B:7.9%, A:5.5%, P<.001) and the lowest five-year survival (W:82%, B:80%, A:88%, P=.004). CONCLUSIONS: Asian and Black patients were more likely to undergo repair for aortoiliac and isolated iliac aneurysms compared to White patients who were more likely to undergo repair for isolated aortic aneurysms. The observations in this study provide a framework for race-specific quality improvement with improved patient selection for repair, preventive measures, and device development for complex iliac anatomy.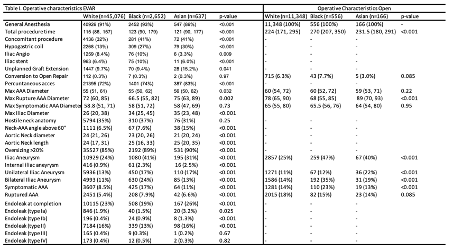 ---
Back to 2021 ePosters