---
Sex Based Differences In Presentation And Outcomes Of Tevar Of Penetrating Aortic Ulcer And Intramural Hematoma
Priya B. Patel, MD
1
, Livia de Guerre, MD
1
, Martin Back, MD
2
, Virendra I. Patel, MD
3
, Marc L. Schermerhorn, MD
1
, Salvatore Scali, MD
2
.
1
Beth Israel Deaconess Medical Center, Boston, MA, USA,
2
University of Florida, Gainsville, FL, USA,
3
Columbia University Medical Center, New York City, NY, USA.
OBJECTIVES: Although sex differences in outcomes for thoracic endovascular aortic repair (TEVAR) of degenerative and dissection-related pathology are known, sex differences for penetrating aortic ulcer (PAU) and/or intramural hematoma (IMH) are poorly described. The purpose of this study was to evaluate the association between sex and outcomes after TEVAR of PAU/IMH.
METHODS: All TEVARs for PAU/IMH in the SVS-VQI registry (2010-2020) were analyzed. Multivariable logistic regression and Cox hazards modeling were used for risk-adjustment. Kaplan Meier methodology estimated survival.
RESULTS: 1,476 patients (54% female) underwent TEVAR for PAU and/or IMH. Women were older, less likely to be white, and had smaller aortic diameters but larger aortic size index (ASI). Additionally, women had less prevalence of prior coronary revascularization and tobacco use but increased prevalence of preoperative anemia. Female patients were more likely to be transferred from another facility (45% vs. men-39%;P=.03); however, no significant difference in urgency, spinal drain use, or other intraoperative variables was detected. Postoperatively, women had increased median hospital LOS (5 vs. 4 days;P=.01) and ICU LOS (3 vs. 2 days;P=.06) and were less likely to be discharged home (71% vs. 76%;P=.03). Notably, women had higher frequency of postoperative blood transfusion (30% vs. 23%;P=.004). No difference in mortality was evident at 30-days (5.9% vs. 4.1%;P=.1) and 1-year (17% vs 14%;P=0.31). Factors associated with 30-day mortality included age (OR:1.03, 95%CI [1.0-1.1];P=.01), preoperative renal failure (OR:3.5, [1.7-7.3];P=.001) and non-elective presentation (OR:2.5,[1.2-5.0];P=.01). After adjusting for age, aortic size index, symptoms, and comorbidities, female sex was not associated with survival (Figure). Several factors are associated with decreased survival including age (OR:1.03, [1.02-1.06];P<.001), ASI (OR:1.2, [1.02-1.5];P=.02), CHF (OR:1.8, [1.2-2.8];P=.002), COPD (OR:1.8, [1.3-2.7];P=.001), renal failure (OR:2.2, [1.3-3.8];P=.003), and emergent presentation (OR:3.3, [2.2-5.1];P<.001.
CONCLUSIONS: Unlike degenerative aneurysm and dissection-related pathology, TEVAR for PAU/IMH indications is more likely performed in female patients compared to men. Notably, no sex differences in outcomes were found, but female patients have a higher postoperative resource utilization. Sex does not appear to be an important risk factor to consider in preoperative decision-making; however, several important predictors are identified which can inform patient discussions about timing and risk of intervention.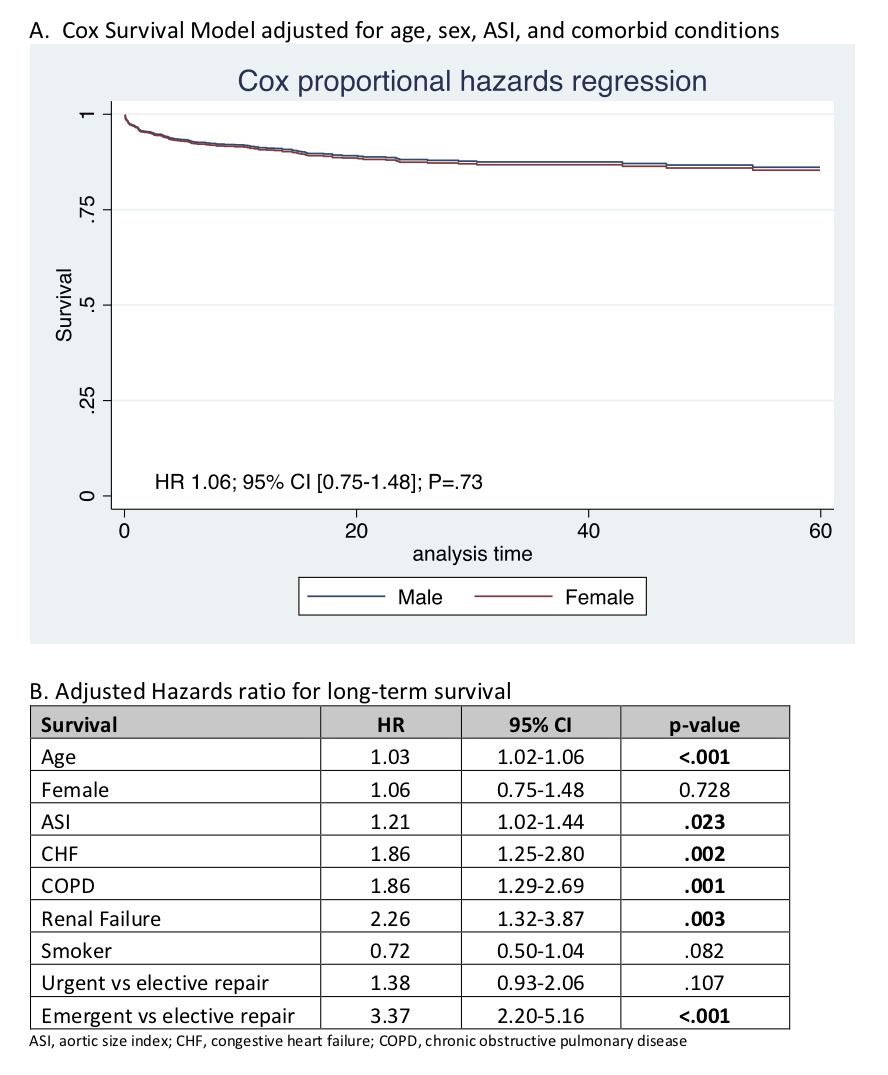 ---
Back to 2021 ePosters