---
Association Of Comorbid Conditions With Presentation,preoperative, And Long-term Outcomes Following Tevar For Ruptured Thoracic Aneurysms
Priya B. Patel, MD
1
, Livia de Guerre, MD
1
, Marc Wyers, MD
1
, Allen Hamden, MD
1
, Lars Stangenberg, MD
1
, Salvatore Scali, MD
2
, Virendra Patel, MD
3
, Marc Schermerhorn
1
, Marc Schermerhorn
1
.
1
Beth Israel Deaconess Medical Center, Boston, MA, USA,
2
University of Florida, Gainsville, FL, USA,
3
Columbia University Medical Center, New York City, NY, USA.
Objective: TEVAR for ruptured aneurysm is associated with increased perioperative mortality and morbidity compared to intact repair. The purpose of this study was to evaluate factors associated with presentation of ruptured aneurysm and adverse outcomes following repair.
Methods: The VQI was queried (2010-2020) to identify patients undergoing TEVAR for intact and ruptured thoracic aneurysm. Outcomes included factors associated with presentation of ruptured aneurysm, perioperative mortality, morbidity, and five-year survival.
Results: Of the 7,543 patients identified, 7,080 (94%) had intact aneurysm and 454 (6%) had ruptured aneurysm. Factors independently associated with ruptured presentation include CKD (OR 2.73; 95%CI [1.98-3.76]; P<.001) and morbid obesity (OR 1.76; [1.03-3.01]; P=.036). However, prior intervention for PVD (OR 0.65; [0.44-0.98]; P=.043) and current or former smoking status (OR 0.51; [0.39-0.66]; P<.001) were associated with lower likelihood of ruptured presentation. Patients presenting with rupture have increased perioperative mortality (30% vs 5%; P<.001), spinal cord ischemia (SCI) (7.2% vs 3.0%; P<.001), stroke (6.5% vs 2.6%, P<.001), and new dialysis (10.5% vs 2.3%, P<.001) compared to patients undergoing TEVAR for intact aneurysms. In the intact cohort, COPD was independently associated with higher perioperative mortality (OR 2.14; [1.23-3.74]; P=.007) as well as composite mortality/stroke/paralysis (OR 1.87; [1.11-3.14]; P=.017). Five-year survival was lower in patients undergoing rupture repair (log-rank, P<.001). One-year, 3-year, and 5-year survival rates were 86%, 80%, and 76% following intact repair and 59%, 54%, and 49% following rupture repair. Factors independently associated with decreased 5-year survival include ruptured
presentation (HR 3.46; 95%CI [2.82-4.28]; P<.001), CHF (HR 1.53; [1.30-1.80]; P<.001), COPD (HR 1.66; [1.45-1.91]; P<.001), and CKD (HR 1.90; [1.57-2.29]; P<.001).
Conclusion: Presentation with ruptured aneurysm results in increased perioperative mortality, SCI, stroke, and dialysis, as well as decreased long-term survival. Morbid obesity and CKD were associated with increased presentation of rupture. However, patients with prior intervention for PVD as well as current or former smokers were less likely to present with ruptured aneurysm. This correlation could be attributed to increased exposure to cardiovascular healthcare providers and therefore increased screening and surveillance with subsequent intervention in the elective setting.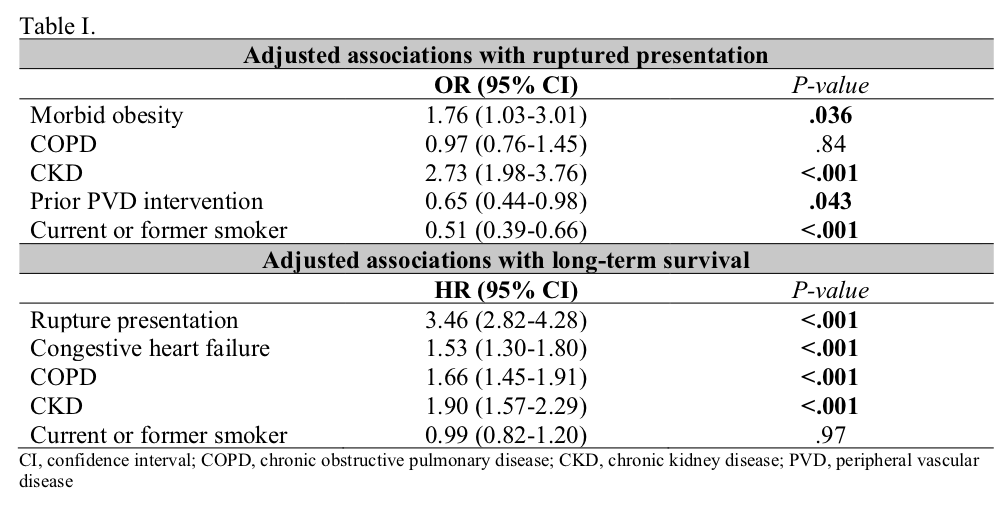 ---
Back to 2021 ePosters