---
Autologous Vein Vs Synthetic Interposition Graft In Civilian Traumatic Arterial Injury Repair: A Propensity Matched Cohort Comparison From The American Association For Trauma (AAST) PROspective Observational Vascular Injury Treatment (PROOVIT) Registry
David Patrick Stonko, MD, MS
1
, Richard D. Betzold, MD
2
, Joseph J. DuBose, MD
2
, Kristofer M. Charlton-Ouw
3
, Tiffany K. Bee
4
, Timothy C. Fabian, MD
4
, Jonathan J. Morrison, MD
2
, Rishi Kundi, MD
2
, David J. Skarupa
5
, Thomas J. Scalea, MD
2
, David V. Feliciano, MD
2
.
1
Johns Hopkins, Baltimore, MD, USA,
2
University of Maryland, Shock Trauma Center, Baltimore, MD, USA,
3
HCA Houston Healthcase, Houston, TX, USA,
4
University of Tennessee Health Science Center, Memphis, TN, USA,
5
University of Florida College of Medicine - Jacksonville, Jacksonville, FL, USA.
OBJECTIVE: Autologous vein graft (VG) and synthetic interposition graft (SG) for repair of arterial injuries were compared regarding complications and the need for in-hospital reintervention. METHODS: The PROOVIT registry (Nov 2013 - Jan 2019) was used to identify arterial injuries requiring interposition graft repair. SG and VG patients were propensity matched for demographics, injury severity and characteristics; outcomes and complications were compared across the matched cohort. RESULTS: 460 patients from 19 centers were identified (402 VG; 58 SG). In the SG group, there were 45 PTFE, 5 Dacron and 8 unspecified grafts. Prior to matching, the SG group was more likely to be injured by gunshot (62.1% vs. 44.8%, p = 0.001), had a higher median Injury Severity Score (ISS) (21.1 vs. 13.6, p < 0.01), lower admission pH (7.19 vs. 7.30, p< 0.001) and higher admission lactate (6.8 vs. 4.3, p < 0.01). After propensity matching 51 SG were compared with 87 VG patients revealing no difference in need of need for in-hospital reintervention or complications, see Table. CONCLUSIONS: Although SGs are more commonly used in more severely injured patients, after propensity matching for demographics, injury severity and physiology, there was no difference between SGs and VGs with regards to the need for early reintervention or complications following use for repair of arterial injury.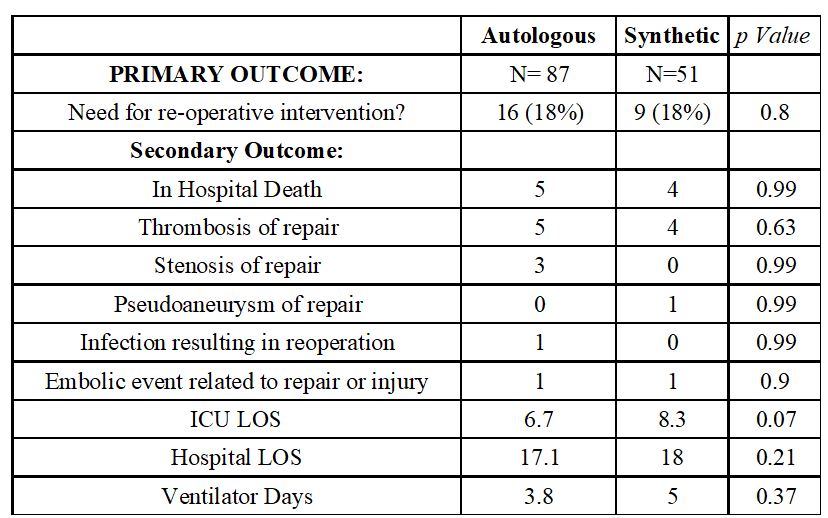 ---
Back to 2021 ePosters