---
High Rates Of Recurrent Revascularization Following Intervention For Acute Limb Ischemia - A National Surgical Quality Improvement Program Study
Ryan Gupta, MD
, Sammy Siada, MD, Michael Bronsert, Mohammed Al-Musawi, MD, Mark Nehler, MD, Jeniann Yi, MD.
University of Colorado, Aurora, CO, USA.
OBJECTIVES: Acute limb ischemia (ALI) is increasingly recognized as a major cardiovascular event with poor outcomes. Unfortunately, outcomes data of ALI patients undergoing revascularization is limited and does not identify which patients are at greatest risk of requiring reintervention; previous retrospective studies have been limited by difficulty in accurately and thoroughly capturing ALI cases. In this study, we used a novel validated coding tool to query the National Surgical Quality Improvement Program (NSQIP) database to review outcomes of ALI patients and identify factors predicting reoperation and readmission following intervention for ALI.
METHODS: A previously validated, highly specific tool combining Current Procedural Technology and International Classification of Diseases codes was used to identify ALI patients in NSQIP undergoing revascularization from 2012-2017. Multivariable analysis of patient and operative characteristics was performed for the primary outcome of reoperation and secondary outcome of readmission. Frequency statistics were performed based on procedure type. RESULTS: A total of 2,878 ALI patients were identified. Of these, 13.8% (N=396) required reoperation and 7.9% (N=228) required readmission. The majority of reoperations (32%) were recurrent revascularization (N=128, representing 4.4% of all ALI patients). Wound-related (26.0%, N=103) procedures and amputations (12.6%, N=50) were the other major reoperations. Younger age (p<0.001), underweight patients (p=0.02), pre-operative steroid use (p=0.02), and perioperative transfusion (p=0.007) predicted reoperations. ASA classification and other comorbidities such as diabetes, smoking status, or heart failure and were not associated with reoperation or readmission (Table 1).
CONCLUSIONS: This study is one of the largest retrospective reviews evaluating outcomes after intervention for ALI. Per the NSQIP database, 4.4% of ALI patients require recurrent revascularization within 30 days. This revascularization rate is nearly double that reported for acute coronary syndrome within 30 days. Common comorbidities associated with poor outcomes may impact ALI patients less than other vascular diseases. Other factors such as initial revascularization strategies or post-ALI revascularization pharmacotherapy may have greater impact on outcomes and should be investigated in future studies.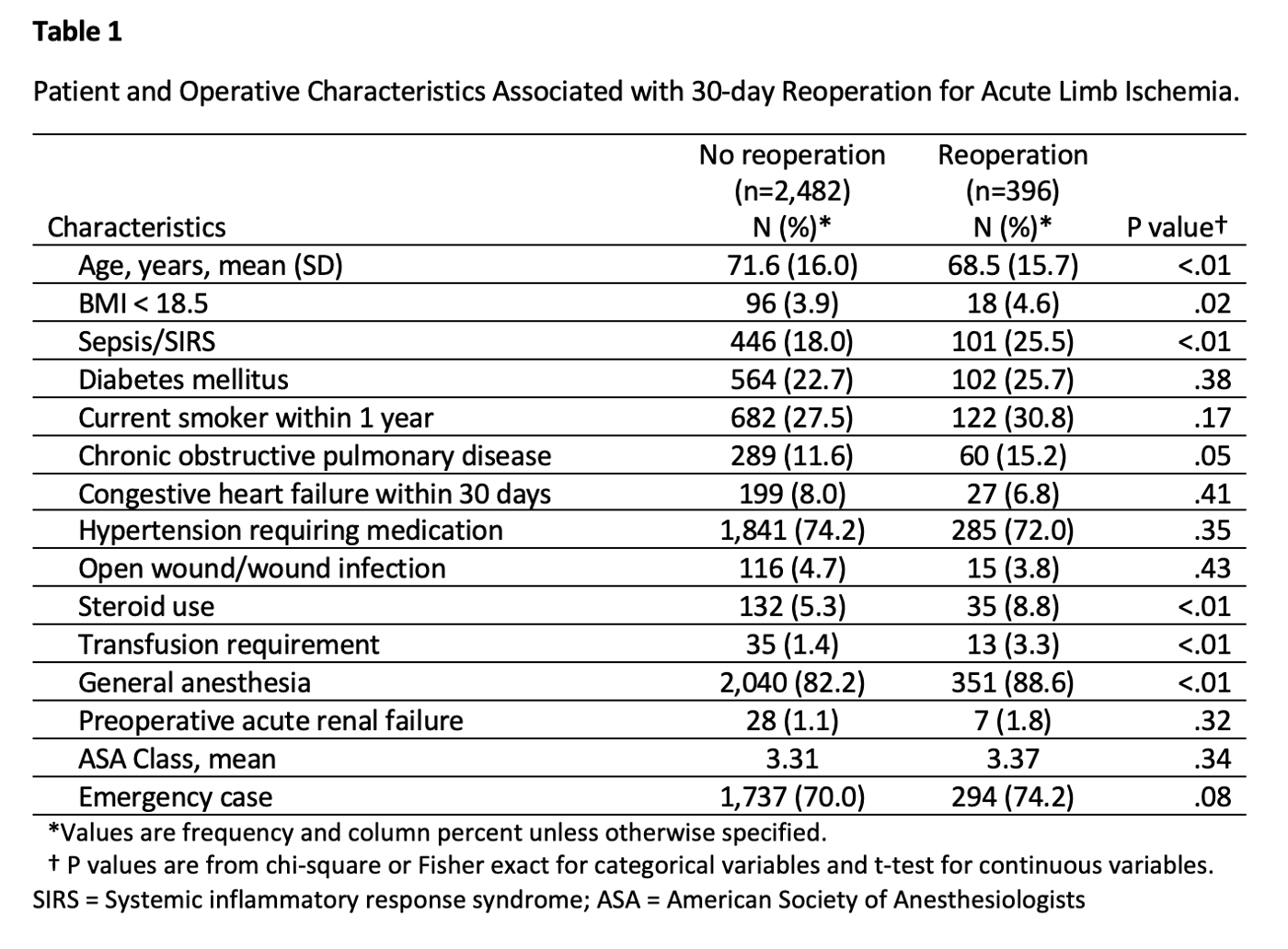 ---
Back to 2021 ePosters