---
The Single Vessel Snorkel Technique Is A Safe And Effective Adjunct During Thoracic Endovascular Aortic Repair At Midterm
Heepeel Chang, MD
, Caron B. Rockman, MD, Thomas S. Maldonado, MD, Glenn R. Jacobowitz, MD, Karan Garg, MD, Neal S. Cayne, MD.
NYU Langone Medical Center, New York, NY, USA.
OBJECTIVES: The snorkel technique of placing parallel grafts has been described as a less invasive method to extend short proximal necks, during thoracic endovascular aortic repair (TEVAR). Gutter leaks have been the Achilles heel of this procedure. The objective of this study is to report the midterm outcomes of TEVAR using a single vessel snorkel technique (SVST).
METHODS: The SVST was used in eight male patients (68.5±4.6 years) between September 2015 and December 2019. Comorbidities included HTN (100%), CAD (63%), DM (50%), CKD (38%), COPD (63%) and smoking history (88%). The indication for the intervention was aneurysmal disease in all cases, combined with aortic dissection in one. Mean thoracic aortic aneurysm (TAA) diameter was 6.5±1.5 cm. The single vessel snorkel involved the left subclavian artery (LSA) (n=3), the left common carotid artery (LCCA)(n=4) and the right common carotid artery (RCCA)(n=1). The 4 CCA snorkel cases were preceded by a LCCA-to-LSA bypass. One patient with aberrant anatomy and a type 2 right sided arch required bilateral carotid to subclavian artery bypasses and a right CCA snorkel. All patients underwent pre-operative computed tomography angiography (CTA) from the neck to the upper abdomen and post-operative CTA at 1-month, 3-month and yearly thereafter.
RESULTS: The median follow-up was 27 months (range, 1-49). Balloon-expandable stents were used in all patients (6 covered and 2 bare-metal stents) for the SVST. The mean length of seal zone and oversizing of the proximal seal zone were 2.3±1.2cm and 19±2.8%, respectively. A variety of TEVAR devices were used. Technical success was achieved in 100% of cases with no perioperative endoleaks. No type IA endoleaks or gutter leaks were identified on follow-up CTA during the study period. There was no perioperative mortality or notable perioperative complications (i.e. stroke, myocardial infarction and infection) related to the SVST procedures. There was no aneurysm growth or rupture. Average TAA size at follow-up was 6.1±1.1cm. No secondary interventions were required.
CONCLUSIONS: These results suggest good snorkel patency, good aneurysm exclusion and no gutter endoleaks at midterm utilizing the SVST. The SVST is a safe and effective adjunct to TEVAR in patients with appropriate anatomy.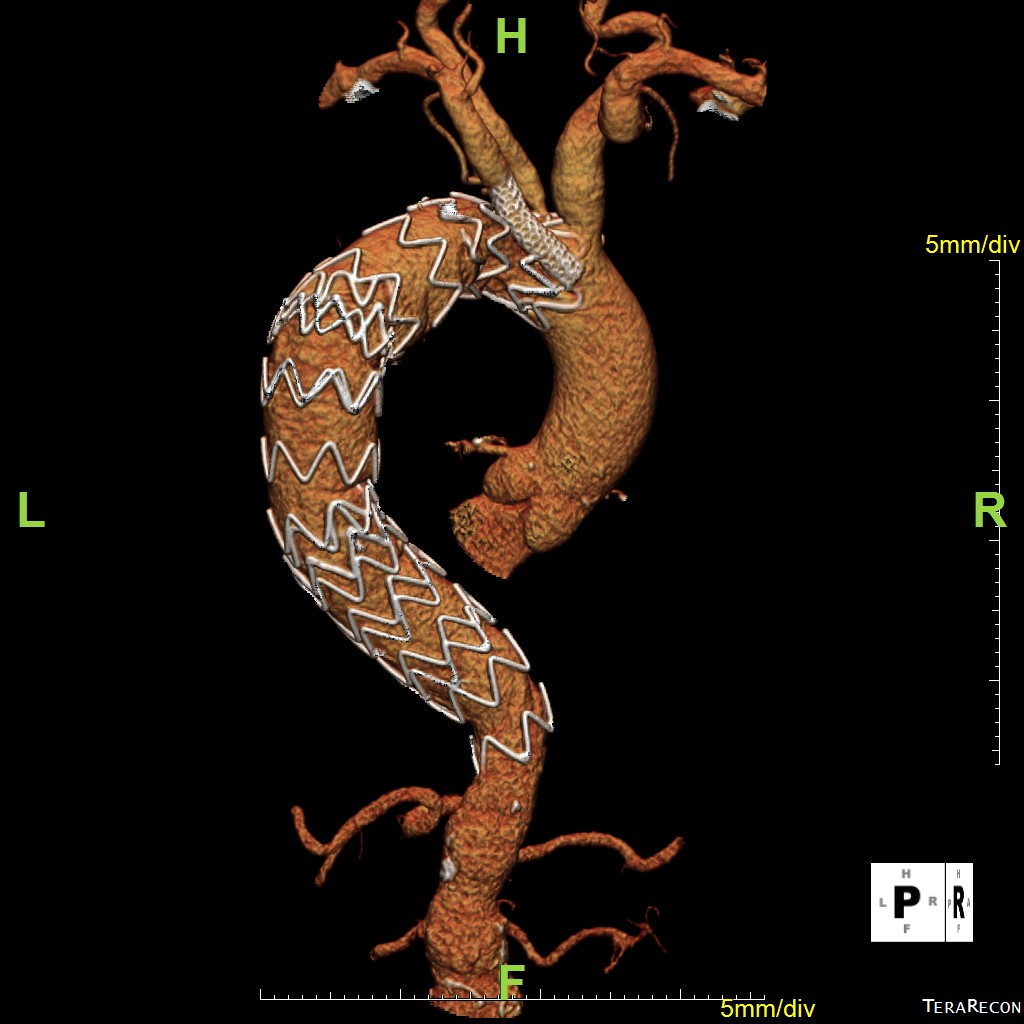 ---
Back to 2021 ePosters