---
Noninferior Limb Salvage Rates Are Attainable Without Revascularization In Patients With Chronic Limb Threatening Ischemia
Katharine L. McGinigle, MD, MPH
1
, Jason R. Crowner, MD
1
, Nikki LB Freeman, MA
1
, Jayer Chung, MD, MSc
2
, Mark A. Farber, MD
1
, William A. Marston, MD
1
.
1
University of North Carolina, Chapel Hill, NC, USA,
2
Baylor College of Medicine, Houston, TX, USA.
OBJECTIVES: To set therapeutic benchmarks, in 2009 the Society for Vascular Surgery published objective performance goals for chronic limb threatening ischemia (CLTI) patients. The goals are limited to 1-year outcomes for patients treated with revascularization; however, not all patients need to be revascularized to avoid limb amputation. We sought evaluate the limb salvage outcomes for patients with CLTI treated with wound care alone.
METHODS: Our cohort included patients with an incident diagnosis of CLTI (by hemodynamic and symptomatic criteria) at our institution from 2013-2017. Descriptive statistics were used to define the 2 groups - primary revascularization and primary wound care. Because treatment strategies were not randomly assigned, propensity scores accounted for differences in baseline patient characteristics. The outcomes were mortality, limb loss, amputation-free survival, and major adverse cardiac events. Differences in outcomes between the groups were defined using estimated risk differences using collaborative-targeted maximum likelihood estimation (CTMLE).
RESULTS: There were 349 incident CLTI patients; 60% male, 51% white, age 63 +/- 13 years, and 80% Rutherford 5. Most patients (79%) underwent revascularization, and 21% had wound care alone. Demographics and presenting characteristics were similar between groups. Although the revascularized patients were more likely to have femoropopliteal disease (72% vs 36%), both groups had a high rate of infrapopliteal disease (62% vs 57%). Not surprisingly, the patients in the revascularization group were less likely to have congestive heart failure (34% vs 42%), complicated diabetes (52% vs 79%), obesity (19% vs 33%), and renal failure (14% vs 28%). In the wound care group, 2-year outcomes were 65% survival, 51% amputation free survival, 19% major limb amputation, and 17% major adverse cardiac events. The wound care cohort had a 13% greater risk of death at 2 years; however, the risk of limb loss at 2 years was 12% less in the wound care cohort (Figure 1).
CONCLUSIONS:
Treatment goals and expected amputation free survival can guide revascularization, but also assure that appropriate outcomes are achieved for patients with CLTI treated without revascularizaton. Although multi-center prospective studies are needed, we demonstrate that equal, even improved, limb salvage rates are possible with wound care alone.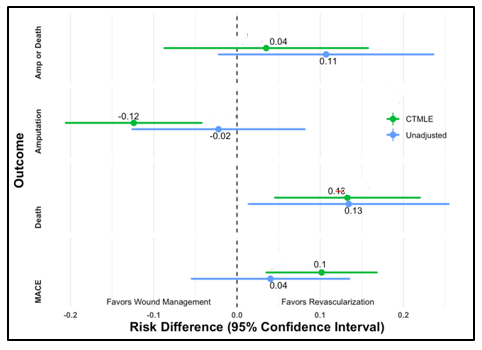 ---
Back to 2021 ePosters