---
Frailty As A Predictor Of Mortality For Fenestrated EVAR And Open Surgical Repair Of Aortic Aneurysms Involving Visceral Vessels
J. Gregory Modrall, MD
, Shirling Tsai, MD, Bala Ramanan, MD, Melissa Kirkwood, MD, Fatemeh Malekpour, MD, Michael Siah, MD, M. Shadman Baig, MD, Carlos H. Timaran, MD, Eric B. Rosero, MD.
University of Texas Southwestern Medical Center, Dallas, TX, USA.
OBJECTIVES: Frailty has been correlated with poor outcomes after major surgery across multiple specialties, but has not been studied in patients undergoing open or endovascular repair of suprarenal and thoracoabdominal aortic aneurysms. Fenestrated endovascular aneurysm repair (FEVAR) has been proposed as a lower risk alternative to open surgical repair (OSR) for patients with complex aortic aneurysms involving the visceral artery branches. The objective of the current study was to examine the relationship between frailty and perioperative outcomes for FEVAR and OSR in patients with suprarenal and thoracoabdominal aortic aneurysms.
METHODS: The National Surgical Quality Improvement Program (NSQIP) database was used to identify patients who underwent FEVAR or OSR for the years 2011 through 2017. Frailty was quantified using a modified 5-factor frailty index (mFI-5) that was previously validated for surgical patients. Frailty was correlated with the primary endpoint of 30-day mortality. Generalized mixed linear regression was used to identify predictors of 30-day mortality.
RESULTS: A total of 675 FEVAR and 1,779 OSR operations were included in the analysis. The 30-day mortality rate was 3.0% for FEVAR and 7.1% for OSR (P=0.002). Increasing frailty was significantly associated with higher 30-day mortality for both FEVAR (P=0.018) and OSR (P=0.0003) (Figure). Independent predictors of 30-day mortality (Table) were frailty score, type of repair (OSR vs. FEVAR), age, female sex, Hispanic ethnicity, ASA class, preoperative dialysis, and history of bleeding disorder.
CONCLUSIONS: Frailty is an independent predictor of 30-day mortality after both FEVAR and OSR. It may be appropriate to consider frailty in patient selection for endovascular or open repair of complicated aneurysms. FEVAR may offer improved 30-day mortality, compared to OSR, for the frailest patients.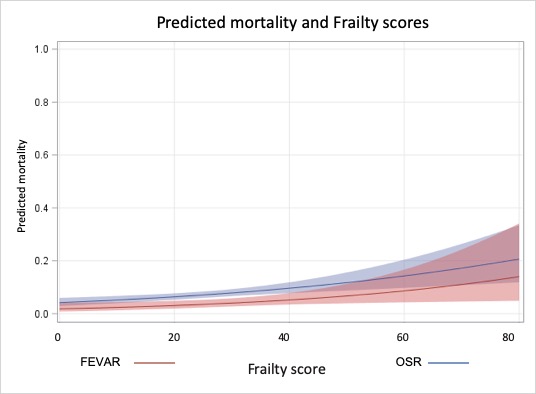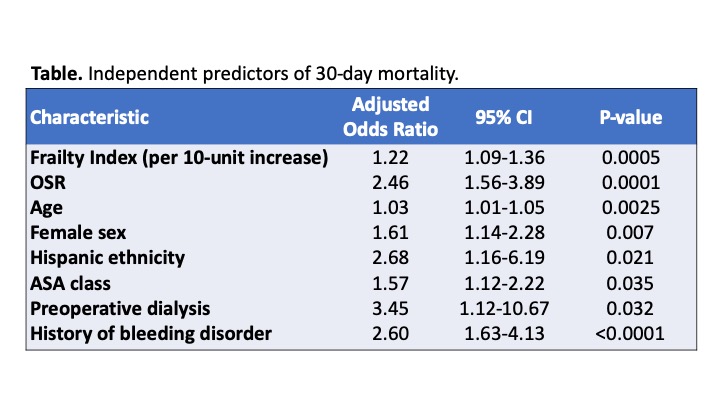 ---
Back to 2021 ePosters