---
Predictors Of Prolonged Postoperative Length Of Stay After Carotid Artery Revascularization
Nadin Elsayed, MD
, Ganesh Ramakrishnan, BS, Rami Alhakim, MD, Maryam Ali Khan, MD, Mahmoud B. Malas, MD, MHS, RPVI, FACS.
University of California San Diego, san diego, CA, USA.
Objectives: Patients undergoing revascularization for carotid stenosis are often discharged on post-procedure day 1. However, it is not uncommon for this population to experience an extended length of stay (ELOS) resulting in increased healthcare costs. In this study, we aim to identify the predictors associated with ELOS after carotid revascularization in patients with carotid stenosis. Methods: Patients who underwent carotid revascularization in the Vascular Quality Initiative database between September 2016 and August 2020 were identified. We performed univariate and multivariate logistic regression analyses to evaluate the predictors of ELOS (LOS>1 day). The model was tested for discriminative ability using the area under the curve (AUC) statistic and for goodness of fit using the Hosmer-Lemeshow test. Results: In this study of 93,102 patients undergoing carotid revascularization, a total of 29,270 (31.44%) had ELOS. TFCAS was associated with higher odds of ELOS (OR:1.3; 95%CI: (1.14-1.5) P<0.001) compared to the gold standard CEA. Patients who had ELOS were older (age>75) (OR:1.3; 95%CI:(1.2-1.3) P<0.001), more likely to be females (OR:1.3; 95%CI: (1.25-1.33) P<0.001), non-white (OR:1.6; 95%CI: (1.4-1.7) P<0.001), symptomatic (OR: 1.7; 95%CI: (1.6-1.8 P<0.001), and with multiple comorbidities. General anesthesia was associated with 50% increased odd of ELOS (OR:1.5; 95%CI:(1.3-1.6) P<0.001) (Table). Patients who underwent TCAR had lower odds of ELOS compared to CEA on univariate analysis (OR:0.9; 95%CI: (0.88-0.96) P<0.001), but not on multivariable analysis (OR: 0.9; 95%CI:(0.8-1.03) P=0.18). Preoperative statins, ACEIs, and aspirin and elective status were protective against ELOS (all P<0.001). Conclusion: In this contemporary larger study of patients undergoing carotid revascularization, TFCAS was associated with significantly higher odds of extended length of stay when compared to CEA. TCAR was not associated with increased odds of ELOS. While several other factors associated with ELOS canít be modified such as age, sex, race, symptomatic status and comorbidities, perioperative medications with ASA, Statin and ACEIs are modifiable and can decrease the odd of ELOS. Further studies are needed to validate our findings in an effort to reduce the costs associated with the postoperative care of this patient population.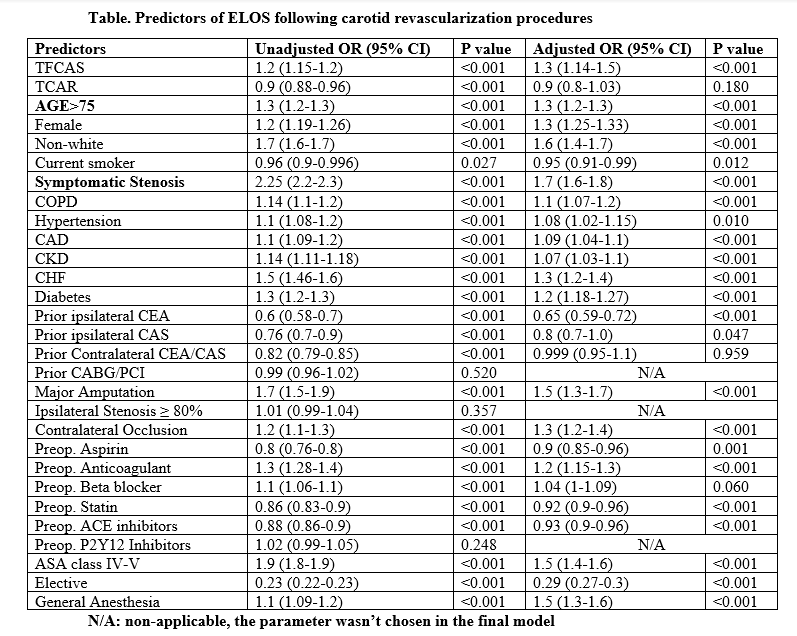 ---
Back to 2021 ePosters