---
Optimal Configuration Of Vascular Surgery Instrument Trays Using Data Analytics
MARTYN KNOWLES, MD, MBA
1
, Sarah Konchan, BS
1
, Samuel Gay, BS
1
, Robbin Rash, RN, BSN
1
, Sandeep Rath, PhD
2
, Vinayak Deshpande, PhD
2
, Mark Farber, MD
3
, Robert Mendes, MD
1
, Benjamin Wood, MD, MBA
1
.
1
UNC Rex Hospital, Raleigh, NC, USA,
2
University of North Carolina Business School, Department of Operations, Chapel Hill, NC, USA,
3
University of North Carolina, Division of Vascular Surgery, Chapel Hill, NC, USA.
OBJECTIVES: Due to the complexity of the surgical instrument trays, physician preferences, and the variation of procedures, the reduction of surgical cost is a challenging proposition. A data-driven approach to instrument tray optimization has proven cost savings, but has been limited to the removal of instruments from individual trays and has never looked holistically at all trays in use for a service.
METHODS: Over a 3-month period, vascular surgery cases were followed using a technology platform (OpFlow, Operative Flow Technologies, Raleigh, NC). Actual instrument usage data were collected across all vascular cases and comprehensive analytics were performed. All trays were evaluated for potential instrument reduction and/or consolidation of trays. Potential options were categorized into 6 groups comparing to the historical configurations and baseline instrument configurations (Figure 1). Tray configurations were compared using the total variable annual sterilization expense, total inventory cost, and the quantity of annual tray sterilizations. Eleven trays were evaluated for potential changes and configuration options were assessed utilizing cost/benefit data analytics based on actual instrument usage.
RESULTS: Twenty-seven instrument trays were utilized by the vascular surgery service (6 surgeons) over 168 cases, with an average of 4.31±2.98 (range: 0-22) trays pulled per case. On average, the instrument usage per tray was 39.8±31.7% (range: 0-100%) overall. All groups (1-6) were associated with a decrease in annual sterilization costs from instrument reduction (mean, $106,764±14,964). Total inventory cost required to configure trays was decreased in groups 1-4 (mean, $112,938±20,188), but increased in groups 5-6 (mean, $25,662±5,166) that relied on physician-specific trays. Tray configurations with a change to major/minor vascular trays ± tray consolidation and procedure-based trays were associated with a decrease in the number of annual sterilized trays by a mean of 1,698±1,181 trays. Overall, the procedure-based tray configurations were the most cost efficient and provided the smallest footprint in sterile processing (Figure 1).
CONCLUSIONS: Instrument reduction and consolidation of large surgical trays can decrease the yearly sterilization cost and the need to re-purchase instruments. This study suggests that a procedure-based approach to vascular tray configuration is optimal when considering cost and efficiency.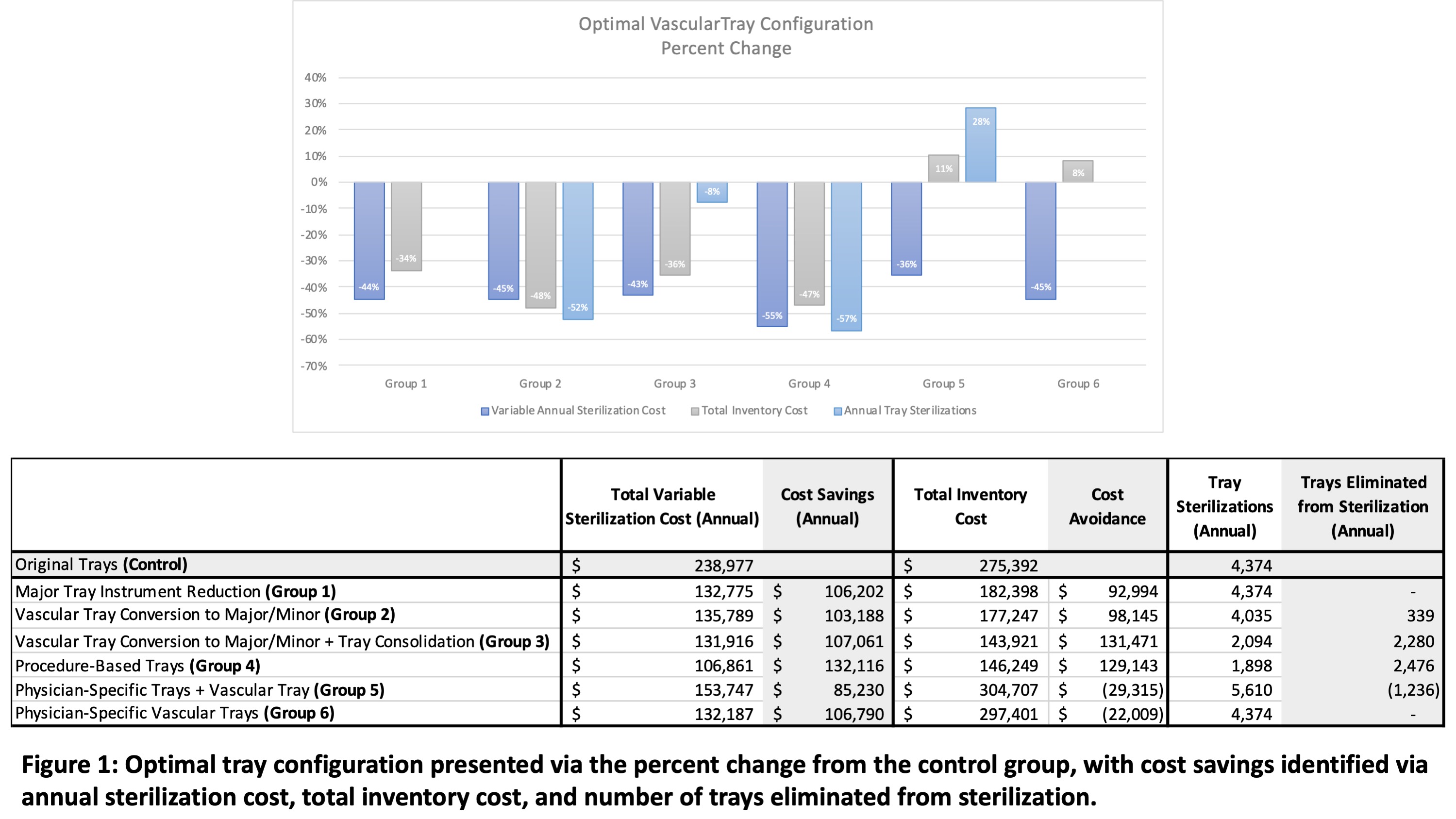 ---
Back to 2021 ePosters