---
Comparison Of Bilateral Percutaneous Femoral Access With Surgical Femoral Access For Endovascular Aneurysm Repair In Patients With Ruptured Abdominal Aortic Aneurysms
Daniela Medina, BS
, Ahsan Zil-E-Ali, MD, MPH, Faisal Aziz, MD,DFSVS, FACS.
Penn State College of Medicine, Hershey, PA, USA.
OBJECTIVES: Percutaneous femoral arterial access has gradually become the preferred method for performing elective EVARs. However, there is sparsity in literature in the natural trends and efficacy of percutaneous femoral access in the setting of emergent EVARs. This study aims to compare outcomes between percutaneous femoral access and femoral access with cut downs for EVARs in the setting of rAAA (REVARs).
METHODS: The Vascular Quality Initiative (VQI) database was used for this retrospective study. Patients who underwent EVAR for rAAA from 2014-2018 were identified and divided into two groups, those who had bilateral percutaneous femoral access (pREVAR) and those who had bilateral femoral access with cut-down (cREVAR). Univariate and multivariate analysis were used to compare preoperative demographics, intraoperative variables, and postoperative outcomes. Logistic regression modeling was used to examine mortality as the primary outcome.
RESULTS: Between 2014 and 2018, a total of 1604 patients (20.8% female, 79.2% male) underwent EVAR for rAAA. Among these patients, 1052 were in the pREVAR group and 552 in the cREVAR group. The use of bilateral percutaneous access for rAAA increased from 52.1% to 74.8% and an open access approach declined from 47.9% to 25.8%. Before adjustment for patient demographics and intraoperative variables, logistic regression analysis showed that cREVAR had a 42% higher mortality than pREVAR. After adjustment for confounding variables, this statistical significance was lost in the adjusted model. However, pREVAR was associated with a shorter operation by at least 26 minutes, less intraoperative blood loss, and decreased use of general anesthesia (p<0.05). Method for femoral access did not affect ICU stay or postoperative length of hospital stay.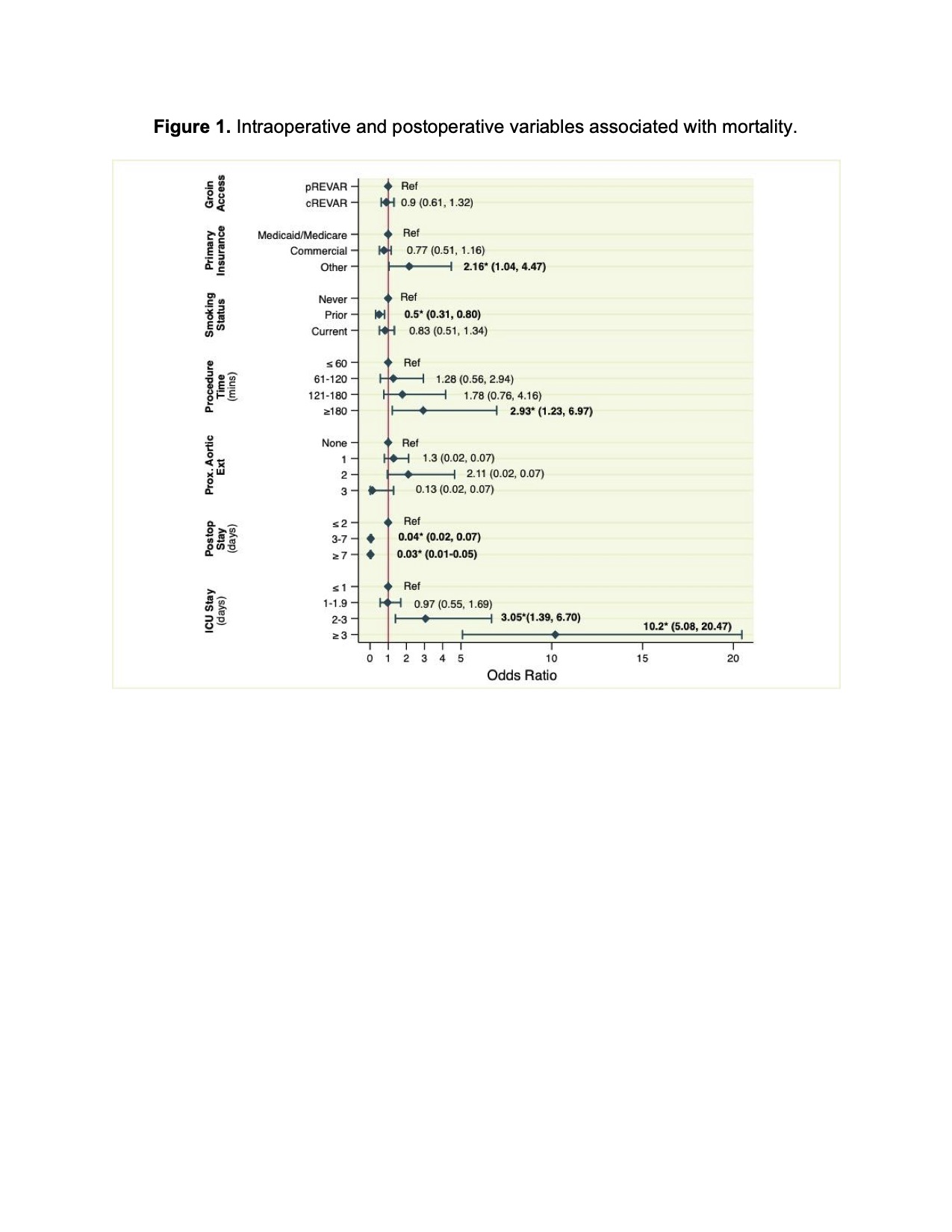 CONCLUSIONS: This retrospective analysis demonstrates that pREVAR has become the favored method of femoral access for rAAA from 2014 to 2018 despite no proven mortality benefit. This groin access approach offers patients a less invasive procedure, a shorter operation, reduced intraoperative blood loss, decreased general anesthesia requirements, and overall has potential to increase cost-effectiveness and patient satisfaction.
---
Back to 2021 ePosters