---
Cardiovascular Service Line Instrument Reduction Using Data Analytics
MARTYN KNOWLES, MD, MBA
1
, Sarah Konchan, BS
1
, Samuel Gay, BS
1
, Robbin Rash, RN, BSN
1
, Sandeep Rath, PhD
2
, Vinayak Deshpande, PhD
2
, Mark Farber, MD
3
, Robert Mendes, MD
1
, Benjamin Wood, MD, MBA
1
.
1
UNC Rex Hospital, Raleigh, NC, USA,
2
University of North Carolina Business School, Department of Operations, Chapel Hill, NC, USA,
3
University of North Carolina, Division of Vascular Surgery, Chapel Hill, NC, USA.
OBJECTIVES: Given the complexity of the surgical service supply chain, physician preferences, and variation of procedures, reduction of cost is extremely difficult and often nebulous. A data-analytic approach to instrument trays has implications in efficiency within the operating room and cost savings in sterile processing including tray assembly time and instrument repurchase, repair, and depreciation.
METHODS: Over a 6-month period, all vascular, cardiac and thoracic surgery cases were followed using a cloud-based technology product (OpFlow, Operative Flow Technologies, Raleigh, NC). We focused on two vascular trays, three cardiac trays and two thoracic trays based on high usage. An assessment was performed evaluating the exact instruments used by the operating surgeons across a variety of cases. After the evaluation, a review and analysis were performed, and after agreement, the trays were optimized. RESULTS: Over the 6-month period, 168 vascular surgery cases were evaluated across 6 surgeons, 94 cardiac cases across 3 surgeons, and 79 thoracic cases across 2 surgeons. On average, the instrument usage per tray was 23.7% (Table 1). After the service line review, 49.29% of instruments were removed (Table 2). The re-do sternotomy tray was removed and assimilated into other trays due to low usage and high redundancy with other cardiac trays. Although the aortic tray was meant as a stand-alone tray, the vascular tray was always opened in addition and shared 65% of instruments, and thus the aortic tray was optimized to be an add-on tray. An audit was performed after the removal of instruments none were added back (0%). A total of 2463 instruments were removed from trays (Table 2). The removal of the instruments yielded a cost savings of $197,678 for repurchase and $168,673 in yearly re-sterilization savings. Annually, the removal of the instruments is projected to save 724 hours of labor.
CONCLUSIONS: Sterile processing remains an untapped resource for cost improvement. Data analysis provides the ability to reduce large amounts of unused instruments with significant cost savings.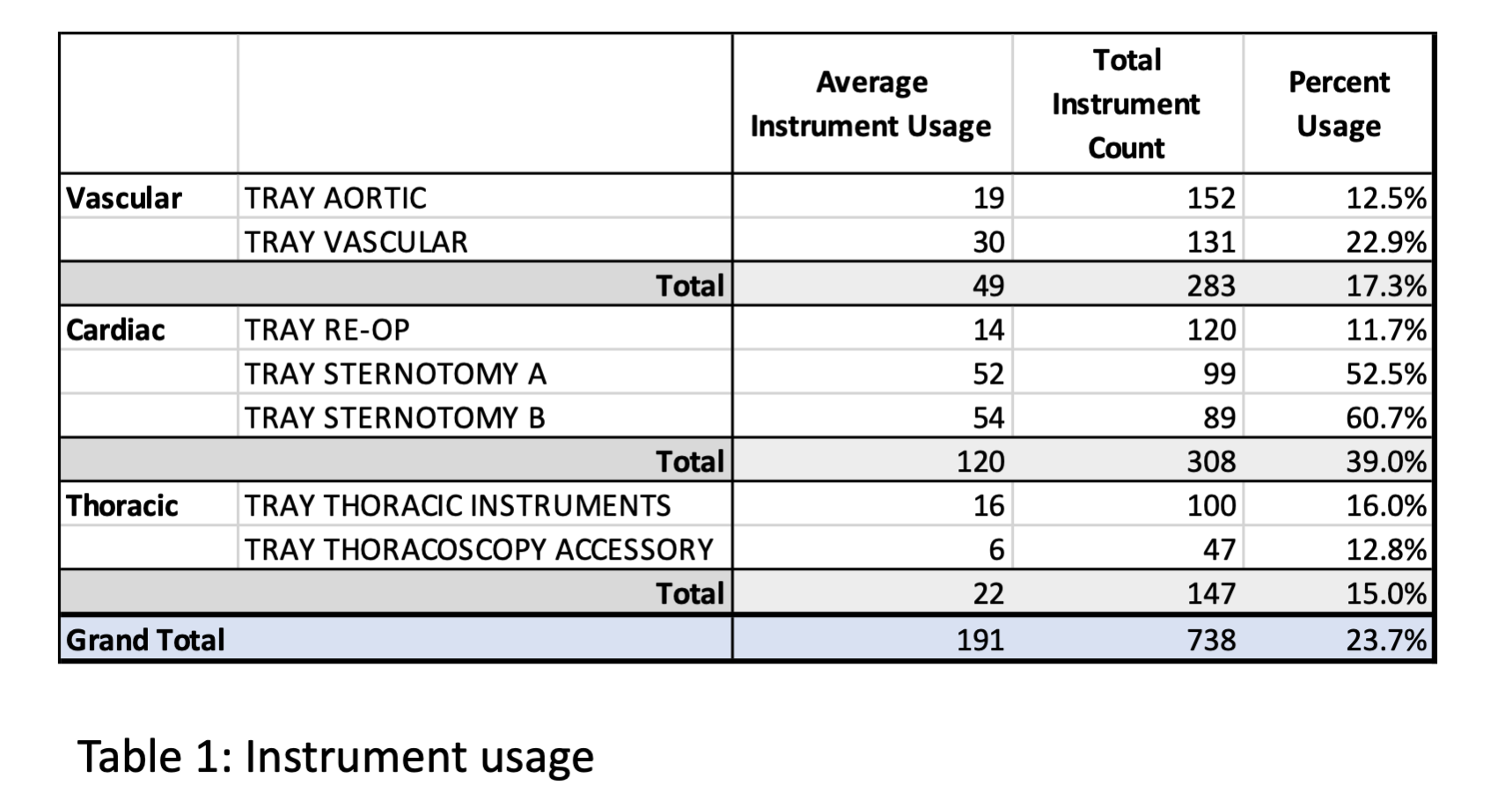 ---
Back to 2021 ePosters