---
The Role Of Age As A Predictor Of Early Mortality In Endovascular And Open Repair Of Ruptured Abdominal Aortic Aneurysms
Daniela Medina, BS
, Ahsan Zil-E-Ali, MD, MPH, Faisal Aziz, MD,DFSVS, FACS.
Penn State College of Medicine, Hershey, PA, USA.
OBJECTIVES: Ruptured abdominal aortic aneurysm (rAAA) is a life-threating emergency occurring increasingly in the elderly population. This study aimed to predict mortality and short-term survival after rAAA repair using age as a predictive factor.
METHODS: Using the Vascular Quality Initiative (VQI) database, patients who underwent endovascular and open repair for rAAA were identified. Patients were divided into four groups: sexagenarian, septuagenarian, octogenarian, and nonagenarian. Logistic regression was used to compute mortality. We analyzed short-term and overall survival for each group using box plot.
RESULTS: A total of 1472 patients underwent treatment for rAAA from 2014 to 2018. Among these patients, 968 had an endovascular repair and 504 had an open repair. There were 471 patients in the sexagenarian group, 571 in the septuagenarian, 358 in the octogenarian, and 72 in the nonagenarian. Logistic regression model showed sexagenarians had increased chance of survival compared to other groups. Only sexagenarians crossed 1000 days of survival following rAAA repair while octogenarians had a median day survival of less than a year, and nonagenarians had less than six months. During the first 30 postoperative days, there was 55% higher probability of death for octogenarians, and nonagenarians had 2.3 times chances of mortality (p<0.05). Patients who had an open repair had a lower percentage of survival within the same group.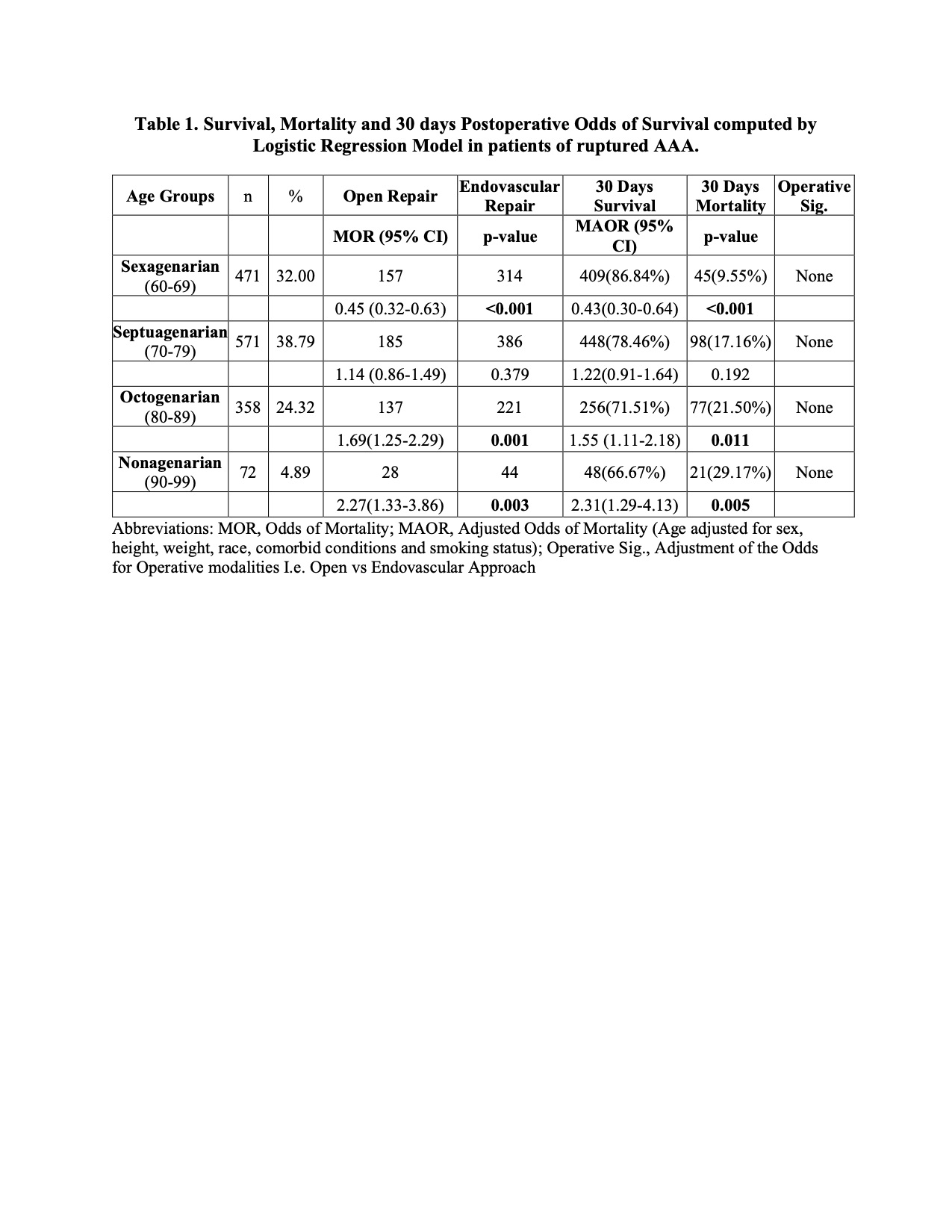 CONCLUSIONS: This retrospective analysis shows age is a strong predictor of short-term and overall survival after endovascular or open repair for rAAA. The probability of surviving decreases with age and is less dependent of procedure or other confounding variables. However,
patients who had an endovascular repair had higher percentage of survival across all groups. Lowering mortality and hospitalization rates of older adults, especially those who exhibit higher mortality after rAAA repair must be a priority and aneurysmal surveillance should be maximized in these age groups.
---
Back to 2021 ePosters