---
Long-term Anticoagulation Use Is Associated With Increased Risk For Type 2 Endoleaks And Reintervention Following EVAR
Daniel S. Kong, BA
, Mark D. Balceniuk, MD, MPH, Peng Zhao, MD, Brian C. Ayers, MD, MBA, Doran S. Mix, MD, Kathleen G. Raman, MD, MPH, Jennifer L. Ellis, MD, Roan J. Glocker, MD, MPH, Adam J. Doyle, MD, Michael C. Stoner, MD.
University of Rochester Medical Center, Rochester, NY, USA.
Objective: Endovascular aortic repair (EVAR) is the most common repair modality to address infrarenal aortic aneurysm, driven by lower morbidity and patient preference. This minimal-access technique has introduced unique failure modes which are related to both device design and patient factors. The study aimed to determine whether antiplatelet and oral anticoagulation use is an independent risk factor for endoleak and need for reintervention.
Methods: Retrospective cohort abstracted from the Vascular Quality Initiative (VQI) index hospitalization and long-term follow up datasets for EVAR (2008-2017) were included in the analysis. Patients not taking any anticoagulant or antiplatelet agent pre- and postoperatively were excluded. Patients taking any combinations of anticoagulant and/or antiplatelet agent (treatment) following the index procedure were compared against patients taking aspirin (ASA) alone (control). Propensity scores were used to create matching cohorts. Primary endpoints were failure of sac regression, presence of endoleak and reintervention rate.
Results: 8,832 patients were included in the analysis. 7,300 patients received ASA alone, 1,056 received both ASA and another antiplatelet agent (DAPT), and 459 received ASA and anticoagulation (AC). Propensity score matching resulted 310 matched pairs for anticoagulation and 795 pairs for the DAPT group. Anticoagulation use (table) was independently associated with decreased sac regression (-2.82 ± 0.67 mm vs -5.45 ± 0.66 mm, p=0.006), increased risk of type 2 endoleaks (RR=2.5; 95% CI: 1.52 - 4.13; p<0.001), and reintervention (HR = 4.26; 95% CI: 1.42-12.77; p=0.004). Conversely, DAPT was not associated with failure of sac regression (-5.82 ± 0.46 mm vs -5.61 ± 0.57, p=0.79), type 2 endoleaks (RR=1.03; 95% CI: 0.74 - 1.43; p=0.928), or reintervention (HR = 1.16; 95% CI: 0.71 - 1.89), p=0.56).
Conclusions: These data demonstrate that long term aspirin plus anticoagulation use is associated with decreased sac regression, type 2 endoleaks and increased risk for subsequent reintervention. However, there is no difference with long term DAPT when compared to aspirin alone. These findings help better define conflicting literature regarding anticoagulation use and endoleak formation. Patients undergoing endoluminal aortic repair who require chronic anticoagulation may benefit from more frequent follow-up, earlier intervention or reassessment regarding the need for anticoagulation.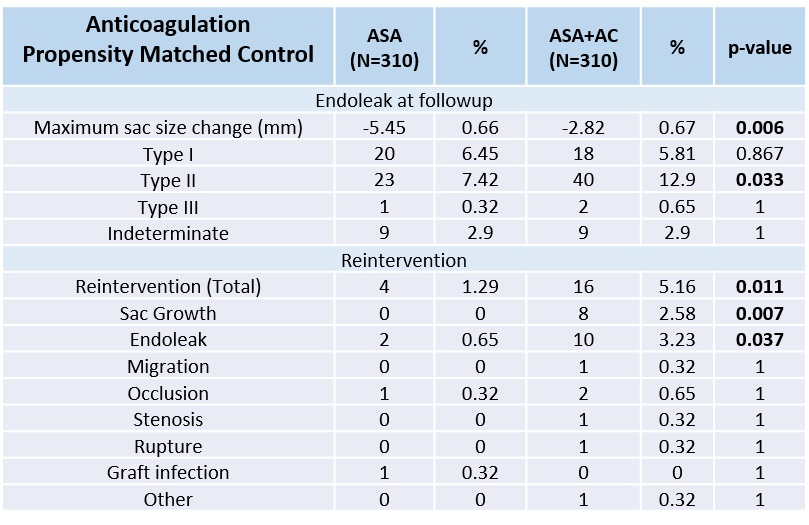 ---
Back to 2021 ePosters