---
Comparison Of Outcomes In Lower Limb Amputations Between General And Vascular Surgeons In The Veterans Population Using VASQIP Database
Kedar S. Lavingia, MD
, Wayne Tse, MD, Michael F. Amendola, MD, MEHP.
Virginia Commonwealth University, Richmond, VA, USA.
OBJECTIVES:
The specialty of those undertaking lower extremity amputation impacts patient outcomes. Lower extremity amputations(LEA) are commonly performed by general (GSs), and vascular surgeons (VSs); however, a paucity of data exists examining specialty and outcomes.
METHODS:
Retrospective review of the VASQIP database who underwent lower limb amputations between 1999-2018 were identified. Data collected included patient demographics, comorbid conditions, and indication. Univariate and multivariate forward logistic regression models were employed to evaluate the associations between various outcomes and specialty.
RESULTS:
Over the 20 year period, there were 43,240 major LEAs performed by GSs (n=14,006) and VSs (n=29,234). Mean age was 67 ± 10 years and 99.0% male. Patients that underwent amputations by VSs had higher rates of dialysis (13.8 vs 8.9%, p<0.001), smoking history (42.5 vs 37.7, p<0.001), steroid use (3.2 vs 2.8%, p=0.02), CHF (14.1 vs 11.6%, p<0.001), and COPD (21.2 vs 18.0, p<0.001). The overall rate of post-operative complications between GSs and VSs was 19.8 vs 19.0%, p=0.047 respectively. GSs had a higher overall rate of wound complications (7.1 vs 6.3%, p=0.002) and death (13.3 vs 11.2%, p<0.001). When risk adjusted, patients who had amputations performed by GSs were at higher risk for wound complications, cardiac arrest, pneumonia, and death.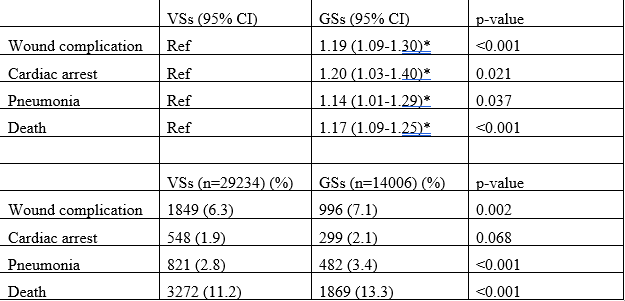 In a subgroup analysis evaluating above knee versus below knee amputation, GS patients were more likely to have a post-operative complication in AKA cohort (21.1 vs 19.9%, p=0.04 and wound complications in the BKA cohort (8.1 vs 7.0%, p<0.001).
CONCLUSIONS:
There are statistically less number of complications when VSs performed amputations than GSs even though VSs performed amputations on more morbid patients. Referring clinicians should consider vascular consultation for patients who require lower limb amputations.
---
Back to 2021 ePosters