---
Alternative Autologous And Biologic Conduits Have Worse Outcomes Than Prosthetic Grafts For Infra-inguinal Bypass
Othman Mohamed-Asem Abdul-Malak, MD
, Adham N. Abou ALi, MD, Karim M. Salem, MD, Michael C. madigan, MD, Mohammad H. Eslami, MD.
UPMC, pittsburgh, PA, USA.
OBJECTIVES: Single segment Great saphenous vein (ssGSV) is the preferred conduit in infra-inguinal bypass. Alternative autologous conduits (AAC) and Non-Autologous Biologic Conduits (NABC) are thought to be a better alternative to traditional prosthetic conduits (PC) in the absence of ssGSV. In this study we analyzed the outcomes of these alternative conduits in lower extremity Bypasses (LEB).
METHODS: The VQI LEB database from 2003-2020 was queried for this study, to identify the respective conduit types. Primary outcomes were graft patency, major adverse limb events (MALE), and MALE-free survival at 1 year. Standard statistical methods were used as appropriate.
RESULTS: We identified 35,684 LEB procedures (20,450 ssGSV, 9,868 PC, 2,855 AAC, and 2,511 NABC). Compared to the ssGSV group, the other conduit patients were significantly older, had more comorbidities, had an increased rate of prior lower extremity interventions, had a higher rate of infra-geniculate bypass targets, and were less ambulatory at baseline. PC, AAC and NABC groups had significantly higher rates of post-operative morbidity compared to ssGSV group (Table 1). PC had higher 30-day mortality compared to ssGSV, AAC, and NABC (3.2% vs 1.6%, 1.9%, and 2.1%, p<0.001). Both PC and NABC had higher 1-year mortality compared to ssGSV and AAC (11.5%, 12.5% vs 7.9%, 8.7%, p<0.001). In adjusted analyses [adjusted for age, comorbidities, infra-geniculate target and prior vascular interventions] PC was not significantly different from ssGV, but AAC (HR 1.53 [1.4,1.7], p<0.001) and NABC (HR 1.97 [1.7,2.2], p<0.001) were associated with increased risk of loss of primary patency. A similar association with MALE was observed: both AAC (HR 1.43 [1.3,1.6], p<0.001) and NABC (HR 1.73 [1.5,2], p<0.001) were associated with an increased risk of MALE compared to ssGSV, PC risk was not significantly different from ssGV .
CONCLUSIONS: In the absence of ssGSV, alternative conduits (autologous or non-autologous biologic) do not confer a benefit with regard to graft patency or MALE compared to prosthetic conduits. Increased operating time or costs associated with the use of these conduits is not justified based on this study.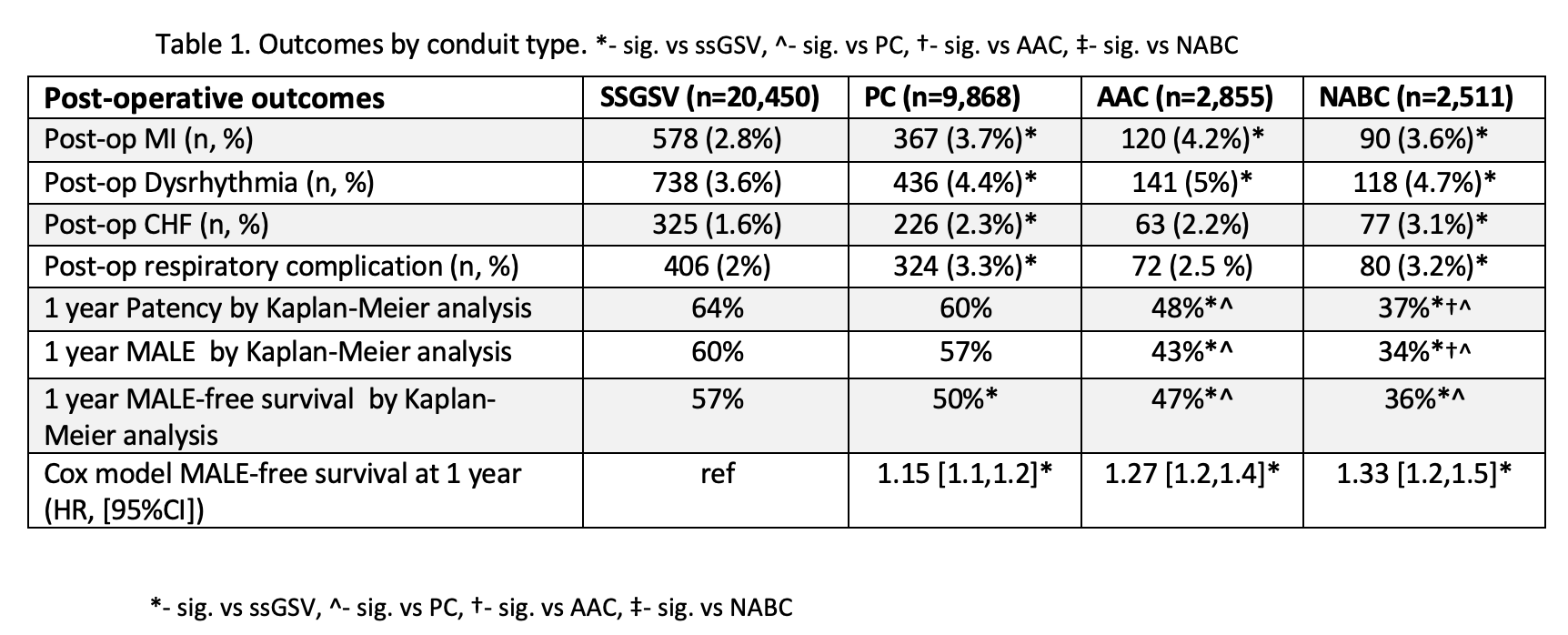 ---
Back to 2021 ePosters