---
Failure Modes Of A Commercially Available Fenestrated Endograft
Abraham Korn, MD
, Kedar S. Lavingia, MD, Robert A. Larson, MD, Michael F. Amendola, Mark M. Levy, MD, Francisco Albuquerque, MD, Daniel H. Newton, MD.
Virginia Commonwealth University, Richmond, VA, USA.
OBJECTIVES: Fenestrated endografting is an effective treatment for juxtarenal abdominal aortic aneurysms in suitable anatomy but brings increased procedural complexity and risks. The Manufacturer and User Facility Device Experience (MAUDE) database is a national database of complications maintained by the US Food and Drug Administration. The objective of this study was to examine the reported real-world complications of the Zenith Fenestrated endovascular graft (ZFEN; Cook Medical, Bloomington, Ind), the only commercially available fenestrated endograft in the US currently. METHODS: In this study the MAUDE database was queried for reports of fenestrated endovascular repair made between 2012 and November 2019. Secondary reports (reports of published journal articles), duplicate reports, and reports of cases not involving the ZFEN system were excluded. RESULTS: There were 137 unique events related to the ZFEN device or procedure identified, representing approximately 1% of ordered devices. Reports have generally increased over time along with increased volume of implantations (Figure). Patient mortality occurred in 13% of the reports (n= 18). Injury occurred in 64% of reports (n = 89), while malfunction occurred in 22% of reports (n= 31). The most common vessel associated with a complication was the renal artery with 35, in 8 of those cases there was difficulty or inability to cannulate. Complications involved the superior mesenteric artery in 11 cases. Endoleak was reported in 57 cases, most commonly type III (n= 37). Type IIIa endoleaks (n=14) were nearly all from the junction of the fenestrated and bifurcated components and led to 6 ruptures and one death. There were two notable potentially manufacturing-related malfunctions. Excessive leaking from the valve of the sheath was implicated in 17 reports, 12 of which were submitted in 2014 alone. The hydrophilic coating was implicated in three reports including one mortality. In two reports bowel ischemia specimens had pathologic identification of polymers and foreign body reaction related to embolization of the polymer coating. CONCLUSIONS: Fenestrated endografting using the ZFEN is a necessarily complex procedure with numerous pitfalls. Specific attention should be paid to overlap of the fenestrated and bifurcated components in planning and during follow-up. Manufacturing defects appeared to be rare.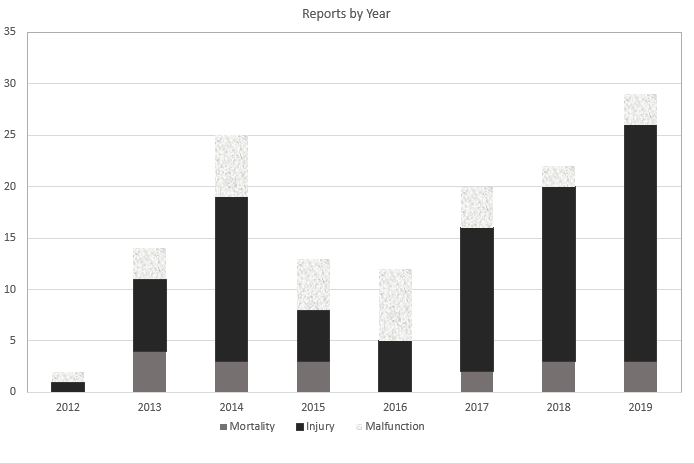 ---
Back to 2021 ePosters