---
Long-term Sac Regression Is Common Following Fenestrated Endovascular Repair Of Juxtarenal Aneurysms
Blake Elizabeth Murphy, MD
1
, Reginald Nkansah, MD
1
, Kirsten Dansey, MD, MPH
2
, Brenda Kline, ARNP
1
, Benjamin W. Starnes, MD
1
, Sara Zettervall, MD
1
.
1
University of Washington, Seattle, WA, USA,
2
Beth Israel Deaconess Medical Center, Boston, MA, USA.
Objectives: The frequency of aneurysm sac regression after endovascular repair of abdominal aortic aneurysms has been well described, while failure of regression has been associated with increased risk of mortality. This study aims to describe long-term sac behavior following fenestrated endovascular repair (FEVAR) for juxtarenal aneurysms.
Methods: We evaluated 157 consecutive FEVARs performed under an investigational device exemption clinical trial for juxtarenal aneurysms (#NCT01538056). Sac expansion and regression were defined by a change of 5mm or greater. Late changes were defined by sac expansion after previous regression or stability at 1-year follow-up. Sac expansion was assessed if noted at any annual follow-up visit, with an associated comparison of pre-operative demographics, anatomic characteristics, and outcomes.
Results: When sac behavior was assessed at 1-year, 49 (46%) patients had regression, 48 (45%) were stable, and 9 (8%) had expansion. At 5-year follow-up, 19 (70%) patients had regression, 3 (11%) were stable, and 5 (18%) had expansion. Late expansion occurred in 9 (18%) patients with stable sac size, and 1 (2%) patient with sac regression at previous 1-year follow-up. When outcomes were assessed, 1-year mortality (regression: 0%, stable: 0%; expansion: 22%, p<0.001) and endoleak (regression: 36%, stable: 51%, expansion: 65%, p=0.02) differed by sac behavior. Long-term mortality also differed (Figure 1, p<0.01). There were 3 ruptured aneurysms and 1 aneurysm-related mortality in long-term follow-up. All patients who developed a ruptured aneurysm had late expansion after a stable sac size at 1-year follow-up. When predictors of sac expansion were evaluated, only endoleak (OR: 8.9, 95% CI: 1.7-47.4) and increasing age (OR: 1.1, 95% CI:1.1-1.3) were predictive of expansion.
Conclusions: There is a high rate of sac regression and stability following FEVAR for juxtarenal aneurysms. However, sac expansion may occur in late follow-up despite sac stability or regression at 1-year. Given the risk of rupture with sac expansion and inability to predict the timing of sac growth, lifelong surveillance for all FEVAR patients remains critical regardless of early sac behavior.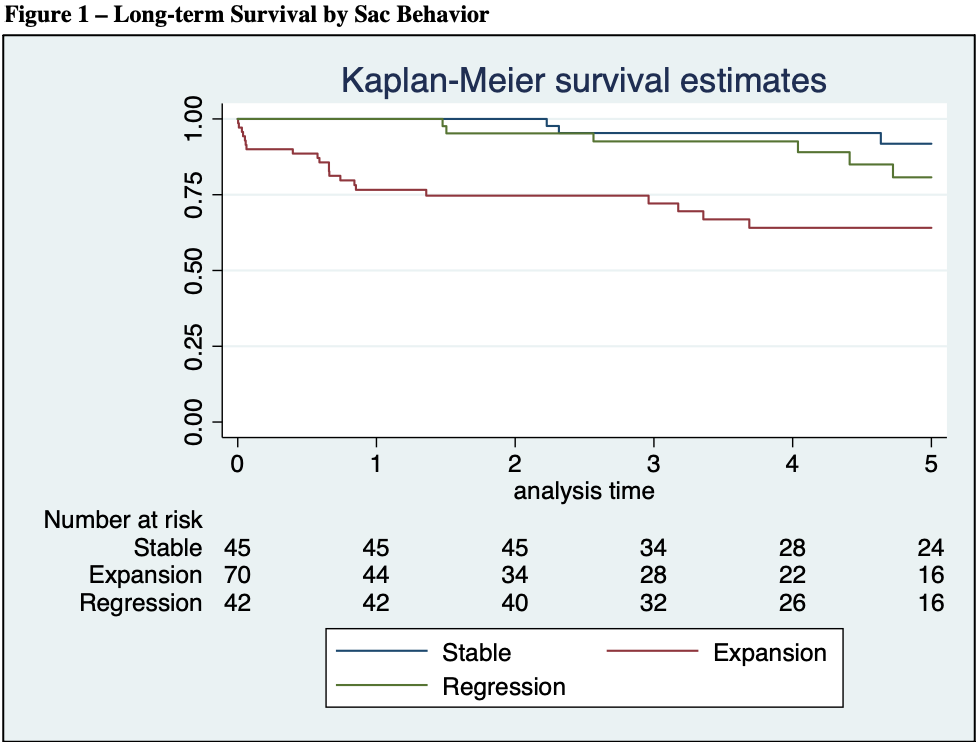 ---
Back to 2022 Abstracts