---
Implementation Of Transitional Care Planning Is Associated With Reduced Readmission Rates In Patients Undergoing Lower Extremity Bypass Surgery For Peripheral Arterial Disease
Daniela Medina, BS
, Ahsan Zil-E-Ali, MPH, Deborah Daoud, BS, Justin Brooke, BS, Kyra Paul, BA, Faisal Aziz, MD,DFSVS, FACS.
Penn State College of Medicine, Hershey, PA, USA.
Objectives: Patients undergoing lower extremity bypasses (LEB) are at risk of post-discharge complications, requiring readmission. Health systems have developed strategies to mitigate this risk. Our study aimed to assess short-term readmission, mortality, and amputation rates of patients who participated in Transition Care Planning (TCP) by completing at least one post-discharge follow-up phone call after undergoing LEB for revascularization for peripheral artery disease (PAD).Methods: A retrospective review was completed for patients who underwent LEB surgery between January 2010 and January 2020 to treat PAD at our institution. Immediate discharge follow-up was done via telephone calls using a standardized script. Figure 1 illustrates a schematic diagram of the TCP program. Patients were divided into two groups, those who did not have a successful follow-up call (Group I) and those who had at least one successful follow-up call after discharge (Group II). Univariate analysis was used to compare preoperative demographics, intraoperative variables, and postoperative outcomes. The probability of readmission and contributing risk factors were computed using multiple stepwise forward regression analyses. Results: A total of 457 patients underwent LEB from 2010 to 2020 and qualified for inclusion in the study. Among these patients, 126 (27.6%) did not have a successful post-discharge follow-up call (Group I), whereas 331 (72.4%) patients did complete a successful call (Group II). Patients who completed a successful call had lower readmission rates within 30-days of the operation (8.8% vs. 17.5%, p=0.008), and this was sustained in multivariate analysis (AOR: 0.18, [CI: 0.05-0.66], p=0.009). No differences were observed for short-term mortality (Group-I: 3.2% vs. Group-II: 1.2%, p=0.152) or amputation (Group-I: 9.6% vs. Group II 5.9%, p=0.162). Risk analysis showed that by receiving a call, the risk of readmission could be dropped to half (RR: 0.50 [CI: 0.30, 0.84]), with an attributable risk reduction of -8.7% (CI: -15.9%, -1.4%). Conclusions: This single-institution retrospective study demonstrates the importance of immediate discharge follow-up phone calls in patients who undergo LEB in reducing 30-day readmissions. The development of reliable and efficient systems to enhance immediate discharge follow-up in vascular surgery patients is pivotal to improving quality of care, preventing readmissions, and potentially reducing healthcare costs.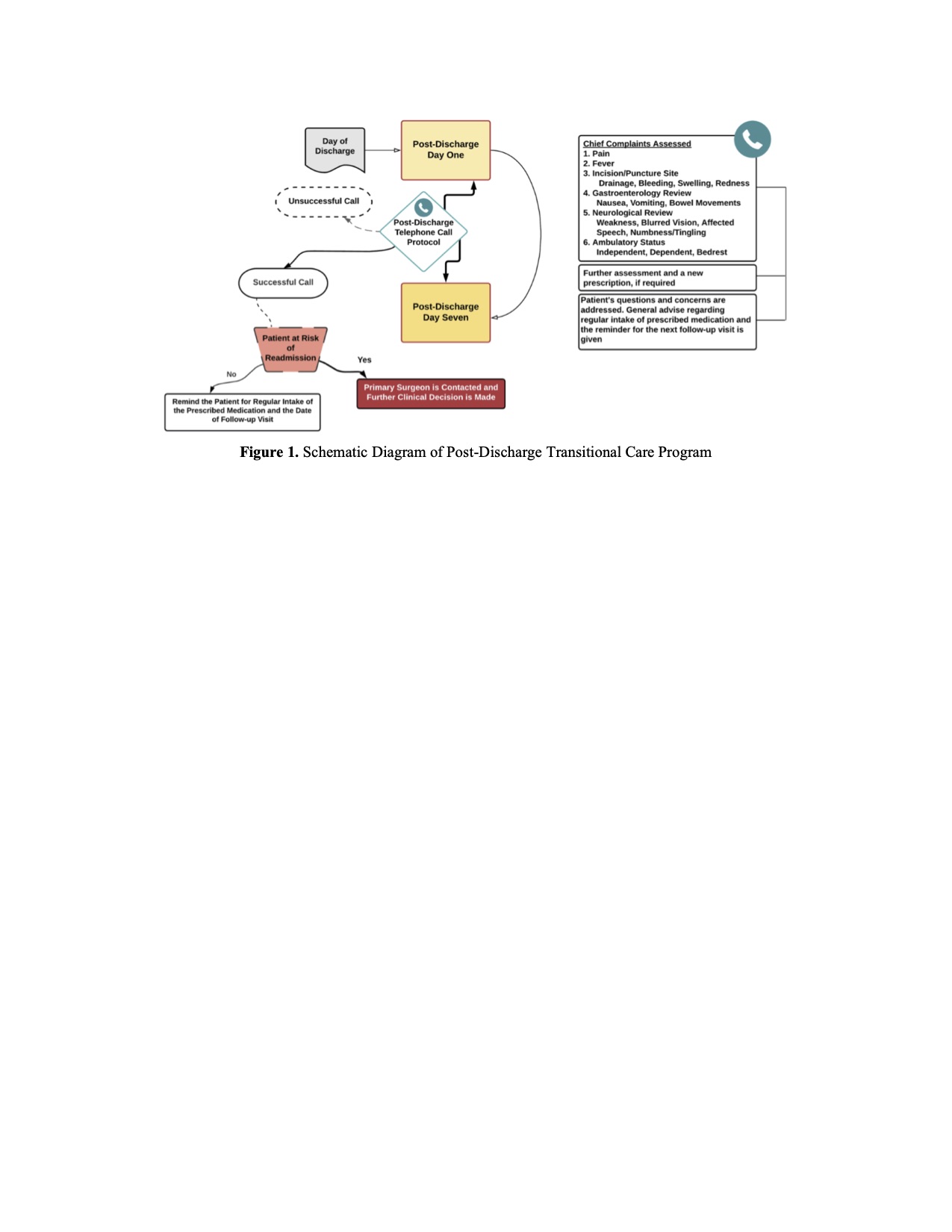 ---
Back to 2022 Abstracts