---
Single-center Experience Of Fenestrated EVAR Using Physician-modified Endovascular Grafts Prior To Initiation Of An IDE Trial
Nicholas J. Swerdlow, MD
, Christina L. Marcaccio, MD, Marc L. Schermerhorn, MD.
Beth Israel Deaconess Medical Center, Boston, MA, USA.
Objectives FEVAR has become an important option for complex AAAs and TAAAs in patients high-risk for open repair. The only FDA-approved fenestrated device is limited to juxtarenal AAAs with numerous anatomic limitations. Custom-manufactured devices are available at only a handful of US centers. PMEGs allow surgeons to build grafts suitable for their patientsí anatomy using standard aortic stent grafts. Here, we present our single-center experience of FEVAR with PMEGs, submitted to the FDA as part of a physician-sponsored IDE trial application, which was approved in November 2020 and is now enrolling (clinicaltrials.gov NCT04746677).
Methods This is a retrospective analysis of consecutive FEVARs with PMEGs performed at a single tertiary care center. The primary outcomes were perioperative mortality and long-term survival. Perioperative outcomes are presented as n (%). 1-year outcomes are presented as Kaplan-Meier estimates.
Results From 2012 to August 2020, we performed 102 FEVARs with PMEGs (8 from 2012-2016, 18 in 2017, 24 in 2018, 35 in 2019, 17 in 2020). Median age was 76 years (IQR 71-81), and 71% were male. 76% of procedures were performed for complex AAAs and 24% for TAAAs. 38% of patients had prior endovascular aortic repair and 3% had prior open aortic surgery. 87% of cases were performed with successful bilateral percutaneous femoral access. The mean number of target vessels per case was 3.7, with 67% of cases having 4 target vessels. In total, 372 visceral vessels were targeted; target vessel success was 99%. Perioperative mortality was 3.9% and 27% of patients had a perioperative complication, including acute kidney injury or failure (16%), respiratory failure (5.9%), myocardial infarction (4.9%), and access site complication (2.9%). Median follow-up was 18 months. 1-year survival was 83%. The reintervention rate at 1-year was 14%. 1-year target vessel primary patency and primary-assisted patency were 98% and 99%.
Conclusions FEVAR with a PMEG can be performed safely at a high-volume aortic center with low perioperative mortality and good 1-year survival. Reinterventions are common and ongoing surveillance is critical. Outcomes from these procedures should be carefully monitored and reported to the FDA and other quality improvement registries (e.g. VQI).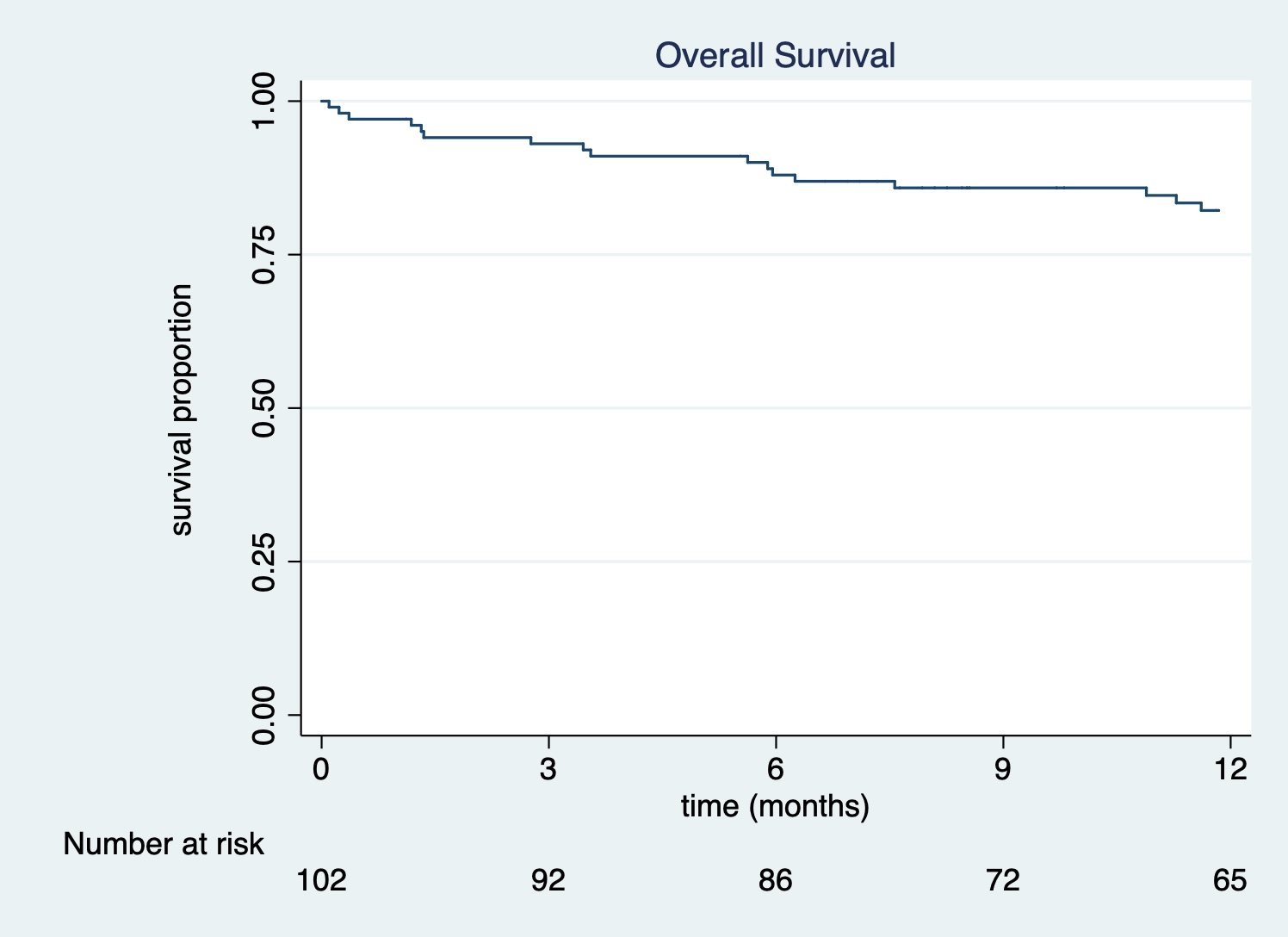 ---
Back to 2022 Karmody Posters