---
Impact Of Hypogastric Artery Ligation During Open Aaa Repair
Prio Hossain, MD, MPH
, Khalil Qato, MD, Nhan Nguyen Tran, MPH, Samuel Lee, MD, Gary Giangola, MD, Alfio Carroccio, MD.
Lenox Hill Hospital, Manhattan, NY, USA.
OBJECTIVESDuring open abdominal aortic aneurysm repair, ligation of the hypogastric arteries may be performed due to complex anatomy. Our aim was to assess the peri-operative outcomes of hypogastric artery ligation during open AAA repair.
METHODSA retrospective review of the Vascular Quality Initiative (VQI) database for all patients undergoing open AAA repair from 2013 to 2021 was conducted. Inclusion criteria were patients over 18 years old undergoing elective repair of AAA. We excluded patients with any prior history of aortic surgery. Primary outcomes were postoperative colonic ischemia, in-hospital mortality, and limb ischemia. Secondary outcomes included myocardial infarction, stroke, wound complications and need for return to OR.
RESULTS8715 patients were included in the analysis. Average age was 69.2 (± 8.1) years, with 73.2% (n=6384) being male. 83.6% (n=7287) of patients had hypertension, 16.1% (n=1410) diabetes, and 91.8% (n=8010) were smokers. Average preoperative AAA diameter was 59.0 (± 15.0) mm. 7949 (91.2%) patients did not undergo any hypogastric artery ligation, 520 (5.97%) underwent single hypogastric artery ligation, and 246 (2.82%) underwent bilateral hypogastric artery ligation. Compared to patients who did not have hypogastric artery ligation, those who underwent single artery ligation had significantly higher incidence of colonic (OR 1.82 CI: 1.18-2.78) and limb ischemia (OR 2.32 CI: 1.45-3.71). There was no significant difference in the incidence of colonic or limb ischemia between patients with single or bilateral hypogastric artery ligation (OR 0.99; 95% CI 0.50-1.99). Patients with bilateral ligation had significantly higher in-hospital mortality than those with single ligation (6.5% vs. 4.4%; p=0.0002). Hypogastric artery ligation (single, bilateral, or both) did not have a significant impact on postoperative complications.
CONCLUSIONS
Unilateral or bilateral hypogastric artery ligation during open AAA repair is associated with a greater incidence of colonic and limb ischemia compared to no ligation. Our study suggests that decision to sacrifice one versus both hypogastric arteries will not affect the incidence of colonic or limb ischemia but may increase the risk of mortality in those that require bilateral ligation.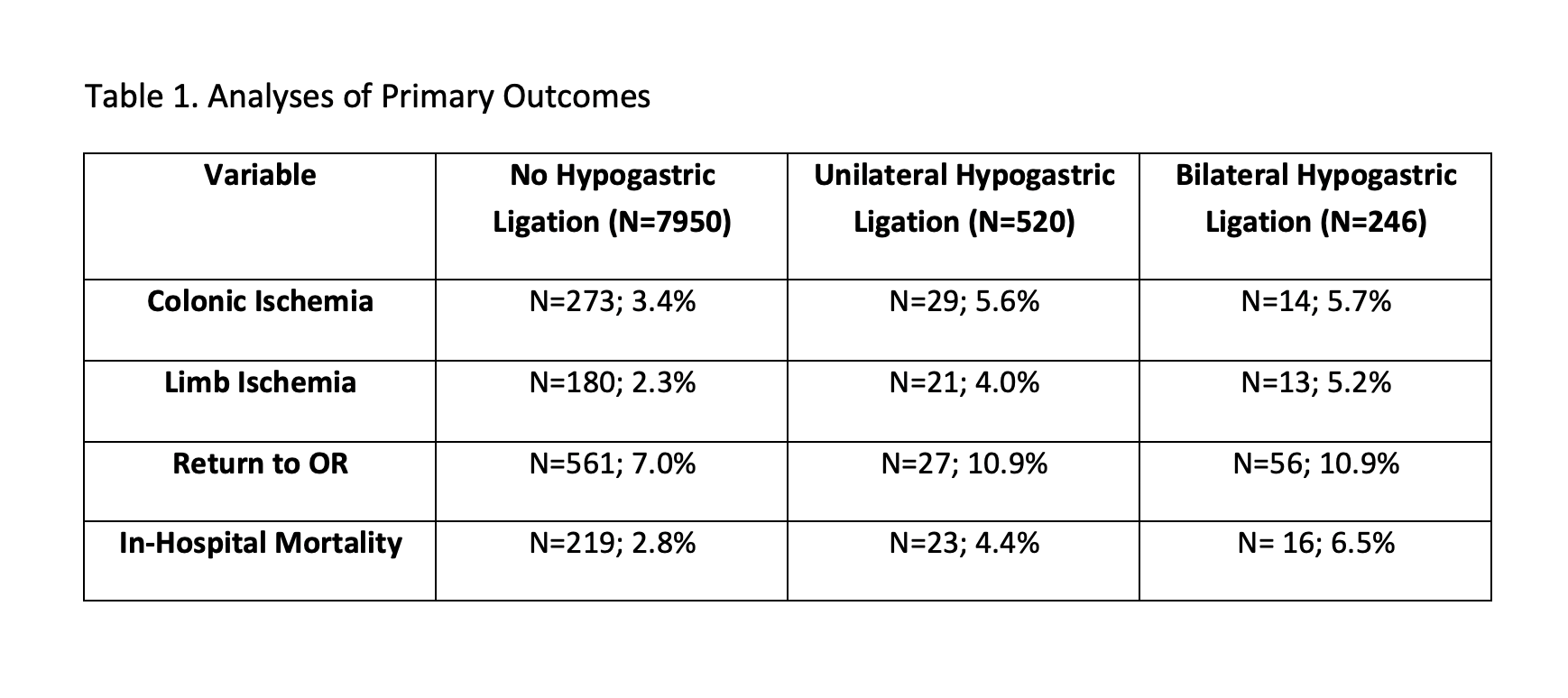 ---
Back to 2022 Karmody Posters