---
Psoas Muscle Area As A Prognostic Factor For Survival In Patients Undergoing Evar Conversion
Christopher Jacobs, M.D.
, Salvatore Scali, MD, Amanda Filiberto, MD, Kyle Staton, MD, Scott Robinson, MD, PhD, Benjamin Jacobs, MD, Michol Cooper, MD, PhD, Gilbert Upchurch, MD, Thomas Huber, MD, PhD.
University of Florida, Gainesville, FL, USA.
OBJECTIVES: EVAR conversion(EVAR-c) is technically complex and physiologically demanding. Measures to quantify surgical frailty preoperatively may be useful prior to offering EVAR explant. There is data supporting psoas muscle area(PMA)as a prognostic factor in fenestrated endovascular and open AAA repairs. The purpose of this analysis was to use PMA as an objective measure of frailty and to determine its utility as a predictor of survival for EVAR-c. METHODS: A retrospective single-center review of all AAA repairs was performed(2002-2019) and EVAR-c procedures were analyzed(n=153). Cross-sectional area of the psoas at the mid-body of the L3 vertebrae were measured. The lowest tertile of PMA in all patients was used as a cutoff value for low PMA and these patients were compared to "non-low" PMA.
RESULTS: Patients with low PMA tended to be older(77vs72,p=.002),less likely to be male(73%vs95%,p<.001),and have lower BMIs(26vs29%,p=.002). Time to conversion, total number of EVAR reinterventions and elective presentation as an indication for repair were similar,however;patients with low PMA had larger aneurysms(8.3vs7.5cm,p=.01)and increased post-EVAR sac growth(2.3vs1cm,p=.005). Inpatient mortality was significantly increased for those with low PMA(16%vs5%, p=.02)as well as the total number of complications(1.5±1.9vs0.9±1.5).Although MACE and need for inpatient dialysis were similar, those with low PMA had a four-fold increase in requiring dialsysis at discharge(18%vs4%,p=.01).Long-term mortality was significantly reduced in those with low PMA at 68%,55%and 40% at 1,3 and 5 years, respectively, compared with 81%,69%and 69% in those without low PMA(p=.049). CONCLUSIONS: In patients with low PMA, higher complications, increased perioperative mortality and worse long-term survival may be expected. Time to conversion and endovascular remediation are equivalent but rates of sac growth and overall AAA diameter are increased. PMA evaluation offers a potential to stratify which patients may have worse short-term and late outcomes undergoing EVAR-c.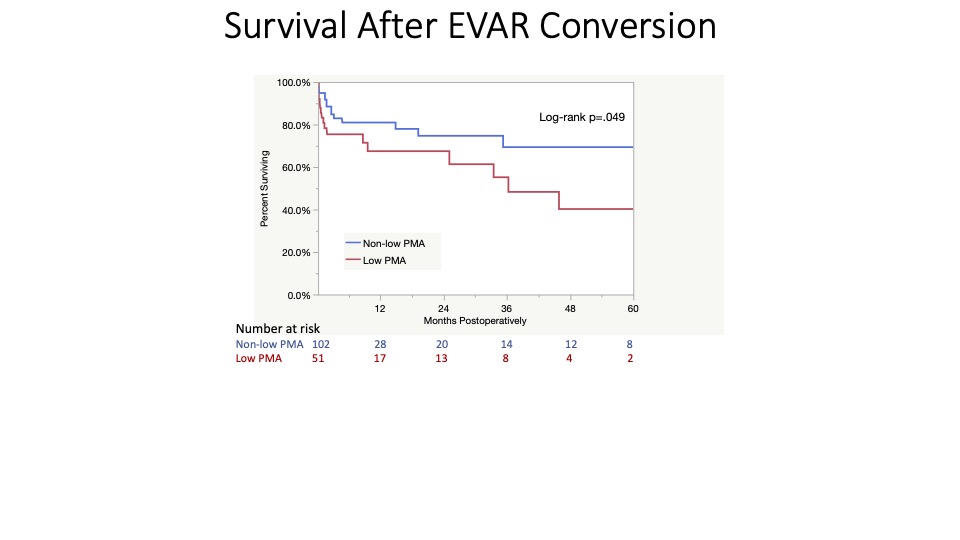 ---
Back to 2022 Karmody Posters