---
Cone-beam Ct-angiography Better Delineates Aneurysm Morphology, And Optimal Treatment Planning In Visceral Aneurysms As Compared To Conventional Ct-angiography
Marton Berczeli, M.D.
, Alan B. Lumsden, MD, Charudatta S. Bavare, MD, Ponraj Chinnadurai, MBBS, MMST.
Houston Methodist Hospital, Houston, TX, USA.
Objective:Visceral aneurysms are rare entities often with challenging anatomical morphology that makes operative planning cumbersome using conventional CT-angiography (c-CTA). Here we present our experience with cone-beam CT-angiography (CBCTA) and compare it with preoperative computed tomography angiography (CTA) images to understand visceral aneurysm morphology
Methods:This is a retrospective review of patients with visceral aneurysms who underwent intraoperative CBCTA and had preoperative CTA as well between 2017 and 2021 at a tertiary center. Based on c-CTA and CBCTA, aneurysm location, morphology, number of vessels arising from the aneurysm sac, general image quality (1-5 Likert-scale) were assessed by 2 reviewers and a consensus was reached in each case.Treatment type, amenability of endovascular treatment and radiation exposure (CBCTA skin dose and total procedural skin dose - mGy) were recorded. For statistical analysis Wilcoxon-sign rank test was used.
Results:10 patients (6 female) with a mean(±SD) BMI of 30.6±6.7 underwent invasive CBCTA and had preoperative c-CTA. In total 8 saccular and 2 pseudoaneurysms were noted on CTA. Four renal, three splenic, one common hepatic, one pancreatico-duodenal and one donor superior mesenteric artery branch (after pancreas transplant).Qualitative image review showed 8 saccular, 1 pseudoaneurysm (the pseudoaneurysm noted after pancreas transplant regressed on intraoperative CBCTA). CBCTA identified more vessels arising from the aneurysm sac (7 vs 4, p= 0.08) and had superior general image quality (Mean value: 4.6 vs 3.1, p= 0.01) than c-CTA. Example comparison is shown in Fig. 1.
In 2 cases out of 9 where the aneurysm was present and endovascular therapy was planned based on c-CTA, the aneurysm was decided to be unamenable for endovascular treatment and was treated by open reconstruction.The mean(±SD) of cumulative skin dose for CBCTA was 223.6±141.3. This was 11.9% of total skin dose in overall.
Conclusion: Cone-beam CTA for visceral aneurysms showed superior image quality when compared to conventional CTA. This method better delineates aneurysm morphology and provides optimal treatment planning at a reasonable level of radiation exposure.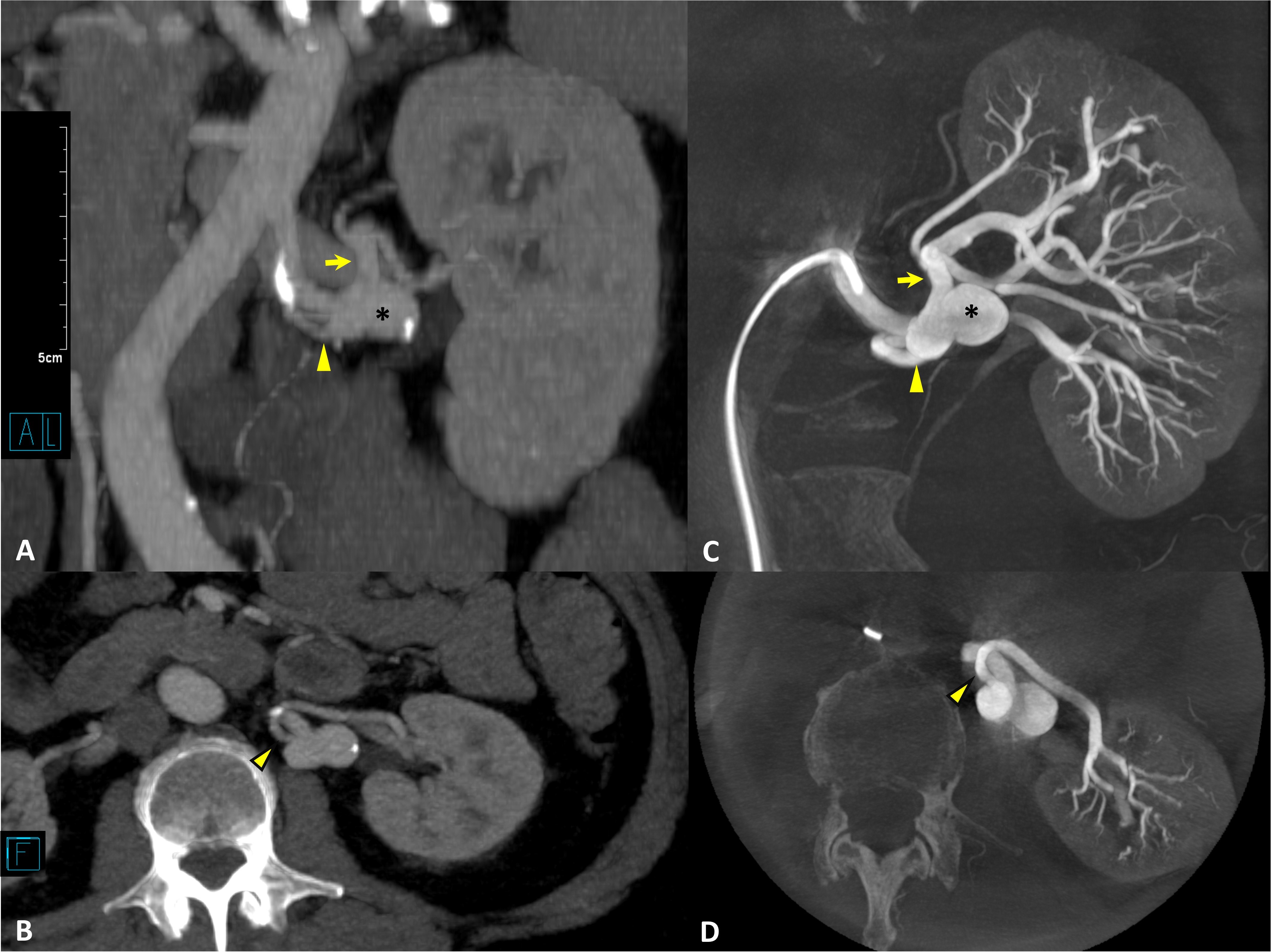 ---
Back to 2022 Karmody Posters