---
The Impact Of Large-Bore Access Complications On Outcomes Of Patients Undergoing TEVAR
Abhishek Devaguptapu Rao, BA/BS
1
, Priya B. Patel, MD MPH
2
, Ambar Mehta, MD MPH
1
, Danielle Bajakian, MD
1
, Nicholas Morrissey, MD
1
, James Iannuzzi, MD MPH
3
, Karan Garg, MD
4
, Marc Schermerhorn, MD
5
, Jeffrey J. Siracuse, MD MBA
6
, Hiroo Takayama, MD PhD
1
, Virendra I. Patel, MD MPH
1
.
1
Division of Cardiac, Thoracic, and Vascular Surgery, NYP-Columbia University Medical Center, New York, NY, USA,
2
Division of General Surgery, Rutgers-Robert Wood Johnson Medical School, Brunswick, NJ, USA,
3
Division of Vascular Surgery, U California San Francisco School of Medicine, San Francisco, CA, USA,
4
Division of Vascular and Endovascular Surgery, NYU School of Medicine, New York, NY, USA,
5
Division of Vascular and Endovascular Surgery, Beth Israel Deaconess Medical Center, Boston, MA, USA,
6
Division of Vascular and Endovascular Surgery, Boston University, Boston, MA, USA.
Objective:
TEVAR is increasingly used to treat aortic dissection and aneurysms. Access-related complications remain a common source of morbidity and mortality following TEVAR. Therefore, this study aims to determine major risk factors predicting access complications in patients and five-year survival in patients with access complications.
Methods:
We identified all patients undergoing TEVAR in the VQI from July 2010 to April 2020, excluding those converted to open operation. We defined access complication as post-operative occlusion, wound infection, hematoma, or unplanned conversion to open cutdown. The primary outcome was 5-year-survival and the secondary outcome was perioperative mortality. Mixed-effects logistic regression modelling with physician level clustering was used to identify factors associated with access complications and perioperative mortality. Kaplan-Meier estimates and Cox-Proportional Hazards Models were used for analysis of five-year survival.
Results:
Of 14,997 patients, 1269 (8.5%) had access complications. Bilateral percutaneous access was obtained in 66% of patients, one percutaneous and one open in 15% and bilateral open access in 15%. Patients with access complications were older (70±12.9 vs. 67 ±14.6, p<.01) and female (51% vs. 34%, P <.01). Patients with access complications experienced increased perioperative mortality (12% vs. 5.0%, p<.01), MACE (17% vs 7.5%, P<.01), reintervention (24% vs. 10% , P<.01), and spinal ischemia (7.5% vs. 2.6%, P<.01). On adjusted analysis, factors associated with access complication include female sex (OR:2.2 [1.7-2.8]; P<.01), BMI (OR:0.86 [0.78-0.95]; p<.01), Hispanic ethnicity (OR:1.8 [1.0-3.1], p<.05). Access complication was independently associated with perioperative mortality (OR:2.1, [1.6-2.9], p<.01). Bilateral cutdown was associated with decreased mortality in men (OR:0.39, [0.23-0.67], p<.01) but not women (OR:2.9, [1.4-6.2], p<.01). Lastly, access complications were associated with increased five-year mortality (HR:1.4, [1.1-1.7], p<.01).
Conclusions:
Access complications when unexpected are associated with adverse perioperative and five-year outcomes. Female sex is associated with increased rates of access complications, suggesting the need for devices tailored to female anatomy.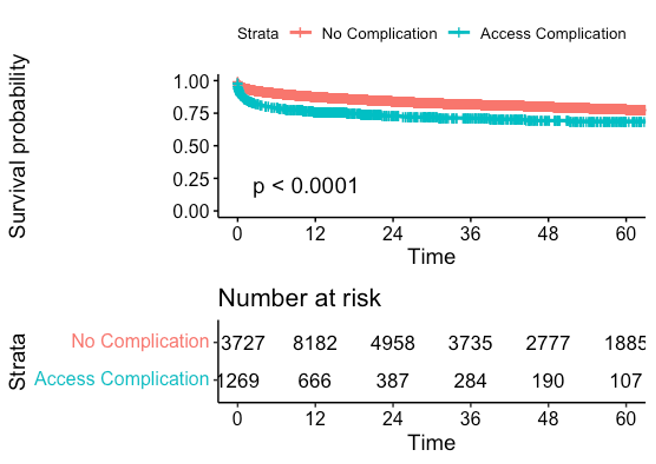 ---
Back to 2022 Karmody Posters