---
Impact Of Frailty On Patients Undergoing Percutaneous Peripheral Vascular Intervention
Abdul Kader Natour, MD
, Alexander Shepard, MD, Mitchell Weaver, MD, Timothy Nypaver, MD, Loay Kabbani, MD.
Henry Ford Health System, Detroit, MI, USA.
Objective: The Vascular Quality Initiative (VQI)® database was used to determine whether the 5-factor modified frailty index score (mFI-5) was associated with post-operative outcomes in critical limb threatening ischemia (CLTI) patients undergoing percutaneous peripheral vascular interventions (PVIs). Methods: The national VQI dataset was queried for all PVIs performed between 2010 and 2019 in CLTI patients. Using the mFI-5, each patient was assigned a numeric score ranging from 0-5 depending on the presence (score of 1) or absence (score of 0) of the following comorbidities: diabetes, hypertension, congestive heart failure, chronic obstructive pulmonary disease, and functional status limiting independence. Patients were then categorized as no frailty (0), mildly (1-2), moderately (3), or severely frail (4-5). Multivariate models were used to evaluate the association between frailty and 30-day mortality, length of stay (LOS), in-hospital major adverse limb events (MALE), and 1-year/overall survival. Kaplan-Meier curves were used to compare the survival time based on frailty severity. Results: There were 37,484 patients with CLTI who underwent PVI. Mean age was 70 years (±12), 58% were male, and 73% were white. Forty percent of the patients were mildly frail (N=15,226), 35% were moderately frail (N=12,956), and 23% were severely frail (N=8,487). Baseline characteristics (Age, Female, and African American) and comorbidities (BMI, CAD, Dialysis, and Smoking) were associated with increased frailty. When compared to non-frail patients, severely frail patients were more likely to present with advanced CLTI (79% vs 45%, P<0.001) and experience higher MALE (24% vs 10%, P<0.001). On univariate analysis, 30-day mortality, MALE, LOS, and 1-year/overall survival was significantly associated with the level of frailty. These associations persisted on multivariate models. Kaplan-Meier survival was associated with the level of frailty (P<0.001) (Figure 1). Conclusions: In this cohort, frail patients tend to present with more advanced CLTI. CLTI Patients undergoing PVIs with higher mFI-5 scores are at independent increased risk of 30-day death, in-hospital MALE, LOS, and decreased 1-year/overall survival. The mFI-5 is a simple and excellent predictor of outcome in CLTI patients undergoing PVIs. The presence and degree of frailty should be important components of preoperative risk stratification for CLTI patients undergoing PVIs.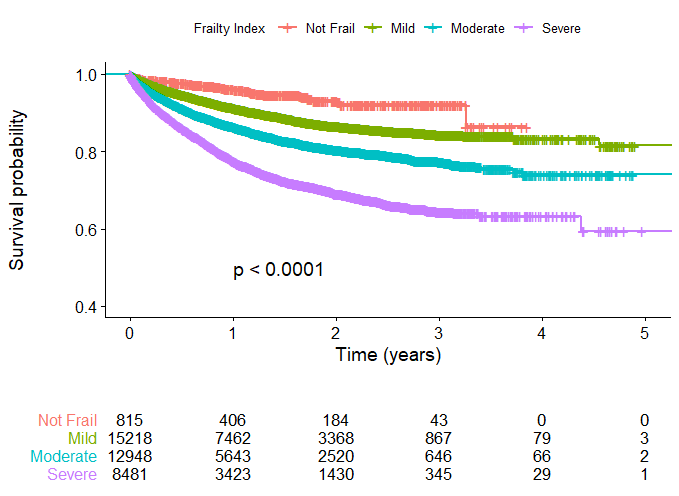 ---
Back to 2022 Karmody Posters